Book Helps Readers Heal From Pain, Suffering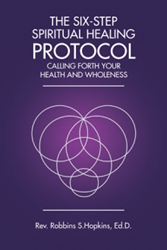 Rev. Robbins S. Hopkins, Ed.D. believes that humans have unlimited access to infinite types of healing through Divine Source. It is her mission to help people achieve success in their healing and wholeness. In "The Six-Step Spiritual Healing Protocol: Calling Forth Your Health and Wholeness" (published by Balboa Press), Hopkins demonstrates to readers that there can be healing from pain and suffering, no matter what challenges one is facing.

The book teaches how to look at underlying blocked energies within oneself that are manifesting as illness, chronic imbalance, or suffering of any kind. The book also provides a protocol, enabling readers to work in Divine Partnership to bring about healing at the personal, collective, or global level.

As the author explains, "This book gives an extensively tested protocol for rebalancing any life imbalances needing attention. The reader chooses the focus of healing. The protocol gives step-by-step guidance in how to combine human and Divine energy for effecting healing."

A particular passage from the book:
Embrace your True Self, eternally connected to Spirit, Balance, and Abundance. Explore an enhanced reality working in partnership with Divine Beings. Unlock blocked energies tied to physical and mental imbalances in your life. Access your inner wisdom, clear out the dross of lifetimes, and bring about your own lasting healing.