EDINBURGH 2017 - BWW Review: FOREIGN RADICAL, CanadaHub @ King's Hall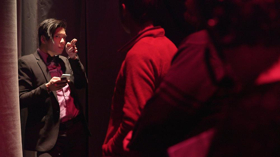 Foreign Radical is a piece of interactive theatre focusing on surveillance and suspicion in an age of prominent terrorist threat. At its heart, it is about our complicity in a system that condemns people without evidence, presented in the style of a twisted gameshow.
The production consists of two connected strands of action. Through a series of scenes, we follow a young man named Hesam (Aryo Khakpour) held under suspicion of extremism, while in between, the audience is led through a series of tasks by Mephistophelean game show host Milton Lim as we discover more about what it takes to be placed on a terror watchlist.
The nature of the show ensures you participate, forcing you to be complicit. The audience is expected to take a side, justify arguments, and give away personal truths. Forced to make quick judgments, we resort to scrutinising each other by appearances, or, more relevantly, profiling each other. It can get uncomfortable on occasion - after all, this is a show that starts by leading you into a chamber with a naked man before having you questioned about your porn habits - but nevertheless we comply anyway.
With echoes of Milgram experiments, before you know it you are rifling through a Hesam's luggage under orders, invading a man's privacy for clues. Occasionally, the show makes use of questions or statements projected in Farsi and referred to by Lim's host, but with nobody in the audience able to understand them, it's unclear what this aspect of the production is aiming for.
Foreign Radical clearly makes the point that we are active participants in this issue, even if only by our apparent inaction. Though the performance seems to attract a uniformly progressive audience, the divisions it creates through its games make cracks appear as beliefs are re-examined and it becomes impossible to hide behind the crowd.
Nevertheless, it's a strange bonding experience, as we got to know fellow audience members to the point where those who had been complete strangers an hour earlier are bidding each other fond farewells by the end.
In the end, we are led back out of the show, with no bows or final out-of-character announcements to disrupt the illusion. Having been questioned ourselves, and left with little feedback, it gave a strangely unresolved feeling. Indeed, those pulled out of airport queues for supposedly random screenings rarely get any closure either.
On reflection, we too had given out a lot of information about ourselves, and are left wondering: had we implicated ourselves with our responses? Relevant, provocative and disturbing, Foreign Radical certainly gives pause for thought.
Foreign Radical runs at CanadaHub @ King's Hall in association with Summerhall until August 27 (not 22) at 1pm.
Photo by Robert Dewey.