Award-Winning Actress/Playwright Valerie David Kicks Cancer To The Curb In THE PINK HULK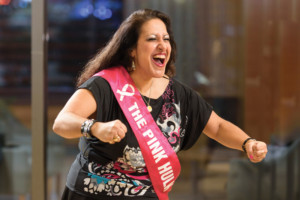 Award-winning actor, playwright and two-time cancer survivor Valerie David is bringing her critically acclaimed, comical one-woman show The Pink Hulk: One Woman's Journey to Find the Superhero Within to the Gothenburg Fringe Festival in August, which details Ms. David's battle with cancer and how she beat the odds by finding her inner super powers. She is thrilled to be performing her show globally for the first time after touring the U.S. for the past two years.
Ms. David wrote The Pink Hulk after being diagnosed with cancer not once, but twice-"hulking out" on cancer and conquering it both times-first being diagnosed with Non-Hodgkin's lymphoma and then breast cancer 15 years later. This solo play is a celebration of being comfortable in one's own skin, of embracing and accepting one's own body-no matter the shape or size. Her comical take on a very real and scary subject matter is sure to have audience members laughing out loud, to capture their emotions, and to inspire them to find their own inner superheroes to help them beat whatever challenges in life that come their way.
"My show is not just about fighting cancer; it has a universal message of hope and empowerment," Ms. David said. "And The Pink Hulk also has plenty of humor and comedy-guaranteed!" Ms. David exclaims. After all, a second cancer diagnosis means only one thing: Time to get laid! See the show to find out if she has a "happy ending"!
And see the link below for Ms. David's exclusive interview that is featured at the Gothenburg Fringe, where she talks in-depth about the origins of her inspiring, true story.
https://www.gothenburgfringefestival.com/single-post/2018/08/14/Spreading-a-universal-message-of-hope-and-empowerment-with-The-Pink-Hulk
Ms. David has been performing and touring the U.S. with The Pink Hulk for two years in 24 different venues, and has won several awards along the way. Not only that, The Pink Hulk has received rave reviews, including one from DC Metro Theater Arts this past November: "There is clearly nothing about Valerie that isn't exceptional. The Pink Hulk is a triumph of the one-woman show format. The Pink Hulk is the apogee of cancer narratives; the zenith; the apex. You can't get much better than this."
This one-woman show is making a difference in people's lives-not just those who have been touched by cancer. A woman with MS, spouses of cancer patients and survivors, health care professionals, those facing any challenge in their lives have come up to her following her performances to say how inspired they feel. Ms. David's play may be her story, but the message is a universal story of hope. And one gentleman commented, "I have never known anyone to have had cancer...neither friends or family, but your story had such an impact on me because it was about living life on your own terms. And that really resonated with me and made me feel empowered to do the same."
The Pink Hulk: One Woman's Journey to Find the Superhero Within
Written and Performed by Valerie David
Directed by Padraic Lillis
SHOW SCHEDULE
60-minute solo show with mature content
20-minute audience talkback to follow each performance
Friday, August 24, at 17:00 (5 pm)
Saturday, August 25, at 15:00 (3 pm)
Sunday, August 26, at 15:20 (3:20 pm)
Venue: The Draken        
Address: Heurlins Plats 15 in Gothenburg, Sweden
Tickets: https://billetto.se/en/e/the-pink-hulk-one-woman-s-journey-to-find-the-superhero-within-valerie-david-tickets-298247/select
Ticket price: 100 SEK (Approx $12 U.S. dollars)                                                      
*Interviews and comp tickets for media are available; discounts for special interest groups
For more info and to book The Pink Hulk,
visit http://pinkhulkplay.com
For awards/accolades info, visit http://pinkhulkplay.com/accolades/
Media Kit: http://pinkhulkplay.com/home/media/
Facebook: www.facebook.com/pinkhulkplay
About the Gothenburg Fringe 2018
The Gothenburg Fringe welcomes artists from Sweden and internationally to deliver 150+ performances across 4 days in 12 venues in and around Majorna.
 "The city is our stage" tagline reflects the unique and unexpected venues you can enjoy theatre, dance, comedy, music and more!
Affordable tickets (max 100 SEK) make the festival accessible to everyone.
 Gothenburgfringefestival.com; contact: Chris@gbgfringe.com
VALERIE DAVID (Writer/Performer), a graduate of The American Academy of Dramatic Arts in New York and James Madison University in Virginia, has been touring the United States performing The Pink Hulkin multiple festivals and special engagements. She is overjoyed to now be performing The Pink Hulk internationally. Ms. David, who has been cancer-free since 2015, wrote the autobiographical comedic drama The Pink Hulkto express the empowerment she felt being able to find humor and superhero inner strength going through two bouts of cancer-first Non-Hodgkin's Lymphoma and then breast cancer 15 years later. She raises money through The Pink Hulk performances for domestic and international cancer organizations. She is currently writing a new solo show about her father's family fleeing Iraq in 1941 due to religious persecution. 
PADRAIC LILLIS (Director) is the founding Artistic Director of The Farm Theater. He was awarded Best Direction of a Solo Show for Valerie's The Pink Hulk solo show at Planet Connections Theatre Festivity. Padraic has also been awarded the NY IT Award for Outstanding Director for Lindsay Joy's Rise and Fall of a Teenage Cyberqueen, Overall Excellence Award from NY International Fringe Festival for Lee Kaplan's Bully, Best Overall Production of a Solo Show and Planet Advocate Award for his solo show addressing suicide awareness Hope You Get To Eleven or What are we going to do about Sally? His film Hand Over Hand,which he wrote and directed, was awarded Best Short Film at the Milan International Film Festival. He is a member of the Labyrinth Theater Company and a lifelong Yankee fan. 
Photo credit: Memorial Sloan Kettering Cancer Center
###