Review: WHEN CALLS THE HEART THE MUSICAL Shines At Round Barn Theatre
World Premiere at the Round Barn Theatre thru July 17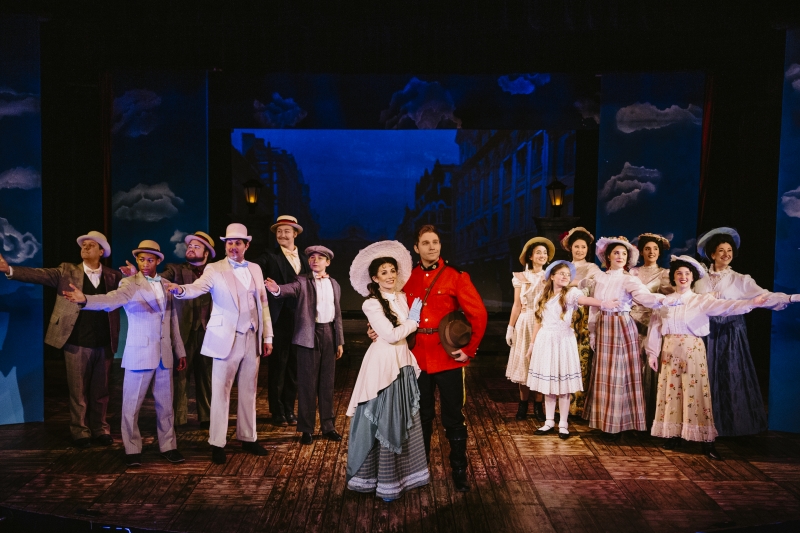 Tucked away in Nappanee, Indiana, at the home of Amish Acres is a delight- a theater in a round barn, built in 1911 but now with all the modern staging and lights (and air conditioning!) you could need. The Round Barn Theatre, a professional regional theatre committed to presenting "timeless truths, classic stories, and uplifting themes," is the lucky home of a musical debut that you won't want to miss this summer: WHEN CALLS THE HEART THE MUSICAL. This is the world premiere of the show, which follows Elizabeth Thatcher's journey as she leaves behind her family and the busy, refined city of Toronto to teach in the Canadian West in the early 1900s, later finding love in an unexpected place.
I was lucky enough to see the show last weekend, directed by Alex E. Price and with music/lyrics by Christy Stutzman, book by Christy Stutzman and Bethany Crawford, and orchestration by John E. Coates. WHEN CALLS THE HEART THE MUSICAL already has a ready-made audience in the form of fans of the original novel by Janette Oke or fans of the Hallmark television show that predates it. I approached this musical with little to no background knowledge of the plot or characters, other than the general synopsis, so I can't speak to the differences between the musical and the original book that the plot was based on. I can say, however, that I enjoyed the musical just as much, if not more, than anyone previously familiar with the story.
The opening number, "Toronto," set the time period well and introduced us to the extraordinarily strong ensemble of singers and dancers. The staging and choreography during this song, and throughout the show, made full use of the limited space, with energy bursting from the stage.
Jaclyn Kelly Shaw (Elizabeth Thatcher) immediately brought an immense charisma as she introduced us to Elizabeth, and her portrayal made me immediately invested in her story despite not knowing where the story would lead. I could listen to her effortless soprano all day, which especially shone in her first solo number, "Happily Restless." One of the highlights of the show for me was Elizabeth's other big song in Act 1, "Move On," a show-stopping solo with wildly strong vocals, when she had to make a key decision about where her life might go next.
Elizabeth later sings a sweet, heartfelt number with her father (played by James Stover) before leaving out west to join her brother and hopefully find a job as a schoolteacher. The song, called "I Know," pointed out that things in life always come at some cost, in this case- such as saying goodbye to her family and the entire world she knows in order to try something new and maybe better. This idea circles back in Act 2, a thematic thread which I appreciated, and the faith-based message that "Where God sends us, he provides" is also a theme that will resonate with audiences of today's tumultuous world.
The other standout performer in the show is Elizabeth's love interest, Jack Delaney, played by Caleb Shaw. Jack is a Mountie (otherwise known as the Royal Canadian Mounted Police, found wearing those iconic red uniforms) who is temporarily stationed in Elizabeth's new hometown of Pine Valley. Despite Elizabeth's original aversion to falling in love with an uncivilized man of the West, she and Jack have immaculate chemistry from their very first meeting. Part of this should be credited to the actors (as incredibly, Shaw and Shaw are married in real life!) but the rest can be attributed to the lively, wit-filled dialogue of the show, especially in their shared scenes.
The charm of the characters and cast continues to shine after Elizabeth actually makes her way to her new town; the ensemble women who play the wives and mothers in Pine Valley harmonized well together, and their song welcoming her to town ("Being Neighborly") was comedic and fun. In general, the comedic timing from then on (as well as the scenic design, which I won't mention too much of in lieu of spoiling potential viewers) knocked it out of the park. I was cackling during Elizabeth's first night on her own in her new cabin home as she attempted to deal with fears of mice, wolves, fire, and more. But of course Jack came to the rescue, and their first duet together, "Unexpected," was heartfelt and lovely.
The end of Act 1 leaves us with a clear plot for Act 2: the schoolchildren in Elizabeth's new classroom deciding to help raise funds to pay for their classmates' medical procedure, which leads nicely into the auction scene that opens the second act of the show. The comedy and romance are both emphasized in this half of the show, and Jack's numbers specifically (he gets two- a pining solo called "If You Only Knew" as well as another dazzling duet with Elizabeth called "You Take My Breath Away") were the standouts from this act. Every ensemble number, too, like the cute-and-country auction scene or the earnest, faithful "When Calls the Heart" finale, brought the world of Pine Valley alive.
I sincerely hope that a soundtrack gets recorded and released at some point, because I would listen to most of these songs on repeat; Christy Stutzman's music and lyrics, along with John E. Coates' orchestration, were incredibly catchy and fun and somehow made me feel as though we really were in the early 1900s.
I must also give accolades to the scenic design of the show (by Alex Price, with projection design by Tim Becze and lighting/technical design by Rebecca Sears) because their use of a projected background to move Elizabeth from location-to-location by train was clean and innovative. Each setting immersed us in the scene, along with the subtle details of the period costumes by costume designer Colleen Ohler.
If I had any criticism of the musical at all, it would be that the pacing felt slightly uneven at times, mostly earlier in the show. Near the beginning of Act 1, the moments of pure dialogue between the songs slowed the momentum; but as I mentioned before, once Elizabeth moves to Pine Valley, the dialogue seemed to settle into something stronger. One or two songs also seemed slightly weaker from a narrative perspective, like "Magical," where Elizabeth teaches her niece the magic of writing letters to loved ones-- a great tune and performance, just not as substantial as some of the other songs in the show. I also wish the second act had featured more of Elizabeth in her schoolhouse, simply because the ensemble of school children were such a joy to watch in the first act and I wanted to see more of them together, especially since they were her calling to move in the first place.
This nit-picking about the pacing, though, doesn't take away from the pure enjoyment I took from the entire experience. I would highly recommend this production to any musical lover; it was just the kind of uplifting, charm-filled experience that's perfect for a summer afternoon or evening.
I was blown away by the quality of the music, the story, and the cast of WHEN CALLS THE HEART THE MUSICAL. They've genuinely got something special and I know that these songs will become classic in time. Each scene was filled with love and care, and whether we as the audience were laughing or sharing in their heartfelt moments of yearning, hope, or realization, the emotional journeys of these characters felt genuine and earned.
The musical's director, Alex Price, noted that the show is special to him for many reasons, one being that he could relate to Elizabeth's journey. "My calling changed. I was led somewhere I never thought I'd be, but I absolutely love it. That journey is something everything can relate with, and it's almost therapeutic to see it on stage and know that you aren't alone and that it's okay not to know!" It's not just a Hallmark love story (though I will admit that the romance did, in fact, make me both laugh and cry at multiple points throughout the show). "It's a story about finding yourself through the love of others and yourself," said Price.
For those who might not be able to make it over to Nappanee, fear not. According to Price, the team behind the show are currently formulating plans to take WHEN CALLS THE HEART THE MUSICAL to a larger audience. "I can certainly say it has a life outside of Nappanee," he said. "Whether it's a tour, a long run in a larger city, or licensing it to other theatre companies. Only time will tell!"
But luckily it's still playing for a few more weeks in the barn! So if you're in the midwest, be sure to stop by and see this gem of a show when you have the chance.
WHEN CALLS THE HEART THE MUSICAL plays through July 17 at the Round Barn Theatre, at The Barns at Nappanee (1600 West Market Street, Nappanee, IN). You can find more information on their website here or buy your tickets online here.

Photographs courtesy of the Round Barn Theatre and photographer Ben Hannah.