Review: KAFKA'S JOKE At Desert Ensemble Theatre Is Another Must-See!
World premiere at Desert Ensemble Theatre runs for one more weekend.
Desert Ensemble Theatre (DET) has done it again with its world premiere production of Rich Rubin's KAFKA's JOKE: It has put on a brilliantly acted theatrical experience that causes audiences to laugh, to feel the craziness of the situations that the characters face, and to keep thinking about the play long after it has ended. In short, director Jerome Elliott Moskowitz has come up with DET's latest must-see production.
Franz Kafka (played here by the incomparable John Corr), the Jewish and Czech author and playwright who wrote in German, saw very little of his work published during his lifetime. Upon his deathbed in 1924, the highly neurotic Kafka asked his best friend, Max Brod (Charles Herrera), who was a great deal more emotionally balanced, to burn all of Kafka's manuscripts so Kafka would continue in obscurity after his death. Brod, who believed that Kafka's writing had to be saved for the world despite Kafka's wishes, instead edited the manuscripts and doggedly set about getting them published. When the Nazis invaded Prague, Brod barely managed to escape with his life and the manuscripts, and made his way to what was then Palestine. He died in Israel and left the manuscripts in his will to his Israeli lover-secretary (Melanie Blue), who in turn died and left them to her daughter (Jaci Davis). A legal battle ensued first between the secretary and later the daughter and the governments of both Germany and Israel, over who owned the manuscripts. (Czechoslovakia, later the Czech Republic, where much of the work was written, never tried to claim them). The legal battle ended only when the Israeli Supreme Court decided the three-way fight.
This story is a perfect example of a string of events that we would all think about as "Kafkaesque," which Merriam-Webster.com says "is often applied to bizarre and impersonal administrative situations where the individual feels powerless to understand or control what is happening." The play emphasizes Kafka's sense of irony, which the tug-of-war over the manuscripts certainly involves. During the play, someone thinking they are legally carrying an inherited set of manuscripts is arrested in Israel after the government asserts that only the State of Israel may own them. Also, Germany sides with the heir of Kafka's manuscripts in the Israeli courts because the heir wants the German-language writings to be housed in a German library. Yet, not only were the manuscripts written in Prague, but the Nazis would probably have killed Max Brod and destroyed the manuscripts instead of archiving them if they had figured out that one Jew was smuggling another Jew's writing to keep it safe. In yet another irony, when Brod and his lover lived in Palestine and later Israel, they never really fit in there any more than they had in Europe.
KAFKA's JOKE takes place in four acts, with each act told from the point of view of a different character. In addition, everyone plays multiple roles, and three of the actors play small roles as members of the opposite sex. Such a complex, deep play deserves extraordinary acting skills, and every member of this five-person cast delivers.
This play is about Jewish people, Jewish experiences, and writings by Jews, although, in another irony, most of the characters stay far away from Judaism as a religion and even from their Ashkenazic Jewish culture. Nonetheless, for numerous reasons, the story could not exist with non-Jewish characters, because their Jewish identity has permeated the characters' souls, leading to the kinds of stories Kafka wrote.
Mr. Moskowitz confirmed to me that he used "open casting" in this play, as he does in his other productions. The playwright decided which ensemble included which bit parts, and it was Mr. Rubin who decided that the two women and Mr. Dyekman would play opposite-sex roles. (To my knowledge, everyone in this cast identifies as the gender to which their main character belongs). In one case, this is played for an amusing comic effect: The women and Mr. Dyekman play Kafka's three fiancees, with Mr. Dyekman still wearing the false mustache that he wore as Kafka's father in a previous scene.
To my knowledge, only one of the actors (as well as director Moskowitz) is from a Jewish family; I don't know if the actor practices Judaism. Yet, the entire cast seems to understand the complexity of trying to live as the "other" in an often hostile environment. In fact, Larry Dyekman, who is not Jewish and who plays a rabbi as one of his characters, has completely mastered the Hebrew verbiage, cadences, and intonations of the mourners' Kaddish (the prayer that reveres and honors God while mourning the dead).
In some plays, a director will choose to have the characters use an accent to emphasize that they are not actually speaking English. This can create perplexing discontinuities, such as when Peron in EVITA and Madame Giry in THE PHANTOM OF THE OPERA speak with accents while the rest of the cast members do not. Mr. Moskowitz, in an emailed response to a question I asked about this, told me that he and the playwright agreed that because "the characters are speaking their native language .... they would not have an accent." They gave the Nazi officer and the German border crossing agent accents so they would "have a clear identity as 'the other.'"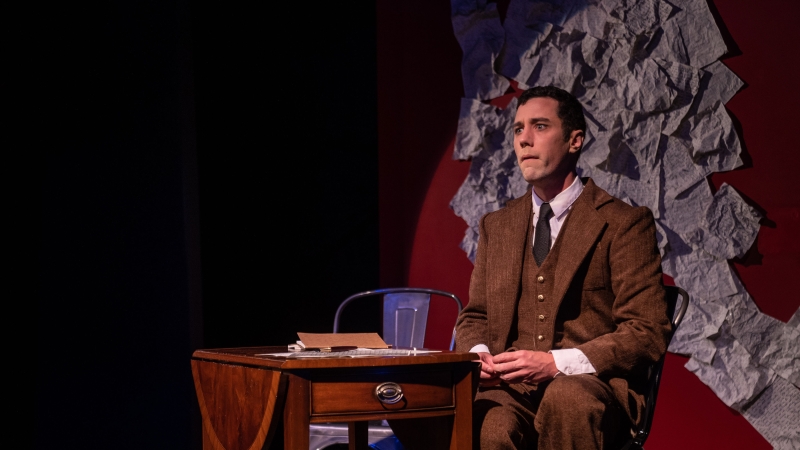 The play notes that Kafka and Brod are close in age - they were less than a year apart. However, as part of Mr. Moskowitz's commitment to open casting, his Max Brod is probably almost old enough to be Kafka's father. Mr. Moskowitz pointed out that the play's statement about the characters' being the same age has become a laugh line. He writes that he cast the top-notch actor, Charles Herrera, as Brod "because he was perfect for the role and there was no one closer in age to John who auditioned that could have pulled it off." The two lead characters are also lacking negative physical characteristics of which the actual Kafka and Brod were well-aware: Kafka had huge ears, and Mr. Corr does not, and Brod was described as a hunchback. Mr. Moskowitz notes in his emailed explanation that, "Andrew MacLaine designed Charles' suit with a pad in his left shoulder to reference this." He adds, "The playwright enhanced this fact about Brod for comic effect."
While the character's scoliosis and the need to wear a corrective harness, as Brod apparently did all his life, might not seem comical in the 21st century, Mr. Rubin had Kafka mention how his friend could attract massive numbers of women despite his disability and his lack of height. Kafka, on the other hand, who was over six feet tall and good-looking despite his large ears, had a terrible time with women. I asked Mr. Moskowitz if he had considered makeup appliances for John Corr's ears, but he thought that they would have been distracting. He felt that John Corr had captured Kafka's essence "from the very first rehearsal." Although I am not familiar with what Kafka was like except for this play, Mr. Corr's portrayal was filled with the quirky mannerisms that a neurotic man like Kafka would have been likely to display. Unlike lesser actors, who might do a few physical fidgets, and then forget about them, Mr. Corr, like Mr. Herrera, both became their characters - not merely portrayed them.
There is another example of open casting in this play that some might find controversial. Specifically, Larry Dyekman, whom I already mentioned did a fabulous job as the rabbi, also played, among other people, Kafka's father. While his performance was top-notch, he does not look like Ashkenazi Jews usually looked during that period, before intermarriage blurred people's physical ethnic characteristics. As Mr. Moskowitz stated with regard to Mr. Corr, "Trying to find a Jewish actor of Ashkenazi descent given our limited acting pool here was not a consideration."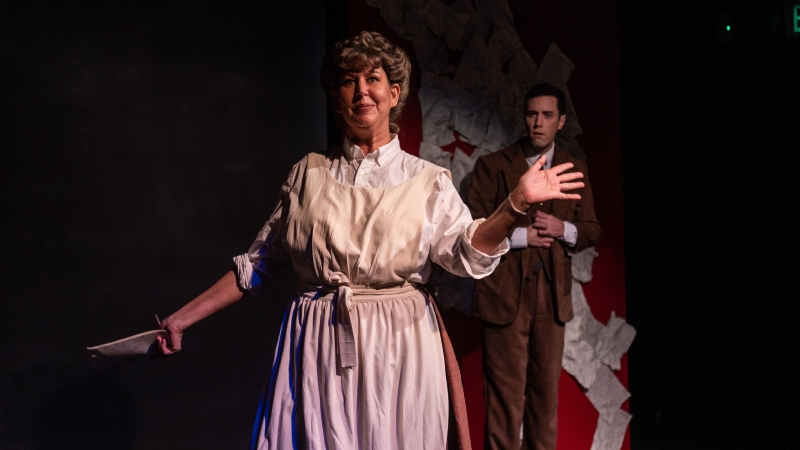 I am not one of the members of the Jewish community who believes that Ashkenazi Jews must ALWAYS be played by Jewish actors (contrary to my view that BIPOC characters should always be played by BIPOC actors), or even by people that look like they could be Ashkenazi. I am far more concerned about whether their characterizations pay sufficient attention to Yiddishkeit, to vocal intonations, and to Hebrew pronunciation. This entire cast remains aware that this is largely a play about Jewish experiences, and remains sensitive to that circumstance. Mr. Dyekman, in particular, may not look the parts of Kafka, senior and the rabbi, but he sure becomes his characters.
Although I have said little about the two female performers, they are as fabulous as the men. Their roles are as meaty as those of their three castmates, but are largely comic in nature. Melanie Blue can play anything, and here, she does - Brod's free spirit lover and secretary, as well as an Israeli willing to take on her own government. She plays the mother of Jaci Davis, a crazy cat lady, who also aces her humorous role. These actors are other examples of open casting, because Ms. Blue is clearly younger than Ms. Davis, but wears a gray wig.
Usually, I discuss technical aspects of the production, but this review is already quite long. Suffice it to say that all the technical aspects are also excellent. I especially like the set, whose walls contain skewed picture frames and crumpled pieces of paper, apparently symbolizing Kafka's jumbled life.
Finally, I have spent much of this review emphasizing how, to me, this is largely a Jewish play, but that is because I am so heavily involved with Judaism. Someone who is fascinated by philosophy or by absurdist writing would probably consider KAFKA's JOKE to be about those topics. In fact, I suspect that the play takes on a chameleon-like ability to become whatever theatregoers are seeking in it. In short, every serious playgoer should see this production because they are all likely to get a great deal out of it. I would lay odds that they will still be pondering its meaning days later.
KAFKA's JOKE will run for one more weekend, from Friday, March 17th through Sunday, March 19th, on Friday and Saturday at 7:30 p.m., and Saturday and Sunday at 2 p.m. Performances take place at the Palm Springs Cultural Center (the Camelot Theaters), 2300 East Baristo Road, Palm Springs, CA. 92262 (across Baristo Road from Palm Springs High School). Tickets are $38.59 with service fee. Contact the theatre by email at DETCTheatre@gmail.com, call 760-565-2476 for tickets or more information, or consult the web site, www.desertensembletheatre.org. The snail mail address is PO Box 2885, Palm Springs, CA 92262.
The last of DET's 2022-23 offerings, all of which are recent plays by West Coast residents, are:
FUTURE THINKING, by Eliza Clark (April 14-16, 21-23, 2023) -- Middle-aged super fan Peter finds himself being held in Comic Con security after violating a restraining order filed by the show's young star, who is stuck in a hotel suite with her stage mom and bodyguard. Everyone has a fantasy, and soon they'll collide with each other, and with reality.
PHOTO CREDIT: Nathan Cox