Academy Award-Winner Paul Haggis Presides Over Fabrique Du Cinema Awards, Italy, Finalists Unveiled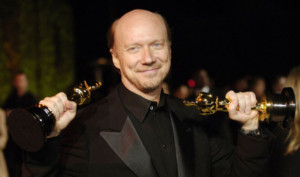 Fabrique Du Cinema Awards, organized by the magazine Fabrique Du Cinema from Rome, Italy, which defines itself as 'the magazine of the new Italian cinema',and whose 2018 jury is presided over by two-times Academy Award-winner Paul Haggis, has unveiled 2018 Award Finalists. There are three US-coproductions among the international selection. The only feature category where an English-spoken film has been finalist is the Best Documentary Film, where AMERICAN MIRROR, directed by USA-filmmaker Arthur Balder, most awarded film at DOC LA 2018 presented by the Parajanov-Vartanov Institute in Los Angeles, contends against three other Italian films: BEAUTIFUL THINGS by Giorgio Ferrero (Italy), which was presented at Biennale di Venezia in 2017 and has been widely awarded internationally, AS TIME GOES BY by Simone Aleandri, and SAND UNDER THE SNOW by Emilio Romeo.
Canadian screenwriter, film producer, and director of film and television Paul Haggis presides over the Fabrique Du Cinema Awards 2018. In 2017 it was actor and producer Willem Dafoe who had been appointed President of the Jury, and Fabrique Awards had more than films 1300 participants.
Below is the entire lists of finalists in all categories:
Documentary films section
BEST DOCUMENTARY
BEAUTIFUL THINGS by Giorgio Ferrero (Italy)
AMERICAN MIRROR by Arthur Balder (USA)
AS TIME GOES BY by Simone Aleandri (Italy)
SAND UNDER THE SNOW by Emilio Romeo (Italy)
Feature films section
BEST INTERNATIONAL FEATURE
CELESTE by Ben Hackworth (Australia)
THE GRIZZLIES by Miranda de Pencier (Canada)
THE FOREST by Viktor Gasic (Germany)
SIX by Anar Azimov (Ukraine)
BEST ITALIAN EXPERIMENTAL INNOVATIVE WORKSHOP
THE MOST HAPPY BOY OF THE WORLD of Gipi
FAVOLA di Sebastiano Mauri
MICHELANGELO INFINITO by Emanuele Imbucci
TROPPA GRAZIA by Gianni Zanasi
BEST ITALIAN FIRST WORK
JOURNEY WITH ADELE by Alessandro Capitani
ZEN - ON THE THIN ICE by Margherita Ferri
THE LAND OF ABSTRACT by Damiano and Fabio D'Innocenzo
TUTTOFARE by Valerio Attanasio
BEST ACTRESS
SARA SERRAIOCCO - "Traveling with Adele"
CHIARA MARTEGIANI - "Ride"
IRENE VETERE - "Magical nights"
MATILDA LUTZ - "Revenge"
BEST ACTOR
MATTEO OLIVETTI - "The Land of Enough"
GUGLIELMO POGGI - "The handyman"
LUIGI FEDELE - "Quanto Basta"
ADRIANO TARDIOLO - "Lazzaro Felice"
BEST MUSICAL THEME
MATTEO BUZZANCA - "We will be young and beautiful"
NICCOLO 'CONTESSA - "Too much grace"
PIOVIO and ALDO DE SCALZI - "Favola"
MINKYU KIM - "The Forest"

Short films section
BEST ITALIAN SHORT FILM
TAKE CARE OF ME by Mario Vitale
CLOSENESS by Lorenzo Ferrante
RED HANDS by Francesco Filippi
THE DRAWBACK OF HAVING A **** of Astutillo Smeriglia
NOISE OF SÄMEN
U MUSCHITTìERI by Vito Palumbo
PECCATRICE by Karolina Porcari
AGGRAPPED TO ME by Luca Arcidiacono
BEST INTERNATIONAL SHORT FILM
FIREFLIES by Amelia Nanni (Belgium)
SKÓGAFOSS by Niels Bourgonje (Netherlands)
8 MINUTES by George Gogichaishvili and David Abramishvili (Georgia)
POST MORTEM MARY by Joshua Long (Australia)
ROBOT WILL PROTECT YOU by Nicola Piovesan (Estonia)
FLOATING by Carlos Andrè (Portugal)
ECHO by Victor Perez (Spain)
THE MASTER OF CUCHILLO by Rodrigo Sebastiàn Gonzalez (Mexico)
BEST DIRECTOR OF INTERNATIONAL SHORT FILM
ITALIAN ROSSELLA for "Denise" (Italy)
PIERFRANCESCO BIGAZZI for "Moon on Fire" (Italy)
RODRIGO GONZALEZ for "The Master of Cuchillo" (Mexico)
Victor Perez for "Echo" (Spain)
BEST SUBJECT and SCREENPLAY
THE COURTESY by Nicholas Di Valerio (Italy)
THIS NIGHT WILL PASS by Alessandro Logli (Italy)
FORGIVE US ISMAIL by Mirza Ekinovic (Denmark)
I'M NOT GOING TO HURT YOU by Catalina Gonzalez (America / Spain)
TWINS by Lisa Riccardi (Italy)
Web series section
BEST WEB SERIES
GAMES OF SOULS by Max Koerner (Germany)
BLACKBETTY by Marco North (USA)
ER CAVALIERE DE ROMA by Luca Arseni (Italy)
CHARON by Emanuele Sana (Italy)