The Growler's Announce BEACH GOTH 2018 Coming to Los Angeles This August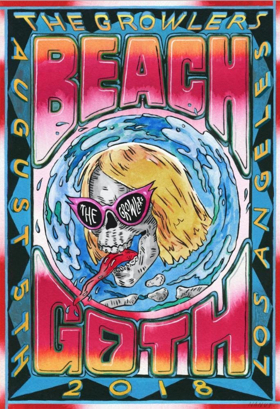 LA-based band The Growlers are supremely excited to announce Beach Goth 2018, to be held in Los Angeles on Sunday, August 5, 2018. Renowned for its eccentric lineups and head-spinning stage shows, Beach Goth is a fully-fledged summer showcase for the band's zonked out vision. Beach Goth 2018 marks its first time in Los Angeles, a homecoming party from the city's party-thrower extraordinaires. As always, costumes are encouraged.
Watch the Beach Goth 2018 teaser video here.

Upcoming Announcements
On Monday, May 14, the band will reveal this year's Beach Goth venue, with the official artist lineup announcement to follow.
About The Growlers
Since the release of their first LP Are You In or Out? In 2009, The Growlers have forged their own twisted path on the global music scene. They're the party band that grew into a traveling circus of psychedelia that spawned their own event, Beach Goth. Lead singer Brooks Nielsen draws a particular devotion among Growlers fans, as does chief cohort Matt Taylor, The Growlers' music director and chief guitarist. Their most recent LP was 2016's City Club, produced by Julian Casablancas, which saw them expand their palette to include West African, dance, and electronic influences. The band is currently in the studio with Jonathan Rado (Foxygen) and Shawn Everett (The War On Drugs) and preparing for an upcoming world tour.