Janelle Monáe Unveils Video For CRAZY CLASSIC LIFE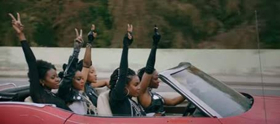 GRAMMY® Award-nominated singer-songwriter-performer-producer-actress-activist Janelle Monáe has unveiled the striking companion visual for the shimmering track, "Crazy Classic Life." The stand-alone video features visuals from her emotion picture, DIRTY COMPUTER. "Crazy Classic Life" is now streaming at Janelle's official YouTube channel.
Janelle Monáe shares a special note with her fans:
"It's the end of an electric year. And I'm so very thankful for so many things. So very thankful for all of you that have helped the Dirty Computer album become a movement of love around the world. In this spirit of thankfulness, I've decided to share one of my favorite things from this year with you: the standalone visuals for CRAZY CLASSIC LIFE from the DIRTY COMPUTER emotion picture. This video was so incredibly fun to make because director Alan Ferguson brought all my hovercar dreams to life! And I had a world of fun with the Django Janes and Zen (played by the incomparable Tessa Thompson) and Che off in the future, dancing while changing the world. This one is for all the dirty computers out there! Never forget, "We are not America's nightmare, we are the American dream."
The newly released video arrives on the heels of Monáe's two GRAMMY nominations. Her critically-acclaimed third album project, DIRTY COMPUTER, received the coveted Album Of The Year nomination, alongside a nomination for Best Music Video for "PYNK." The Dirty Computer album was number one on the year-end album lists for NPR, Associated Press, Refinery29, New York Times and many more.
ABOUT DIRTY COMPUTER
DIRTY COMPUTER: AN EMOTION PICTURE BY JANELLE MONÁE is a vibrant, visually stunning narrative incorporating a number of the celebratory music videos that accompany the album itself. The 44-minute "Emotion Picture" - which aired exclusively on MTV and BET channels worldwide including MTV, MTV2, MTV Live, mtvU, BET, BET Jams, BET Soul and BET Her - tells the extraordinary story of a young woman named Jane 57821 (portrayed by Monáe) who is living in a totalitarian near-future society where citizens are referred to as "computers." Acclaimed actress Tessa Thompson (Avengers: Infinity War, Selma, Creed, Thor: Ragnarok) co-stars. As timely as it is poignant, DIRTY COMPUTER explores humanity and what truly happens to life, liberty and the pursuit of happiness when mind and machines merge, and when the government chooses fear over freedom. A special director's cut of DIRTY COMPUTER: AN EMOTION PICTURE BY JANELLE MONÁE is now available to stream exclusively on YouTube via Monáe's official channel.
DIRTY COMPUTER: AN EMOTION PICTURE BY JANELLE MONÁE is produced by Monáe and directed by Andrew Donoho and Chuck Lightning. Collaborators include an assortment of celebrated music video directors such as Alan Ferguson, Emma Westenberg, and Lacey Duke, who directed the powerful music videos for "Make Me Feel," "PYNK," and "I Like That" respectively.
Related Articles
View More Music

Stories
More Hot Stories For You