Meridian Performances Presents Cellist Sergey Antonov and Pianist Karén Hakobyan in Concert in March
The concert is set for March 14.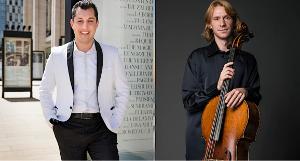 On March 14, Meridian Performances returns to The DiMenna Center, presenting cellist Sergey Antonov and pianist Karén Hakobyan's fresh interpretation of Rachmaninoff's beloved cello sonata, among other works. Sergey Antonov, the accomplished cellist of The Hermitage Trio, is "destined for cello superstardom" (The Washington Post). Karén Hakobyan, award-winning pianist, composer, and conductor, is "A musician of abundant gifts and bountiful ideas" (New York Concert Review).
Hakobyan, a concert pianist, conductor, and composer, headlined Meridian's November 15 performance at Dimenna, and conducted Pegasus: The Orchestra from the harpsichord in a dazzling evening of Bach's Brandenberg Concertos. Hakobyan's March 14 concert with Antonov is another noteworthy event that celebrates the 150th Birthday of Sergei Rachmaninoff. On October 21, Hakobyan made his Lincoln Center conducting debut leading Pegasus, an orchestra he founded in 2017, in an astounding concert of all five of Rachmaninoff's famous piano orchestral masterpieces in one night, featuring a constellation of five internationally acclaimed pianists on the stage of Alice Tully Hall.
Antonov, Gold Medalist of 2007 Tchaikovsky, Competition highlights his connection with Rachmaninoff, quoting the composer: "Music is enough for a lifetime - but a lifetime is not enough for music" and adds, "I can't top this! He said it all for me!" In addition to the Sonata in G minor, Antonov will breathe new life into Rachmaninoff's Vocalise for Cello and Piano. Other high points of the evening's expansive repertoire will include Arutianian's "Impromptu," Piazzolla's "Oblivion," and Davidoff's "At the Fountain."
On April 25, award-winning Belgian concert pianist and transcriber Florian Noack brings the Meridian season to a climactic close with his New York City recital debut. His stunning piano transcriptions of Bach's Brandenberg Concerto No. 3 and Rimsky-Korsakov's hauntingly beautiful Scheherazade are paired with a second half featuring six transcendental etudes by Liszt and Liapunov.
Founded in 2018, Meridian Performances began as salon concerts in New York City, New Jersey, and Connecticut. With each succeeding season, the series has grown in both size and stature. Meridian has carefully chosen six concerts for its 2022-2023 presentations, bringing internationally acclaimed talent and a kaleidoscopic variety of repertoire to New York and making them affordable.
For more information on Meridian Performances, visit ccaml.com.