Preview of 'Life Through A Mirror' coming in July 2018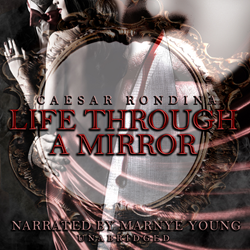 In July 2018, Best Selling Author Caesar Rondina will open the curtain and present you with the romantic murder mystery Life Through A Mirror. The first in the Life Through A Mirror murder mystery series. Like watching a movie or television series, the plot of this series revolves around the live's of Allie and David. Living two separate lives, they were raised only two towns apart and never met. This series will be available in Print, E-Book, and AudioBook formats. Caesar Rondina states, "Writing is a collaborative effort. The writer is the first part. I work with individuals whom I believe are the best at what they do. The talented Marnye Young, an NYT/USAT Award Winning Best Selling Narrator, (
http://www.marnyeyoung.com
), will be breathing life into the words of each of these series of books as well as narrating my love story "When Two Worlds Collide for 2019."
Cover designs are equally important. The creative excellence of Jodielocks Cover Design, (https://jodielocksdesign.weebly.com), is creating my book covers. A team approach is essential to a writers success. Working with these individuals has not only been fun but also a rewarding experience. We share the same passion. We love what we do." The setting for this series takes place in Vermont and New York. In this murder mystery series, Allie and David both have a past to fix. Allie with a history of surviving. Doing whatever she needed to do to survive. Having a challenging childhood, she was forced her to leave her house and move into this small Vermont town. Allie didn't see herself as others did. Allie believed she was an opportunist. As the plot develops, she will be charged with a crime she claims she did not commit. Having no money, Allie could not afford a good attorney. She was an easy mark for the new hometown sheriff in this small Vermont town. When it was over, she had a past to repair. She was back where she started. She had a choice to make.
David lived in the fast lane. A fast-paced individual who came from a much larger town in Vermont. He came from a wealthy family. David was a high school and college sports hero. Any girl who would get on her back or knees was fine with him. David always found his way into the wrong crowd. Doing things that were illegal was not new to him. After college David moved to New York and worked at a large law firm as a defense attorney. Would the criminal element trap him here as well? Facing many challenges, he also had a past to repair. He also had a choice to make. Follow them on their journey as they attempt to repair their past. Without that, there could be no future. The reader will become a part of the tangled web of murder, crime, sex, drugs, and money. Allie and David will have to fight in order to survive. Will they meet? Can family bonds be stronger than the criminal element? Will they succeed? Caesar Rondina states, "This book could make an excellent movie or television series. He has it all. Love, romance, murder, and suspense. Allie and David will not only captivate your mind, they will steal your heart."
Related Articles View More Books

Stories
More Hot Stories For You