Featured on The Jazz Network Worldwide: Vocalist Katherine 'Kool...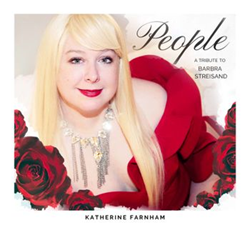 This song was a cherished opportunity to integrate different sides of Katherine's artistic personality getting back to the basics of sending a message of unconditional love. It's important to her that her fans know where she's coming from. Katherine believes that people were more focused on the integrity of love during the era when the great standards were written.
"My inspiration for this version was to begin very tenderly, almost like a prayer for the forgotten and suffering people of the world. I told Mindi what I was envisioning and there were tears in her eyes when we were in the studio. Ironically, we ended up recording her solo on International Women's Day!" Four-Time Grammy Nominee Denny Jiosa is on guitar along with our world-class band comprised of Marcus Finnie on drums and Roy Vogt on bass.
The feedback from Farnham's fans was overwhelmingly positive, says Katherine. Some fans assumed the song was about a love interest or some type of political statement which neither was accurate. "I've always adored this song and admired Barbra for her artistic courage," says Farnham.
As a humanitarian "Kool Kat" knows that the essence of her work is caring for "People", regardless of their age, gender, background, race, religion or political beliefs. Her music is focused on things that unite and relates a message.
"Katherine exudes an authentic musical heart, with a style all her own. Her rendition of "People" is told directly from her soul, you can really sense that the lyrics mean something to her heart for the growth of people all over the world. She is a favorite in our jazz community as she never ceases to exercise all her musical influences and that is truly applauded" says Jaijai Jackson of The Jazz Network Worldwide.
In addition to this single, Farnham also released a compilation of tracks from her various projects entitled "Music, Passion, Spirit" that has the new single "People" on it.
Katherine is a third-generation musician who possesses a unique and world-class artistic heritage. Her mother was a concert pianist, composer and vocal coach for The Sante Fe Opera working with top singers and composer/conductors. Her father toured as the first trombonist with The Boston Pops. Katherine studied at a conservatory and graduated with highest honors from Boston's acclaimed Berklee College of Music.
She has educated music and acting students and taught musical theatre and jazz voice at the university level. She served for two consecutive years as Celebrity Voice Judge for the Los Angeles Music Center's Annual Spotlight Awards and has won two Global Music Awards in 2018.
In addition to creating award-winning spoken word poetry, she is a published author. Katherine has performed on
stages with Latin jazz greats Celia Cruz and Tito Puente Jr. and has appeared on Good Morning America, NBC 6 and Telemundo. She has also recorded with legendary Grammy winner Kirk Whalum, Latin Grammy winner Nestor Torres and Grammy Nominees Denny Jiosa and Mindi Abair.
"Katherine Farnham goes from mere whisper to powerful belt in jazz expression." Hub City Jazz Festival, NJ
The award-winning "People" is available now for purchase on Itunes, Amazon, and http://www.katherinefarnham.com. Be sure to catch her feature this week on The Jazz Network Worldwide at http//:thejazznetworkworldwide.com.
Follow Katherine Farnham on social media:
Facebook: https://www.facebook.com/katherinefarnhamofficial/
Twitter: https://twitter.com/KoolKatFarnham
Linkedin: https://www.linkedin.com/in/katherinefarnhamofficial/
Related Articles View More Books

Stories
More Hot Stories For You