Cameron + Company Releases Award-Winning Photographer's Book on...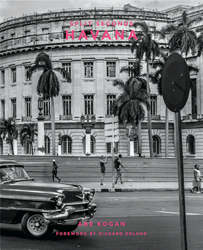 SPLIT SECONDS: HAVANA
Photography by Abe Kogan
Foreword by Richard Edlund
For SPLIT SECONDS: Havana, Abe Kogan navigated the streets of Havana, camera in hand, capturing the evocative beauty of an isolated island frozen in time, languishing in the dying embers of its nearly?sixty?year relationship with orthodox communism. This book, the first in a series, captures life on the pavement, which is where Havana's citizens spend their time—gossiping over balconies and lingering in the doorways of the once?glorious buildings that have fallen into ruin, their expressions marked by both vitality and hardship.
Kogan's black?and?white photographs, which are stripped bare and devoid of picturesque tropical landscapes and charming beach scenes, are provocative, intimate portraits of the daily lives of the Habaneros. These inner?city vignettes reveal Havana's urban pulse and focus on the zest and expressiveness of the dynamic community that inhabits a world on the brink of change.
SPLIT SECONDS: HAVANA
Author: Abe Kogan
Foreword: Richard Edlund
Publisher: Cameron + Company
ISBN: 978-1-944903-45-9
Format: Hardcover, 156 pages, 11 x 13.75
Publication Date: December 4, 2018
Distributor: ABRAMS
Retail: $85.00
Abe Kogan is an international entrepreneur, award-winning photographer and writer, world traveller, FIA Historic Formula One Class A champion racing driver, and film producer. His latest film, Matra Racing/The Rebirth, is now in worldwide circulation and acclaimed as a collectors' item. Kogan is fascinated by time and change, and is on a unique mission to photo journalise a sequence of regions and cities, each for their particular attributes within the nature of time and change. Visit http://splitseconds.gallery.
Richard Edlund is a multi?Academy Award–winning special effects cinematographer, whose work at Industrial Light + Magic included several Star Wars films, among others. He started his own effects company, Boss Films, which has many credits under its name, including Raiders of the Lost Ark, Ghostbusters, and Air Force One, to name but a few.
About Cameron + Company:
Founded in 1964 by aerial photographer Robert Cameron, Cameron + Company is a boutique publishing house that creates and distributes books that need to be books, with a focus on photography, art, food and wine, children's, and publications of regional interest. Visit http://www.cameronbooks.com.
Related Articles View More Books

Stories
More Hot Stories For You