Review: OKLAHOMA! at Artistic Synergy Of Baltimore is so Much More than OK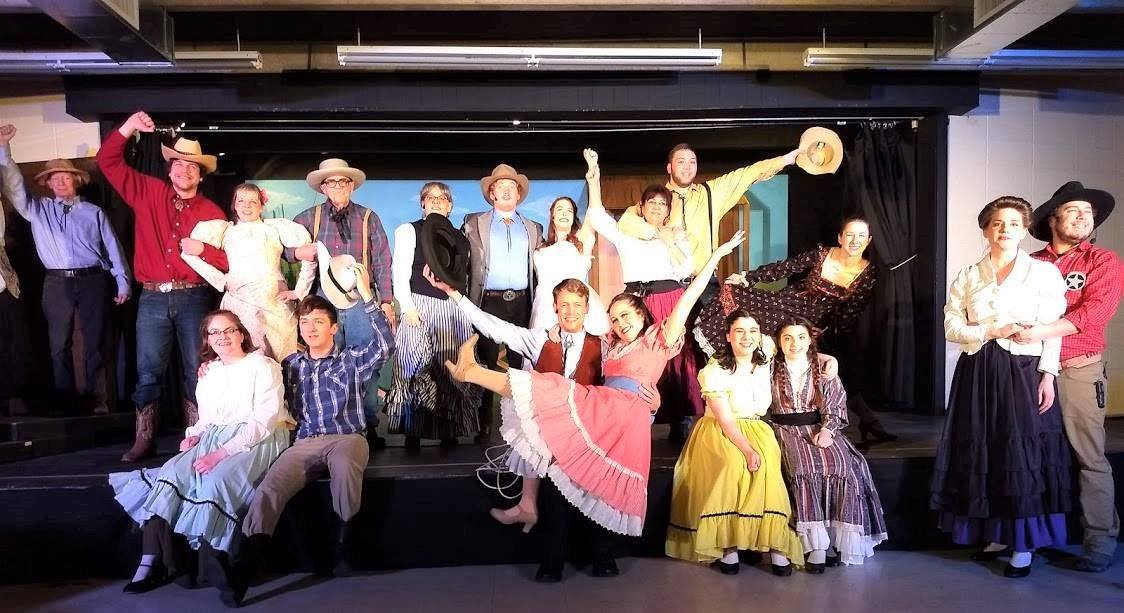 OKLAHOMA! was not a show that I new much about before seeing it performed this week by the lovely cast and crew of Artistic Synergy of Baltimore. It's one of those classic 40s musicals that doesn't get revived much these days, but a classic becomes a classic for a reason. And while the show itself wasn't my idea of a great musical, the performances of this cast made me smile and dance along in my seat, which is always an indicator of a delightful evening.
Curly and Laurie - as played by Austin Barnes & Mea Holloway respectively, are the couple the show centers around, therefore the actors must have believable chemistry. Both actors were supremely talented, and played their parts well. Austin went all in on the Oklahoma accent, which worked well. Often that gets grating, yet he seemed to be having so much fun doing it, that it made the character all the more endearing. Mea has a beautiful voice. She made the audience care about Laurie and worry for her when the evil Jud (played by Josh Schoff) comes to town.
The actors that rounded out the large cast were also very talented. As par for the course for classic musicals, there was a great deal of dance and choreography used to enhance the story. These types of group dances must be difficult to pull off on such a small stage, yet this cast seemed to manage it successfully. The choreography seemed to embrace the size of the space, even including some jumps off the stage at one point. Along with the classic western-type group dances, "Out of my Dreams" which ends the first act included a beautiful ballet, which looked to be danced by talented and trained ballet dancers. The cast should be commended for their dancing and two-stepping talents. It was a highlight of the show, for sure.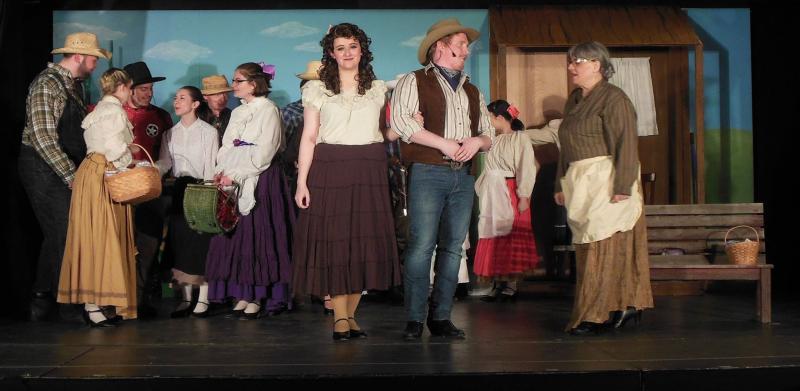 Another highlight, was the creative team's use of the small space. While they managed to incorporate large dances into this space, they also created a pretty impressive set, using a door, some "corn stalks" and the facade of a farmhouse. It's hard to explain, yet it worked. This set mixed with the beautiful costumes, really drew the audience into early 1900s Oklahoma. Cowboy hats, jeans and big belts were a staple for the guys. However, the women wore intricate and authentic-looking dresses or skirts which were made by piecing together a few current pieces. The outfits were quite believable, and I found myself wanting to actually wear at least a few of the dresses today.
While OKLAHOMA! may not be the most popular show to revive these days, the show itself still has its merits. Some of its songs like "Oklahoma!" or "Oh, What a Beautiful Morning" are ubiquitous with that 40s sound, and I don't think that will ever change. And if it continues to be given thoughtful and creative productions such as the one at Artistic Synergy of Baltimore, it should become even more popular with the theatre crowd and beyond.
OKLAHOMA! is currently playing at the Prince of Peace Church through March 18. Contact Artistic Synergy of Baltimore for tickets.
Show Dates & Times:
Friday, March 9, 2018; 8:00pm
Saturday, March 10, 2018; 8:00pm
Sunday, March 11, 2018; 3:00pm
Friday, March 16, 2018; 8:00pm
Saturday, March 17, 2018; 8:00pm
Sunday, March 18, 2018; 3:00pm
Related Stories
Kristen first discovered theater by way of Jesus Christ Superstar in elementary school and fell madly in love with the idea of singing and dancing. After a disastrous turn as Sandy in Grease in an ... (read more about this author)