Student Blogger: Holden Childress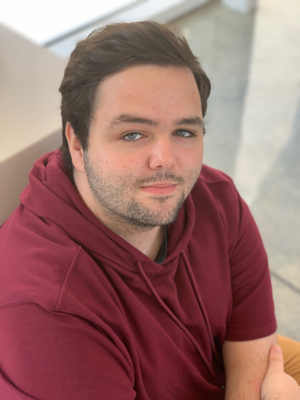 MOST POPULAR ARTICLES
LAST 30 DAYS
LAST 365 DAYS
Student Blog: One Last Post

June 1, 2021

It's been a great pleasure getting to write for BroadwayWorld, and I'll be forever grateful that I was given the opportunity.
---
Student Blog: Musical Films You Should Watch This Summer

May 19, 2021

I'm bound to watch some movie musicals this summer, and since there's enough to make a list, I thought I'd share some musical films I'll be watching this summer that I recommend.
---
Student Blog: Theatre Kid Reacts to the 93rd Oscars

May 4, 2021

2020 wasn't the best year for film, and understandably so. I still managed to find some nominees to root for at this year's Oscars ceremony, including some Broadway favorites.
---
Student Blog: Reflecting on the Strangest School Year Ever

April 19, 2021

I had just finished about four months of online learning when I started classes at UCM, so it was weird being on a campus again, especially with all the COVID-19 restrictions.
---
Student Blog: 4 Musical Theatre Roles I Would Love to Play

April 5, 2021

My list of dream roles is short, and it would be really great to make it even shorter by crossing these roles off the list.
---
Student Blog: Ranking Theatre Productions I Did in High School by How Much I Enjoyed the Experience

March 15, 2021

I don't look back on these as the best shows I've ever done, but I will always have memories from them, whether they're good or bad.
---
BWW Blog: More Musical Adaptations That Would Just Make Sense - "So Bad, It's Good" Edition

February 22, 2021

There are a lot of bad movies out there, ranging from moderately bad to absolutely horrendous. I want to look at some "so-bad-it's-good" films that I believe would make hilarious musical parodies.
---
BWW Blog: Broadway at the Golden Globes

February 8, 2021

Even theatre fans will be able to cheer on their favorites because there are several film adaptations of Broadway shows on the list of Golden Globe nominees this year.
---
BWW Blog: This Comedian Belongs on Broadway

February 1, 2021

Burnham's arrogant stage persona, use of blue comedy and anti-humor, and theatrical approach to his live performances have enabled him to separate himself from other comedians of the modern era.
---
BWW Blog: My Thoughts on MA RAINEY'S BLACK BOTTOM

January 14, 2021

Could this August Wilson classic win big at the Oscars?
---
BWW Blog: My Thoughts on THE PROM

December 21, 2020

In short: don't let the reviews discourage you from experiencing "The Prom". I didn't, and I think I'm a much happier person because of it. It might have even added a few years to my life.
---
BWW Blog: Musical Adaptations That Would Just Make Sense (At Least to Me and My Friends)

December 9, 2020

All of the excitement got me thinking of other musical adaptations I would love to see, and with the help of my theatre friends.
---
BWW Blog: 2020 - A Reflection

November 30, 2020

2020 has been quite the rollercoaster ride, huh?
---
BWW Blog: Your New Christmas Anthem, Courtesy of John Mulaney

November 13, 2020

Thanksgiving is just around the corner, meaning it's basically Christmas. Time to hang up the decorations and crank the stereo to 11 as we listen to our favorite Christmas songs.
---
BWW Blog: The New Normal?

November 4, 2020

Will this become the new normal? Or will we be able to go back to the way things used to be? All we can do now is keep our fingers crossed… and our masks on.
---
BWW Blog: The Tony Awards... Yikes

October 20, 2020

Considering how condensed this past Broadway season turned out to be, the question of whether or not there would be a Tony Awards ceremony this year was up in the air for some time, at least until recently.
---
BWW Blog: Broadway Smash or Adequate Biopic? - Clint Eastwood's JERSEY BOYS

October 1, 2020

Movie musicals dona??t always translate well from stage to screen, mostly because it is difficult to recreate the magic of a live stage production on camera.
---
BWW Blog: Lights, Camera, Teenage Anxiety! - Stephen Chbosky's DEAR EVAN HANSEN Film Rounds Out Principal Cast

September 11, 2020

For quite some time now, there has been talk of a big screen adaptation of Dear Evan Hansen, and in the last several weeks many details have come out about the film and who we can expect to see bring the nervous teenager and his friends from the stage to the screen.
---
BWW Blog: "Could You Unmute Yourself?" - A Theatre Major Does a Zoom Audition

September 1, 2020

For the past several months, Zoom has been an excellent way for educators to continue to teach to their students during the pandemic. Ita??s also been a great way to communicate with friends you havena??t seen since you were all told you couldna??t return to school.
---
BWW Blog: I Don't Dance - My Plans for Fall 2020

August 14, 2020

The start of a new school year is officially upon us, bringing to an end this weird, long and drawn out period of online schooling.
---