Olivia Murray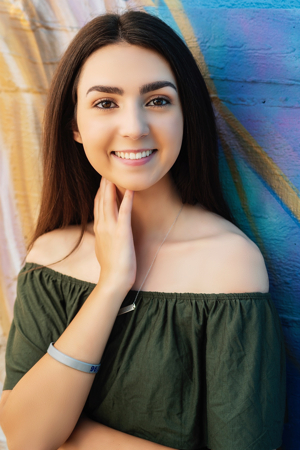 Olivia is a small-town girl with a large passion for all things theatre. Currently pursuing a bachelor's degree in Business and Entertainment at American University, her writing journey has just begun for BroadwayWorld and she can't wait to see what the world of entertainment has in store for her future. 
Review: DISNEY'S BEAUTY AND THE BEAST at Olney Theatre Center

November 13, 2022

Change can be a good thing, and in this case, it was astonishingly successful.
---
Review: THE TILL TRILOGY at Mosaic Theater Company

October 17, 2022

I strongly encourage anyone who can, to go see at least one if not all three parts of this story.
---
Review: ONCE ON THIS ISLAND at Constellation Theatre Company

October 4, 2022

You will laugh, cry, and feel many emotions in between. I strongly recommend going to see this incredibly talented cast put on a show that goes beyond any regular theatre performance.
---
Review: SERGIO MENDES at Strathmore

October 1, 2022

This show was lively and joyful, giving the audience what they wanted and more. Mendes is a true gift to music as his legacy continues to live on.
---
BWW Review: MEAN GIRLS at Kennedy Center

April 10, 2022

Read our critic's take as they write about how Tina Fey's well-known teen comedy fares in a new medium, made modern and on stage.
---
BWW Review: AIDA performed by Young Artists Of America at Strathmore

April 5, 2022

A story of love and war set in Egypt, where the Nubian princess and her people are captured, sets the scene for a thrilling and captivating show.
---
BWW Review: WAVES ACROSS TIME: TRADITIONAL DANCE AND MUSIC OF OKINAWA at Kennedy Center

March 25, 2022

The combination of the music, dancing, acting, and exquisite colors displayed by attire of the company brought the show to life, telling the many different stories of Okinawa.
---
BWW Review: CHRISTMAS EVE at ExPats Theatre

March 19, 2022

Ideas of patriotism, terrorism, and betrayal are commonly spread throughout this thriller to make the audience think of who is on the justified side of the interrogation.
---
BWW Review: EVERY BRILLIANT THING at NextStop Theatre Company

February 20, 2022

This performance taught me that anything can be your brilliant thing - from your favorite color to your wedding day - the options are endless.
---
BWW Review: AN IRISH CAROL at The Keegan Theatre

December 12, 2021

This show explores the original story of A Christmas Carol through the lens of a Scrooge-like Irish pub owner who learns that it's not too late to turn his life around.
---
BWW Review: MAN COVETS BIRD at Spooky Action Theater

December 8, 2021

This production was packed full of excitement, self-reflection, celebration, and a small mimed bird reminding us of the moral of the story.
---