Korey Beyersdorf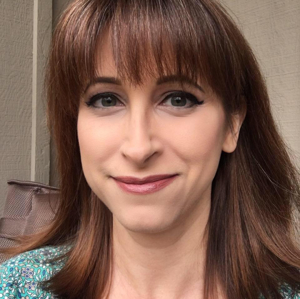 Korey Beyersdorf is the Director of On-Air Talent for a national television shopping network based in Minnesota. She is a media coach with over 15 years experience and has trained over 1,000 CEO's, Inventors, Designers, Celebrities and Spokespeople on how to sell products on television. She has worked in television, commercials and film production in Florida, New York and Los Angeles with well-known casting directors and talent agents, but her first love will always be theater. The first Broadway show she ever saw was "A Chorus Line" when she was six years old, and she has been hooked ever since. She is an avid theatergoer and tries to see as many Original Broadway Casts as she can when in New York. She has even attended the Tony Awards! Korey is involved in local community theater as well, and ushers in her spare time. Korey has a Bachelor's degree in Communications from Florida State University.
BWW Review: MOULIN ROUGE! THE MUSICAL at the Orpheum Theatre

May 22, 2022

Moulin Rouge! The Musical is a celebration of Truth, Beauty, Freedom and Love. Between the megawatt musical numbers, stunning dance performances and breathtaking sets and costumes, there is something for everyone in this show. This was an all-around good time, and if you can score a ticket, expect to have a great night at the theatre.
---
BWW Review: HADESTOWN at Orpheum Theatre

March 18, 2022

If someone tells you to go to Hell this week, you should listen to them. Of course, Hell in this case is the setting of the moody, smoldering Broadway musical Hadestown, playing at the Orpheum Theatre through March 20th.
---
BWW Review: ALL IS CALM: THE CHRISTMAS TRUCE OF 1914 at Theatre Latte Da

December 12, 2021

Sixty-five minutes of the most beautiful acapella tells the story of the British and German soldiers who put down their guns during the Christmas holiday of 1914 to come together as comrades during an all-too brief truce during World War I.
---
BWW Review: ANNIE at Children's Theatre Company

November 13, 2021

Children's Theater Company puts on a Broadway-caliber show, and if you are looking for a wonderful re-introduction to live theatre, Annie is a family-friendly production that will start your holiday season off right.
---
BWW Review: WHITE PRIVILEGE at Chain Reaction Theatre Project

November 7, 2021

The play White Privilege (a production from Chain Reaction Theatre Project, running through November 7th across the Metro area) is a valiant attempt to reach out to people who don't (or won't) understand and try to open their eyes to what is right in front of them.
---
BWW Review: THE CONVERT mesmerizes at Frank Theatre

March 9, 2020

The Frank Theatre's production of The Convert is a gripping dramatization that explores the clash between Christianity and African tribal beliefs through the eyes of a young girl caught between the two worlds.
---
BWW Review: MY FAIR LADY thrills at Orpheum Theatre

March 4, 2020

My Fair Lady, playing at the Orpheum Theatre through March 8th, is a gorgeous revival that will thrill fans of the classic movie as well as theater purists. With familiar songs, beautiful Tony Award-winning costumes and detailed, period-inspired sets, the new production has everything you could want in a Broadway showstopper.
---
BWW Review: SPAMTOWN, USA explores Minnesota history at Children's Theatre Company

February 24, 2020

In Spamtown USA, playing at the Children's Theatre through April 5th, both children and adults have to deal with the ramifications of how a strike at the local meat packing plant will affect everyone in town.
---
BWW Review: SIGNIFICANT OTHER Explores the Search for Love at Minnesota Jewish Theatre Company

February 19, 2020

Significant Other, playing at the Minnesota Jewish Theatre Company through March 8th, focuses on one man's search for love and how it strains his other relationships, almost to the breaking point.
---
BWW Review: ONCE ON THIS ISLAND shines at Ordway Center For The Performing Arts

February 7, 2020

Once On This Island, playing at the Ordway Theatre through February 9th, is an exhilarating musical fable that seeks to transport the audience into the world of Haitian folklore through a story of love, resilience and sacrifice.
---