Student Blog: Back to School at Nicholls State University
Setting up the stage for one final bow...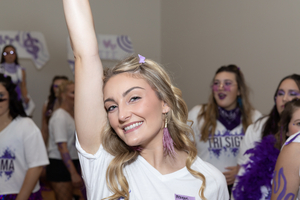 "The future's full of mysteries, so please let this be mine. My one perfect moment in time." One Perfect Moment from Bring It On the Musical.
I will never forget my first day of college at Nicholls State University. Mostly because I was entering a new chapter in my life, but also because quite literally campus flooded. Something I'd quickly come to learn was normal as campus flooded anytime it rained super hard due to the fact it used to be a rice field. How fun!
Anyways, I fell in love with my time at Nicholls and although my college experience was not ideal, I would not change a single thing about how my time as a Colonel.
I'm Not Freaking Out, I'm Really Okay
My last semester began like my others had before, with sorority recruitment. I was thrilled because it was our first in person recruitment since my freshman year and I had a part in singing during our Preference Party on the last day.
It was a bittersweet and emotional moment as my sister Peyton and I sang our ritual songs all teary eyed. That was the first time I realized I was actually graduating in just four short months, it was terrifying.
The semester started the following Monday and all those fun butterflies started to fill up my stomach, along with the anxiety of what is to come next.
There was no way that I was at this point in my life already. I had watched my older siblings graduate and now it was my turn. How did this happen so quickly?
My only "real" college semester was my freshman one back in 2019, so getting to have things back in person without restrictions felt sort of odd. I was used to wearing my mask, social distancing, and worrying if I left my apartment without my vaccination card.
I was eager to jump into my first last day of school, but couldn't shake this looming feeling. Sure, I was excited to do all the fun senior events, but I was also beginning to feel nervous because I have no idea what I'm doing come December 10th.
My last semester has been a bit easier than expected. I am only taking 12 hours compared to my past 18-15 hour schedules, and I don't have class at all on Friday's. My internship counts for class credit and my other job is on campus so I get a good bit of work done early in the day.
I've been able to relax a bit more and enjoy some time to reflect on these past few years. I even get to experience my last semester with my younger brother who is just starting his college life. Having my older siblings when I started college helped me to adjust much quicker than I expected to, so I love getting to do that for him.
I'm Totally Chill, or I will be Someday
I am lucky enough to say that I'll graduate college in three and a half years while navigating through some uncertain times. Almost every semester in my college experience has been accompanied by some life altering event.
My freshman year we had the pandemic hit, my sophomore year we had two major hurricanes hit our surrounding area, my junior year we had Hurricane Ida devastate our area, and senior year so far has just been senior year.
It has been a breath of fresh air compared to the craziness that was last fall. Not only did my parents lose their house in the storm, but I had to move out of my apartment complex due to the damage to the area as a whole.
I felt hopeless, until Nicholls took in students and families who lost their homes during the storm. Living on campus as junior with your family will humble you real quick, but it was an experience that helped to make my college life so unique.
So Near the Top, but There's so Many Mountains to Climb
Knowing I have 4.5 weeks left of my college experience really puts things into perspective for me. All of those little moments where I doubted this was the right major for me, sleepless nights stressing over a 9 am deadline, or even just sitting in meetings for different organizations I was in to plan an event following pandemic guidelines.
I would do it all over again and not change a single thing about it.
I relate to Campbell in Bring It On as she is uncertain of what her senior year has to offer her. So far mine has played out well. I might not know what is in store for me next, but if I've learned anything from my college experience, is to just embrace the uncertainty of a moment.
Related Stories