Interview: Jordan Fisher Talks Life-Changing DWTS' Experience, HAMILTON & More
2016 was a breakout year for multi-talented artist Jordan Fisher. In January of that year, Fisher had a memorable turn in the role of 'Doody' in FOX's Emmy-winning broadcast of GREASE LIVE!, and was deemed the show's breakout star by MTV and People Magazine. That spring, he released his first pop/soul/R&B-inspired single, "All About Us," which became the #2 most added song and a top 30 hit at pop radio. That August, Fisher released his self-titled EP, which debuted at #18 on the Billboard Heatseeker album chart. And for the icing on the cake, Fisher fulfilled a lifelong dream that November, making his Broadway debut in the Tony winning musical HAMILTON, where he took on the dual roles of John Laurens and Philip Hamilton.
Currently, Fisher sits on top of the leaderboard on the 25th Season of ABC's DANCING WITH THE STARS. The versatile actor and his pro dance partner Lindsay Arnold have been dazzling viewers with their stunning Viennese Waltz, their sultry Samba, and their high-energy Charleston. On last week's 'Most Memorable Year' episode, the Disney star and Broadway alum chose 2005, the year he was officially adopted by his grandparents after his biological mother was not able to care for him. Fisher and Arnold's highly emotional contemporary dance not only moved the judges and fans to tears, but also received the first perfect score of the season!
Today, Fisher takes a moment out of his busy rehearsal schedule to speak with BWW about his life-changing experience on DANCING WITH THE STARS, his burgeoning music career and his strong desire to one day return to the place he calls "home," the Broadway stage.
You must be exhausted after a long day of rehearsals!
Oh it's everyday- everyday is pretty non-stop. It could be very scary, but thankfully I've got an incredible team of great people I can lean on that help keep me sane and it's all good! I'm just grateful, grateful for the work.
It's been such a pleasure to watch you this season, as well as the entire cast of Season 25. It seems like a special group of people.
It's special. It is special. I've been a fan for a while, but there's something about this cast this season, I'm obviously not bias (laughs), but there is something- everybody loves each other. We all adore each other. It's very real.
So what made you decide to do the show?
You know timing is a funny thing. I was actually first asked a few seasons ago and it just didn't work out for me timing-wise. I needed to be on the road, I needed to do a radio tour, start really pushing my music and start getting some presence on radio. After 10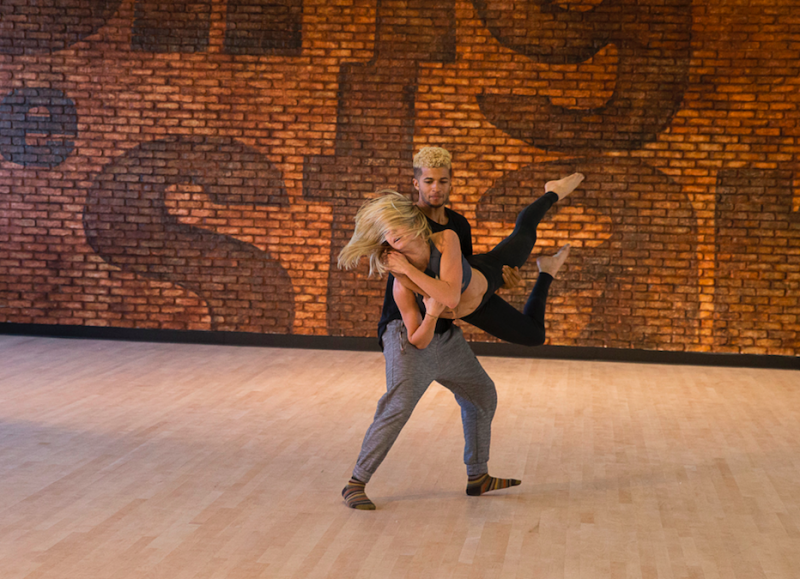 years of being in LA and really just busting my ass to try and make things work and get things happening and rolling, GREASE LIVE! happened and it opened up everything for me. I started getting offers for TV shows and films and so on and so forth. I was getting offers for Broadway shows and that was my ultimate, my very first dream I ever had where this industry was concerned and one that I cultivated about 14 years ago- to be on Broadway one day. But I had to say no to things because my gut told me, you need to be on the road if you really want to get your music going. You've got to spend this time, you've gotta grind, you've gotta hustle. So plane after plane and cars and trains and bikes, however you need to get from market to market you've gotta get from market to market- people will see your face and you'll play little shows multiple times a day, you've gotta do all those things. So I just buckled down and I did it and I'm so grateful that I did. Timing lent itself where I could do things later that might not have happened if I had done 'Dancing' earlier. So I'm just grateful that it worked out. And when it came back around for the 25th season of the show, they were very excited to reach back out and I was very excited to be able to accept this time around so I couldn't be happier. It's a really wonderful season!
Do you think your experience on GREASE LIVE! helped you prepare for performing on live television each week?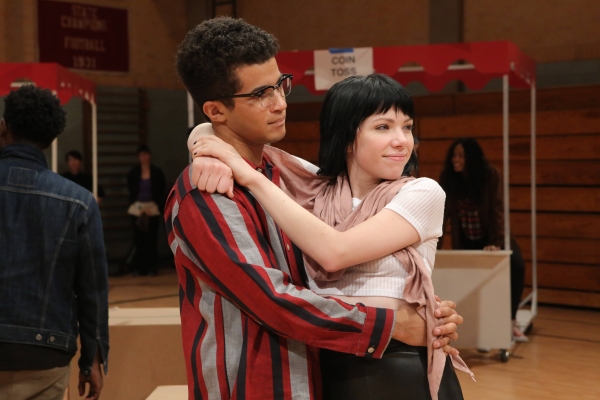 Yeah, definitely. I mean I had done some live hits with random things prior, but not like 'GREASE'. GREASE LIVE! was... it was a chore! It was interesting. One of, if not the most magical television experience I've had in my career where the people are concerned. I can't give enough credit to Tommy Kail and Marc Platt, Adam Siegel, it took so many people. The work and the time and the energy spent trying to figure out how to manipulate space and time to be able to pull that thing off, you know using three sound stages and half of a back lot, 40 golf carts. It was just an unbelievable thing, but I think it was the idea that we were going to have nine weeks to prepare and then we were going to get one shot. We had one 3-hour block to make this thing happen and it worked, unbelievably! So I definitely think the preparation for that, that and I think doing HAMILTON, doing that run for four months, gave me a good template for what it felt like to do live TV.
How is ballroom dancing different from your previous dance experience?
It's an interesting thing because I do have a performance background, I do have a background in dance, but I am definitely not a professional ballroom dancer. And unfortunately a background in performance and dance does not really apply to ballroom. It is something you have to entirely submit yourself to. My analogy is this, I'm a massive sports fan- I love sports- so I just like to imagine that everybody else does too. Unless you are a journalist, if you cover sports on a regular basis and you know exactly what it is and what goes into it, you might know sports and you might cover it here and there and know kind of what goes into it. But imagine the SUPER BOWL calls you and they say, "Hey we're gonna give you five days to learn how to cover the SUPER BOWL and then once the day comes and you're gonna do it on national TV live, 10, 15 million viewers, and then three of the best sports journalists in history are going to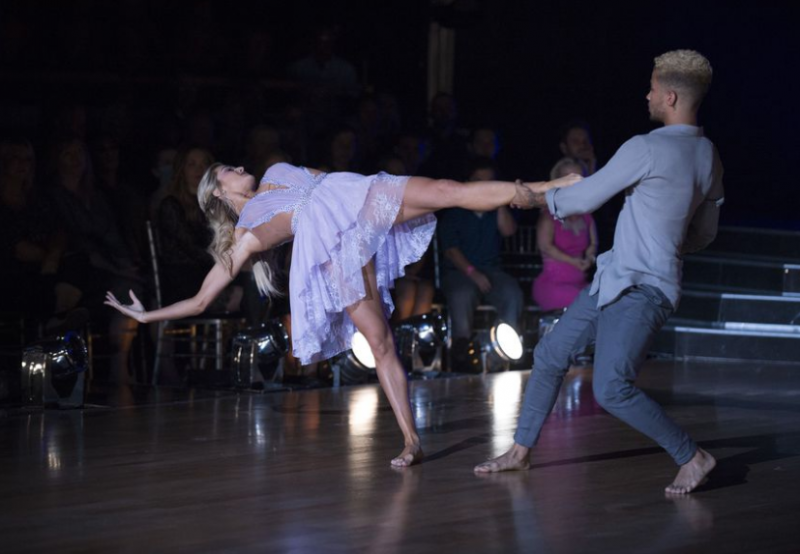 judge you on it. And then if we keep you and we don't eliminate you, we're gonna start all over for maybe five days more and then you'll cover the NBA FINALS and then after that the World Cup and after that The Olympics and then you'll get to the end and we'll give you a nice mirror ball for it!" That is the best way I can describe this. I know what dance is and I know what performance is, but ballroom is it's own animal and I've never felt more uncoordinated in my entire life, but I have an unbelievable partner who is the best. I just give her all of the clay I can possibly give her day in and day out and she molds it and transforms it, sculpts it into something special and we give it to America and we hope that we get some love.
That chemistry between the two of you comes right through the television screen. Was that there from the start?
Immediately, yeah. Immediate- from the moment we met. We met, we hung for a little bit, we did some stuff for the first package that America saw and that took about an hour or so and then we went and got lunch and just gave each other our entire lives. Just totally started spilling the beans. I told her my whole family story, my adoption story, I told her about my friends, my journey, my career. She did the same thing- she told me about her family, her sisters who are wonderful, her husband who I just adore.
He and my father went fishing yesterday. We really just started blending our families together and that is something I am very very grateful for. I've had a handful of friends do DANCING WITH THE STARS and they've all said, "Jordan if 'Dancing' ever approaches you, you have to say yes and here's why; you'll have the time of your life and you'll see doors open and that sort of thing, but the relationships that you make will last forever." And I can safely say that Lindsay and her family will be in my life forever.
Last Monday's episode was so emotional. How difficult was it for you to perform your dance routine after watching that opening video package about your adoption story?
Wow, you just gave me goosebumps thinking about it. My story, my family story, my adoption story, it's one that is 23 years old and it makes me who I am. I've been in the industry going on 14 years now and I have not once shared my story. Not because I'm ashamed of it, not because I was afraid of people knowing anything about my story or what makes me who I am. It was more so kind of the mentality of why would anybody need to know? Why? Is there any specific reason why people should know? Why should I tell people? Why should that be a thing that's out and in public? I had control of that part of my life. When I was asked going into the show what my most memorable year was, should I get to that week, I said 2005 easily. That was the year that my adoption became official. And at that point Lindsay said, "You know my advice to you is that you just surrender your story to the world. Let people know what makes you who you are, why you love family and love the idea of family and want a family of your own and are as close to your folks and your siblings as you are. Let people know. It does give people a reason to root for you, but you're gonna find catharsis in that." And I definitely did. It
was the most therapeutic, cathartic, purging experience I've had in a long time, if not ever. Being able to tell my story in that way and Lindsay taking care of it the way that she did and visually perpetuate and represent the story with this piece of art. I'm such a fan of Us the Duo, and to have them come and sing this song live, that has meant the world to me since they put it out, becoming friends with them, like really being able to share that moment, share that experience. And then my family being there- it was scary and it was unbelievable and it was something that I'll never forget. It's absolutely emblazoned into my soul.
What has surprised you most about your experience on the show?
I think the amount of fun I've had honestly. I mean I knew it was gonna be a challenge, I knew it was gonna be difficult, I knew I would make some great relationships, that kind of thing, but I didn't realize how much fun it was going to be. I really enjoy going to rehearsals every day. I love Sunday and Mondays, those are our camera blocking days, and then Mondays are our tape days and they're just so much fun, such a good time!
Is it comparable to the feeling you would get just before going onstage for a performance of HAMILTON?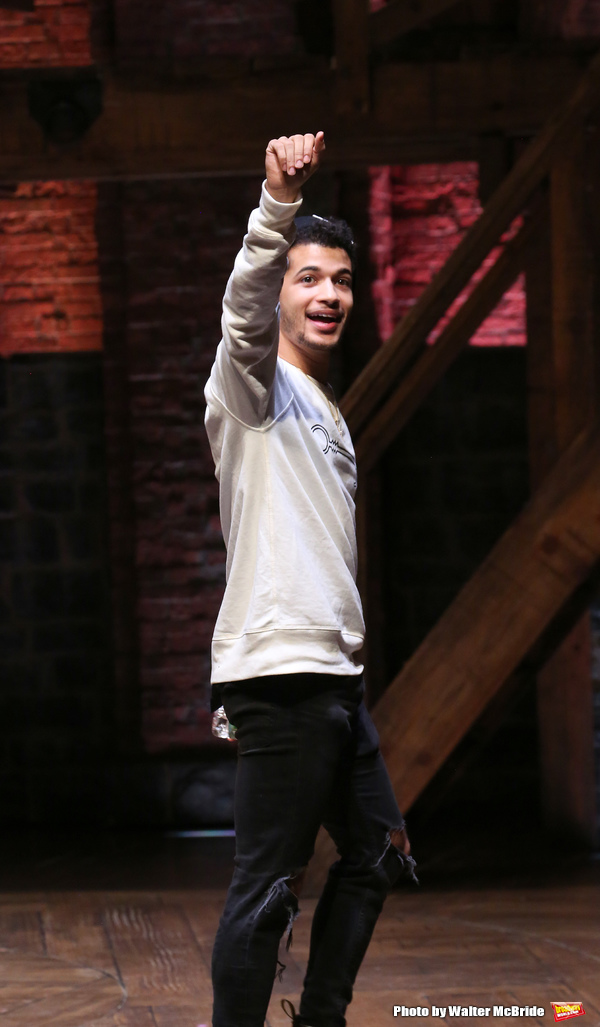 Yeah, it kind of is, but it's just a little bit different. When you're on Broadway, what's kind of the whole point is that you find something new in the show each night. You know, I can close my eyes and start walking through HAMILTON at any given time and I'll tear up because I remember day in and day out, eight shows a week, walking on stage, seeing everybody that I love. Seeing my second family, I mean I spent time with these people every day of my life and the Richard Rodgers [Theatre] was my second home. My dressing room was my little studio apartment outside of my place in the city. It was like going home everyday. I would do all of my other Jordan Fisher things, all the work, photoshoots, creative meetings, travel, whatever I would do during the day and then the evening would come around and I'd go feed my dog, take a walk, and so forth, and then I'd walk to the theater, I'd walk inside, you know dap up my door guy at the theater and I'd sign in and that was me kind of clocking out for the day. I would check out, that was rest time. I got to go put on John Lawrence and be John Lawrence, Phillip Hamilton, and do the thing. That was how I wound down every night. It was my time. It was wonderful and I miss it so much.
So what's next? Will you be focusing on your music, possibly coming back to Broadway?
Who knows! (Laughs) There are a lot of things up in the air right now. I'm phasing into development now, it's something that I'm really wanting to get behind is creating and producing shows, films, Broadway. I love creating and I love being able to make a difference and make a change- not to quote Michael Jackson too much- but it's something that I feel that I really need to get into. It feels like almost an obligation to do that. I love that aspect of building art, it's the cultivation, it's all of the things that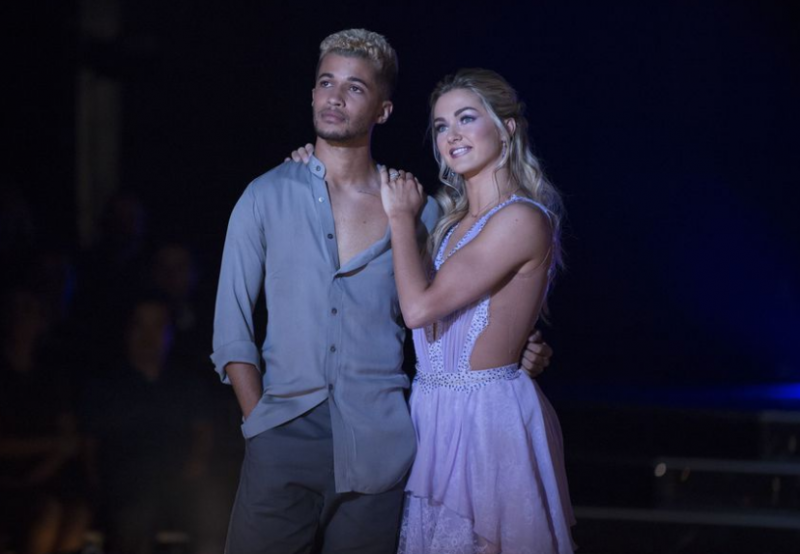 happen before, during, and after that people don't see that I really love and thrive on as well. So that's something that I'm really trying to phase into. You know, where my personal artistry is concerned, music is going to be a really big part of 2018 for me. I'm putting out a couple singles at the top of the year and I'm putting out an album and then going on tour. Finally. Letting that thing really take shape and transform and evolve and hopefully catch some really good fire. I've got a couple of potential TV opportunities that I might be able to get behind as a developer, which I'm very excited about. But at the end of the day, always, I am dreaming of getting back to New York and getting back to home for me, which is the stage.
We love to hear that!
Yeah, I miss it terribly and I cannot wait to get back. The Broadway community means the world. That goes for the actors, that goes for the crew, the producers, the writers, and most importantly that goes for the fans. The Broadway community is one that I will always hold very near and very dear to me.
It sounds like you are having the time of your life, and your fans are certainly rooting you on.
I definitely am. And thank you for the support and the love!
Last Friday, Jordan Fisher released his new single "Mess" with Hollywood Records. Check out the song's official music video below along with some of his memorable DANCING WITH THE STARS routines!
DWTS Photo credit: ABC/Heidi Gutman/Eric McCandless
GREASE LIVE! photo credit: Kevin Estrada/FOX