BWW Interview: Matthew Morrison Talks Gene Kelly, Spontaneity, and Telling Beautiful Stories in Upcoming Atlanta Concert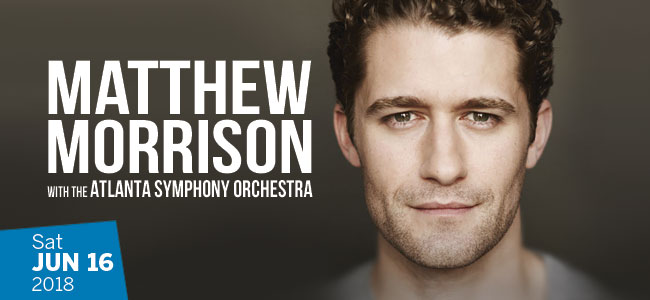 Timeless music. Broadway song and dance. When Matthew Morrison takes the stage at Symphony Hall on November 16, he will bring Atlanta more than a concert.
"One of my idols is Gene Kelly," shares the Tony nominee. "There's no one really doing that kind of song and dance with show anymore, so that is very much what my show is like and encompasses. A lot of standards, beautiful music. Today's music is all about coming up with a cool beat, but back in the day it was telling amazing stories. I love getting up there and telling beautiful stories through this amazing music, and doing it with a symphony orchestra always adds so much. So it's beautiful songs and me just dancing my butt off out there."
What songs specifically can audiences expect? I suggested selections from the Broadway shows he has been in like SOUTH PACIFIC, to which he facetiously responded without missing a beat, "You mean you don't want to hear me sing Justin Bieber?" Ok, no Biebs, but he is promising songs from his Broadway career as well as tunes that have influenced him as a performer.
"I'll definitely sing some songs from shows I've done, SOUTH PACIFIC, LIGHT IN THE PIAZZA, HAIRSPRAY- in my show, I do a very special HAIRSPRAY medley that kicks my ass every time, but it's so much fun. The show is all these songs that I love singing, songs that really have spoken to me over the years from people like Frank Sinatra and Sammy Davis Jr., and just classic songs that still have a life today and are still so recognizable."
Amid his planned musical numbers, Morrison's unique show hinges on spontaneity. He knows the songs he will sing and that he will talk to the audience between them, but the details are a mystery until the moment.
"I don't really write scripts for shows," reveals the star. "I just let it flow. So I honestly don't know myself what is going to come out, but I always have a lot of fun with the audiences and make it very interactive." He adds that he has been known to dance with audience members in past concerts and has even experienced unplanned audience sing-alongs.
"I don't want to inhibit myself and lock myself into a performance where I just end up being a robot," Morrison says, adding that he tries to experience something unexpected in every concert. "I always leave openings for imagination and persuasion and influence. I call it, 'the magic bubble' where little things will just magically happen that you never expected."
He says the most important factor in his show is authenticity, using a scriptless framework to insure he shows the audience his truest self.
"You sing a song and suddenly the lyrics of the song, depending on that day and where you are in your life, might have a different meaning to you than they did a month ago. And that's how people take in music too. You're in an audience full of people, and two audience members that are sitting right next to each other are having two totally different experiences depending where they are in their lives, what's going on, or what's happening that day. So that's why I never want to plan too much going into these things. I want to be authentic, in the moment, and present, and give what I am going to be- the person I am, the state I'm in on June 16 in Atlanta."
He says becoming a father has significantly influenced his state of being as a performer.
"I think there's a lot more depth that I feel just as a human being now, and that goes into my music. Something I've figured out in terms of parenting is you have to just trust your inner voice, and that's something I've been learning to do a lot. But [being a parent] makes being on stage more exciting because I have more to share."
Rather than putting on a fake "Matthew Morrison persona," he uses his show to boldly share his imperfect, real self with the audience. And he loves it that way.
"I love when things go wrong, because when things go wrong that's when excitement happens. That's the great thing about these shows: people get to know me, Matthew Morrison, instead of a character that I'm playing. So I really get to show people who I am. I feel like people really get to know me through my shows, and that's fun for me. So in every concert, I make 3000 new friends." Having not been on stage consistently in a while, Morrison says he will be a "bundle of boundless energy" when he performs in Atlanta.
As far as what's next for the Broadway star, he says his highest priority is his family.
"I've been purposefully taking some time off to focus on the most important role I've ever had in my life, a father. I'm just really lucky to have had the career I've had, so it's really afforded me the opportunity to take a break from things and focus on my family. I'm so fulfilled and so happy, and I feel like everything I'm consuming right now with this new journey is just going to make me a better performer at the end of the day and bring so much more depth and levity into everything I do."
As might be expected of someone his caliber, he does have a Broadway project in the works but could only drop hints about it.
"Between you and me, and I guess thousands of readers, I've been offered two Broadway shows, but nothing that's really speaking to me at this moment. It's gonna take a lot for me in my current state right now and the kind of father I want to be [to return to Broadway]. Being back on stage and doing eight shows a week is such a difficult task, so the show has to be really important. But actually I'm working on a few ideas and projects. There's one show in particular that I wish I could talk about, but I think within the next two years, I will be back on the stage. It's a special show, and I'm looking forward to getting my hands on it."
While Broadway audiences will have to wait until this mystery show debuts, this incredibly gracious and authentic star of the stage and screen says he is eager to perform for an Atlanta audience next weekend.
"I'm just excited to be down there and experience the beauty of the South, and I'm excited to sing some songs with all my Georgians."
---
American actor, dancer and singer-songwriter Matthew Morrison takes his act to Symphony Hall with the Atlanta Symphony Orchestra on Friday, November 16, 2018. Click here to purchase tickets! Mark your calendar and get ready to experience this multi-talented performer, known for his extensive broadway experience and starring role in musical comedy series GLEE.
For more Atlanta theatre love and general Broadway geekery, keep up with Sally Henry on Twitter, @theBwayGinger.