Click Here to Visit the College Center

BWW Blog: Not Just HAMILTON- An Ode to BRING IT ON: THE MUSICAL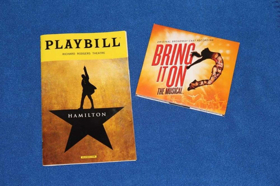 Lin-Manuel Miranda has certainly become a household name over the past few years. Garnering countless accolades for his work as a composer, writer, and performer, Miranda is not only one of my biggest inspirations, but a genius innovator in the theatre community. He boasts an extensive resume with many notable credits. He collaborated on the Tony Award winning musical In the Heights and the smash-hit Disney film Moana. Then he helped create the musical about unity and spirit - a musical that chronicles the story of an underdog who is transplanted into a new environment and must fight against the hierarchical structures of power to succeed. The protagonist has unfinished business and one chance to change their fate. With grit and determination, they become legendary. No, I am not discussing Hamilton. I am talking about Bring It On: The Musical.
I had the privilege of seeing Hamilton on Broadway last January. I was enraptured by the talented cast and crew's rich retelling of America's past with modern hip-hop flair and the diversity of America in the present. From bopping along to the catchy raps to tearing up during the final scene, I enjoyed every second of it. When the show concluded, and my family and I were exiting the theater, my dad, a grown man, said something that shocked me: "It was no Bring It On."
The Bring It On: The Musical cast recording was the soundtrack to my days as a young driver. When I had my learner's permit, I would drive to school each day with my dad in the passenger seat. Over those few months, my dad grew quite fond of the musical stylings of Bring It On, even though he was not an avid musical theatre fan.
Bring It On: The Musical is one of my favorite musicals (if not my number one favorite). A tale of team spirit, it is complete with catchy and high-energy production numbers as well as poignant ballads. "What I Was Born To Do" is the perfect song to get pumped up to for an audition or performance. "Enjoy the Trip" struck a chord with me during high school and tugs at my heartstrings every time I hear it. I believe it is Lin-Manuel Miranda's forgotten work, often overshadowed by the success of Hamilton.
Don't get me wrong, I love Hamilton. I was a sophomore in high school when Hamilton hit Broadway. Just like any other quintessential theatre kid, it quickly became an essential part of my musical theatre playlist. I listen to Hamilton "non-stop" and have unwavering appreciation for its innovation as a work of theatre. Not only I am continuously amazed at the originality of its script and the musical themes woven into its score, but the "Cabinet Battles" helped me pass AP U.S. History.
I urge Hamilton fans to listen to Bring It On and to honor Miranda's other work. The parallels between the two musicals are undeniable, as they share a similar style both musically and thematically. While Campbell and Hamilton's plights are different, both of the protagonists face predicaments with similar themes. Campbell strives for excellence, as she longs for her "one perfect moment," while Hamilton seeks excellence by exclaiming, "I'm not throwing away my shot." Both characters are uncertain about their futures but have unshakable determination. Campbell proclaims, "We're not done." Hamilton sings, "there's a million things I haven't done, just you wait."
Lin-Manuel Miranda's ingenuity and range of abilities have reinvented theatre, demonstrating that it is possible to succeed in different and diverse spheres of art. While Hamilton has received the most honors, awards, and attention of Miranda's projects, Bring It On: The Musical deserves to be admired as one of the best musicals of all time.
Related Articles