West Virginia Interviews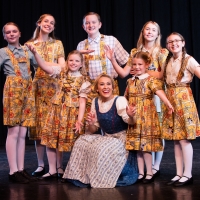 Rudi Arrowood & Emma Alley Of Charleston Light Opera Guild's Upcoming Production of THE SOUND OF MUSIC
by Richard Allen - January 13, 2020
, West Virginia
Charleston Light Opera Guild is kicking off 2020 with their highly anticipated production of the classic The Sound of Music, set to debut on January 17th at The Clay Center in the Maier Performance Hall....
Andrew Edwards & Heather Allen of ROCK OF AGES At Alban Arts Center
by Richard Allen - November 11, 2019
, West Virginia
'Rock of Ages has been a bucket list show for me ever since I saw the movie,' explained Andrew Edwards, who portrays Drew in the Alban Arts Center's upcoming production of the hit Broadway jukebox musical. 'I realized it was basically an excuse to be a rock star and scream some awesome rock songs th...
Brynna Horswell & Adam Campbell Of OKLAHOMA! At Charleston Light Opera Guild
by Richard Allen - November 05, 2019
, West Virginia
'Oklahoma! Is and will always be my first love,' explained Brynna Horswell, who portrays Laurey in Charleston Light Opera Guild's (CLOG) upcoming production of the Rodgers and Hammerstein classic. 'It was the first musical I remember being exposed to as a very little girl. I grew up singing and danc...
All Bets Are Off! GUYS AND DOLLS Opens at Old Opera House
by Johnna Leary - September 07, 2016
, West Virginia
Take a gamble this weekend as Guys and Dolls, the classic Broadway musical comedy about gangsters, showgirls and mission workers comes to life on the Old Opera House stage....