Emma Suttell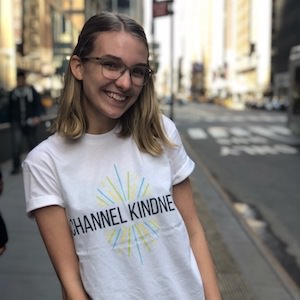 Emma Suttell is a sophomore in Phoenix, Arizona who is actively involved in the theatre community and journalism industry. She has been performing since 2009 and is an NYA, BWW Regional Award and AYAA Nominee, totaling in over 30 stage productions. She can also be found working behind the scenes as a volunteer stage manager for musicals featuring children ages 6-11. Aside from writing for BroadwayWorld.com, she is a Channel Kindness Reporter for Lady Gaga's Born This Way Foundation. She is also a part of the blog team for CampBroadway.com, a contributing writer for 85086 magazine, and a high school ambassador for HerCampus. You can find more of her work on Instagram @andthenemma, or at andthenemma.com.
MOST POPULAR ARTICLES
LAST 30 DAYS
LAST 365 DAYS
BWW Blog: HOW TO SUCCEED at SDOHS Soars Into Second Week of Rehearsals

June 19, 2017

As Sandra Day O'Connor wraps up it's second week of rehearsals for How to Succeed in Business Without Really Trying, rehearsal progress is intensifying and the shows are less than a month away. How to Succeed plays on July 7th and 8th at 2:30pm at Sandra Day O'Connor High School in Phoenix, Arizona; ticket prices are yet to be announced.
---
BWW Blog: Casting Results of HOW TO SUCCEED at SDOHS

June 11, 2017

The How to Succeed cast has been announced for this year's summer intensive at Sandra Day O'Connor High School and the students have several things to say. Everyone in the cast has successfully made it through an intense week of auditions, callbacks, and vocal rehearsals, and several of them are already proud of the immense progress everyone in the cast has made.
---
BWW Blog: Before the Audition with HOW TO SUCCEED at SDOHS

June 3, 2017

The beginning of Sandra Day O'Connor's Summer Intensive is only 2 days away, and all members of the cast are elated to share details about the audition process.
---
BWW Blog: Emma Suttell - Sandra Day O'Connor High School Summer Intensive

May 26, 2017

As the school year comes to a close, the window opens for summer intensives. This year, located in Phoenix, Sandra Day O'Connor High School is holding their annual "Theatre Rocks" Summer Camp. For incoming 7th through 12th graders, the school is putting on a production of How to Succeed in Business Without Really Trying in a short rehearsal process of only five weeks.
---
BWW Blog: Emma Suttell - Seuss' Stories Onstage!

April 26, 2017

As I am typing, engulfed in a cloud of hairspray accompanied by several shades of unusual eyeshadow colors. To close out the 2016-17 theatre season, I am part of the cast of Seussical at a small, local theatre in Phoenix, Arizona. In this whirlwind of a show, which intertwines several of Dr. Seuss' beloved stories, I play the role of Mrs. Mayor, the mother of Jojo, a boy who loves to think. The Whos are an extravagant group of people with unusual hairstyles (hence the presence of hairspray sticking to my floor) and an obsession with the colors yellow and turquoise.
---
BWW Blog: Emma Suttell - As One Journey Ends… Another Begins

March 20, 2017

With one final set of bows, the second and final weekend of Honk the Musical has come to an end. All around the room tears were shed as our choreographer reminded us all that never again would we work on the same project with the same group of people. The lighthearted cast had one final laugh together as our vocal director told jokes before we took the stage for the last time.
---
BWW Blog: Emma Suttell - A Bitter-Sweet Closing- as a Stage Manager in Training

March 6, 2017

As I am writing this, I can already say that I miss the cast that I worked with terribly. There's nothing that makes my heart so full as working with forty-three 5-10 year olds who are all truly passionate about theatre. Closing this show- my first one learning how to stage manage- has been extremely bittersweet. Training as a stage manager has been one of the most difficult things I have ever done, and I have a newfound respect for everyone that works tech for any show, anywhere. I've student assisted two other shows, but Winnie the Pooh strengthened my knowledge in tech beyond belief! I'm so grateful to all of my production staff for everything they taught me throughout the show- they've all teched several shows themselves, and I am so grateful they passed along their tips and techniques to me!
---
BWW Blog: Emma Suttell - Tech Week is Here at HONK! THE MUSICAL

March 3, 2017

Tech week is here for the cast of Honk! About 60 hours of rehearsal later, we have finally blocked and choreographed the entire show. Last Thursday was our costume parade, and we were able to try on all of the costumes for the show and tell our costume designer if anything needed to be fixed or altered.
---
BWW Blog: Emma Suttell - Designer Weekend is Here in the Hundred Acre Wood

February 15, 2017

Hello everyone, once again it is Emma, back with my adventures of being a stage manager in training! This week has approached much faster than I ever expected, it is Designer week! This means that on Saturday, we will have our tech crew come into the theatre and set all of the lights and timing of the music for the show. The entire show has been blocked and taught vocally, but the choreography for several of the songs will finally be finished this weekend.
---
BWW Blog: Emma Suttell - A Journey Into the Hundred Acre Wood

January 31, 2017

Hello everyone, I am back, this time talking about more than just my experience with Honk! The Musical. While playing the role of Dot in Honk! I am also playing the role of a stage manager in training for another show, Disney's Winnie the Pooh KIDS. I have quickly adjusted to being a caretaker for forty-three amazing 5-10 year olds, all of whom I have gotten to know quite well in the past few weeks of rehearsal.
---
BWW Blog: Emma Suttell - Back to the Barnyard with HONK! THE MUSICAL

January 19, 2017

Hi there, Broadway World readers! I'm Emma Suttell, and I am elated to say I'm a new student blogger for BWW! I am super active in community theatre, and perform regularly, recently taking on the role of a stage manager in-training. I can't wait to share my experiences with all of the readers of Broadway World.
---
2