Ella Outlaw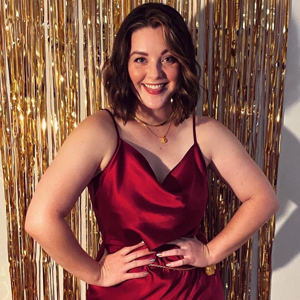 Ella Outlaw is a Mississippi Writer, Atlanta Producer, Atlanta Theatre Critic, and Your Friendly, Neighborhood Tarot Reader. 
IG: ella_outlaw_
Twitter: ella_outlaw_
MOST POPULAR ARTICLES
LAST 30 DAYS
LAST 365 DAYS
BWW Review: INTIMATE APPAREL is Delightfully Shocking at Actor's Express

April 11, 2022

Dark black curtains close in around a tight stage – the audience sits together in one section facing three separate beds neatly spaced out and decorated thoughtfully to indicate three separate playing spaces. The lighting is low and hugs you and your fellow audience members even closer to the playing space. The ambiance is delightfully intimate. 
---
BWW Review: WHEN LAST WE FLEW Falls Flat at Out Front Theatre

April 4, 2022

Imagine, if you will, a small theatre tucked away in midtown Atlanta. Affordable valet parking attendants cheerfully whisk your car away as you climb stone steps up to a lively and stylish dining area. You enter through doors and metal grates to see a parade of pride flags swinging proudly up and down a long hallway. Welcome to Out Front Theatre. 
---
BWW Review: A CHORUS LINE at City Springs Theatre is Masterfully Nostalgic

March 22, 2022

A Chorus Line at City Springs Theatre is a masterful revival of a well-loved classic. Featuring choreography by original cast member and Tony Award-Recipient Baayork Lee, the show feels overwhelmingly nostalgic, as if you had been transported back to 1975.
---
BWW Review: DREAM HOU$E is Poignantly Relevant at The Alliance Theatre

February 12, 2022

Playing on The Alliance's Hertz Stage, DREAM HOU$E follows the story of two Latinx sisters - Julia and Patricia Castillo - as they sell their family home on a popular home renovation TV show. Foundations crack as the walls begin to talk and not a single tile in the house is without a story to tell. [Written by Ella Outlaw]
---
BWW Review: A CHRISTMAS CAROL is Magnificently Heartwarming at The Alliance Theatre

December 6, 2021

If you're looking for a Broadway-level production in Atlanta, look no further than the Alliance Theatre. With a new script, a new score, and new costumes, A CHRISTMAS CAROL at The Alliance Theatre is a spectacularly hopeful revival of the classic Christmas story. | Ella Outlaw
---
BWW Review: HOMETOWN BOY is Beautifully Grotesque at Actor's Express

November 15, 2021

Welcome, ladies and gentlefolk, to the modern-day revival of Southern Gothic. HOMETOWN BOY at Actor's Express is a beautifully grotesque show about how secrets are like leeches you can't remove until you've faced them. Full of turmoil, lies, and revolting truths, HOMETOWN BOY challenges not just your perception of the South, but your place in it. 
---
BWW Review: HEATHERS Packs a Punch from Actor's Express and Oglethorpe University

October 13, 2021

If you're in a Halloween-type mood and down to see a cult classic come to life onstage, then HEATHERS: THE MUSICAL is a must-see this October. You're sure to have some "Big Fun" revisiting high school. 
---
BWW Review: AN ILIAD Brings Us Home at Theatrical Outfit

October 2, 2021

In a true return to original form, AN ILIAD at Theatrical Outfit is an intimate performance of the story of Hector and Achilles as told by one person – The Poet himself. Played by Suzi Bass Award-winner Lee Osorio, The Poet guides the audience through a tragically epic story, complete with props and the occasional help of The Muse, Deisha Oliver on cello. 
---
BWW Review: DARLIN' CORY Drags Down a Searing Truth at The Alliance Theatre

September 28, 2021

Full of secrets, moonshine, and scintillating music, the show follows our heroine turned hero Clara as she navigates her life as an outsider. If you're a fan of folk music, you will be a huge fan of this show. 
---
BWW Review: HAMILTON at The Fox Theatre Blows Us All Away

September 9, 2021

HAMILTON at The Fox Theatre is a remarkable show and the perfect note to revive theatre in Atlanta with. Even if you've streamed it on Disney+, listened to the soundtrack on repeat for months, and watched as many clips as you could find on YouTube, seeing the show in person makes everything feel new again. 
---
BWW Review: WORKING at the Alliance Theatre Tells ATL's Story

May 17, 2021

Broadway opens again in a few weeks, concerts are being scheduled again, and The Alliance is performing WORKING: A MUSICAL – the theatre is coming back soon! While we may not be back in front of a velvet curtain yet, WORKING: A MUSICAL under the tent teases normalcy while delivering a Coca-Cola Stage-worthy performance.  
---
BWW Review: BEAUTIFUL BLACKBIRD LIVE Delivers Sunshine and Free Wings

April 16, 2021

The world can feel oppressively cloudy sometimes, but bright spots that celebrate who people are without prejudice or shame can always be found. And if you're willing to sit in an outdoor tent on a rainy Saturday morning like I am, then you're in for a lot of sunshine at Alliance Theatre's BEAUTIFUL BLACKBIRD LIVE.
---
BWW Review: THE CATASTROPHIST at Theatrical Outfit Accomplishes a Herculean Task

March 15, 2021

Poignant, topical, and insightful - THE CATASTROPHIST by Lauren Gunderson at Theatrical Outfit is well worth the watch and could be the best one-person show you'll see and one of the best Atlanta shows this year.
---
BWW Review: MT Shorts' HIGH SCHOOL ZOOMSICAL Provides a Fun Night of Wholesome Entertainment

November 24, 2020

With wholesome jokes, clever Zoom cinematography, and even more clever Zoom choreography, I escaped into a wonderful world of fun songs and kind characters for the night.
---
Acting & Script Review Opportunities via Your New Favorite Podcast - Six Page Scripts

September 23, 2020

Six Page Scripts is a podcast caught in the crosshairs of entertainment + craft that is about screenwriting, the film industry, and the general buffoonery of the four hosts. Mitch, Jason, Kelley, and Laura welcome you into their creative banter, clever segments, and their writera??s room critique each hour as they review a listener-submitted script.
---
BWW Review: SOME MIRTH AND A LITTLE MATTER at Pumphouse Players Zooms Through Fun Jokes, Quirky Characters, and A Little Technical Trouble

August 16, 2020

The resilience of the Theatre is an incredible thing. While hundreds of thousands of ghost lights haunt us across the world, we still find ways to create art and do what we love. The Pumphouse Player's production of Laura King's Some Mirth and a Little Matter is an excellent example of this resilience and commitment to the art.
---
A Light in the Dark - The Atlanta Artist Relief Fund Brings Hope to Out of Work Artists

May 3, 2020

The COVID-19 pandemic has completely changed life as we know it, and artists have been especially hard hit. Many of us have lost jobs, gigs, future shows, and are staring down the barrel of months of unemployment. But, there is hope - and help - to be found in the Atlanta Artist Relief Fund!
---
BWW Review: INDECENT Inspires Empathy & Connection at Theatrical Outfit

March 16, 2020

INDECENT by Paula Vogel is equal parts demanding and rewarding for both performers and audience members alike. Theatrical Outlet's cast steps up to that demanding challenge without reservation and leans into the emotionally complicated story with palpable respect and admiration.
---
14 'Dinner And A Show' Date Ideas For Valentine's Day In Atlanta

February 3, 2020

Need help figuring out what to do with your boo this Valentine's Day in Atlanta? Here are 14 'Dinner and a Show' date ideas to help make your date night memorable and full of good theatre!
---
BWW Review: FUN HOME is Viscerally Compelling at Actor's Express

January 24, 2020

Actor's Express has created a fundamentally visceral production of the Tony-Award winning musical that's impossible to look away from and a thrill from start to finish.
---