Click Here to Visit the College Center

Blogs are the opinions of the authors and do not necessarily reflect the opinions of BroadwayWorld. BroadwayWorld believes in providing a platform for open and constructive conversation.

Student Blog: Spotlight on My Classmate, Edoardo Tesio
I interviewed one of my inspiring classmates, who just put on his first NYC production that he wrote, directed, and starred in!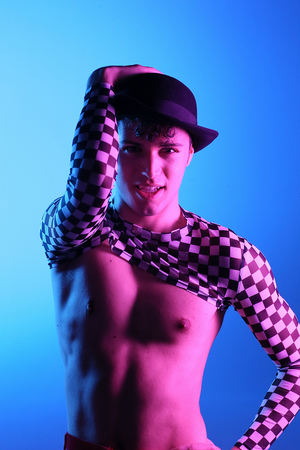 When my classmate Edoardo Tesio was a little boy, he saw a life-changing production of The Wizard of Oz. He had already decided that he was interested in storytelling when he began playing with the dolls his grandmother had gotten him for Christmas a few years before. However, Edoardo began taking theatre classes after he was inspired by the storytelling that is live theatre. A few years later, at the age of 15, he wrote and directed his first show.
That love of storytelling continued throughout Edoardo's life, and it continues now as he finishes his first half of his senior year at NYU Tisch Drama's Experimental Theatre Wing. Today, Edoardo identifies as primarily a playwright and director, but he also enjoys acting, dancing, and choreographing. "It changes everyday," he tells me. He ended up at NYU after attending the high school summer program, where he was excited to see that "finally [he] wasn't the only gay person!" NYU and Edoardo were meant to be, proven by the fact that NYU was the college that he applied to. "I don't know what I was thinking," he jokes. "I definitely had the whole American dream, New York City magic kind of thing going on at 16."
However, not two years into his education at NYU, the COVID-19 pandemic struck, and Edoardo was sent back to Italy, where he's from. He was actually trying to put up one of his original shows in NYC when the pandemic hit, and his cast had just started rehearsals. Edoardo, ever the optimist, did not let the pandemic stop him and his art, and he continued working while in quarantine. He described to me the difficulty and determination that came from working on his show during the pandemic, saying, "we're getting through [the pandemic], and [we're] making art, and we're not gonna be stopped."
Luckily, Edoardo was finally able to return to the states this year and put on his very first NYC show, titled Vanity. I was lucky enough to see it last weekend, and I can personally attest to Edoardo Tesio's artistic genius. The show he built was unique, charming, and mesmerizing, with a hint of humor. Everything from the script, to the costumes, to the lights was outstanding. And Edoardo made it happen almost entirely on his own. He had help from his incredibly talented friends and classmates on the creation of the actual show itself, but managing the budget, finding the space, and all the other behind the scenes work that got the show up and running was his doing.
The process of getting this idea out of his head and onto the stage was a difficult one, but a rewarding one nonetheless. Edoardo explains how he worked with his cast to develop the trust that he knew what he was doing. One of the biggest things he learned within the process was about sacrifices. With his budget, he had to decide whether he wanted really nice costumes or a really nice set, a really nice theatre or a better date for the show, a spectacular trailer or cooler props. In the end, Edoardo decided against having a set. "Maybe I don't have a set, and I make that a choice," he said. "Even if I had the money to get a proper set, I wouldn't want it because it became a very cool thing."
Edoardo also learned more about the importance of connecting with people, and most of his creative team was made up of his friends and classmates. His roommate, Bridget Spencer, did the killer choreography; his friend, Marjorie Murillo expertly assistant directed; his friend, Olivia Amicangioli wrote and produced some incredible original music; and he had a friend back home in Italy create the stunning backdrops! "I'm so lucky that I know people who are so talented," said Edoardo. "They helped me." His talented friends helped him to figure out how to put on a show without a large budget and without compromising his artistic vision. Overall, he explained that the biggest lesson he learned throughout the project is: You have to make it happen, and don't give up.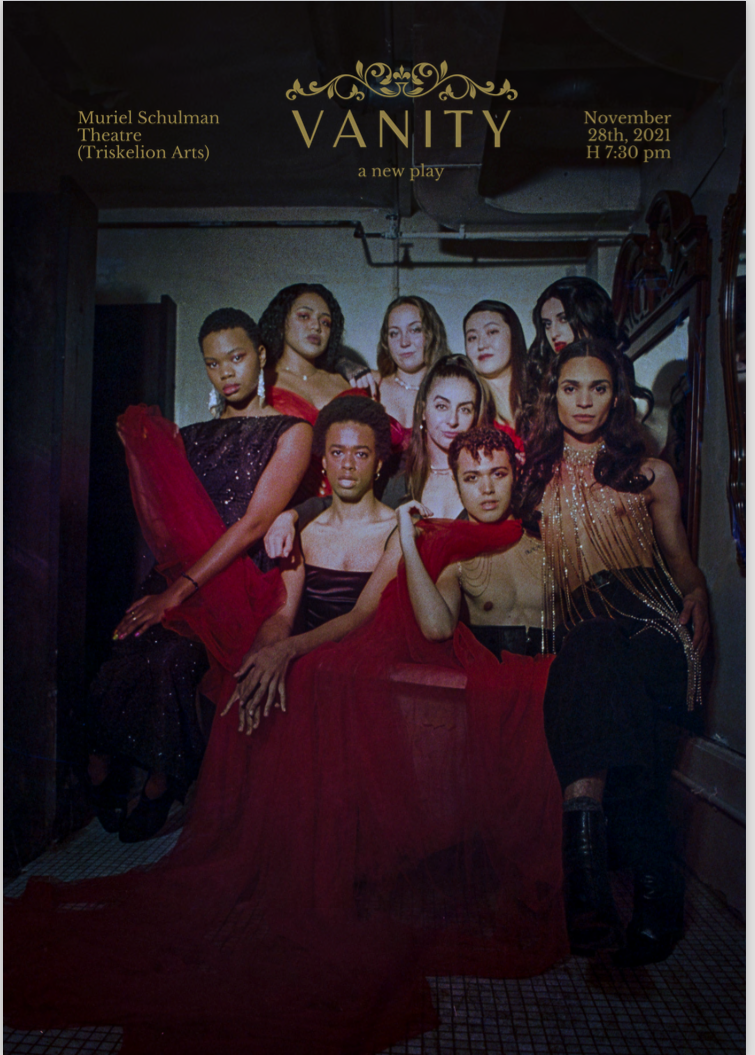 And Vanity was born! Vanity, originally a screenplay, is about an actor who is trying to figure out how to deal with their trauma, while playing a triggering role. The show deals with themes of navigating trauma, gender and sexuality, and the power of stories. Edoardo's inspiration for the show came from his schooling, and his own journey to figure out how to navigate trauma within the work. He explains how he has learned that "finding a balance to not have acting be hurtful to you is complicated." About the power of stories, Edoardo said, "You have to kill every single person who heard the story for it to die," which was a statement similar to one in the play.
As far as what's next for Edoardo, he wants to continue growing and learning about himself as an artist and as a person separate from his art. "When people ask me about myself not related to shows and my projects, I never know what to say," he laughed. "My artist self, the writer, the director, the Vanity Edoardo is way more aware of himself than my non artistic side. Me in my personal life, I want to learn from my artistic self, my artistic life." Right now, Edoardo considers himself to be a writer and director first, but "if you come back tomorrow, [he] might have a different answer."
However, I will tell you that you should remember his name now because one day everyone will know the one-of-a-kind artistic talent that is Edoardo Tesio! I, for one, cannot wait to see what he does next.
To see the trailer for Vanity: https://vimeo.com/645560554