BWW Review: HAPPY JACK, Jack Studio Theatre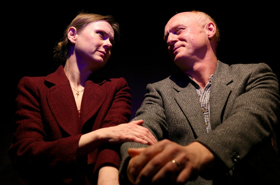 Happy Jack is an early "Godber" and there are times and you can when you can see the young playwright finding his feet - or, rather, his voice. It's even more personal than his usual style, as poignant as ever, if not as laugh-out-loud funny - in fact, it's a love letter both to his grandparents who inspired the play and to a world now long gone.
Jack works down the pit and Liz keeps the house spotless. We first meet them in their early sixties, the span afforded each of them, Liz carried off by cancer, Jack by the years of breathing in coal dust. Life was nasty, brutish and short - but it had its compensations, and we learn of those as we travel back in time in scenes from a marriage.
What emerges is the tale of two specific Yorkshire people that stand for millions of other British working class lives in the 20th century. We get Liz with her post-menopause "nerves" and the tablets to suppress them, Jack with his fighty response to threats, Liz as a shy teenager who knows what she wants and Jack scribbling poems, a glimpse into a creativity unexplored in education, but not quite flattened underground. It's not quite nostalgic - the sepia never seeps in - but it does not judge either.
Liz is disappointed by her life, looking back a sense hangs in the air that it was too small, too confined to the home, too much in service of husband and children. Yet we see her happy in Blackpool, pleased to have a man's man like Jack for a husband, giggly after a rare drink or two.
Jack's resentments lie more with the lot of the miner, the sure knowledge that nobody understands their subterranean world and what that does to their minds and souls. He's often, as the title suggests, happy, but the short fuse and the verses indicate frustrations buried in his psychology too.
Jonny Magnanti and Tracey-Ann Wood make a winning couple - addressing us directly at the beginning and intermittently through the play. We like them and believe in them, for all their flaws, and the soap operaish shouting, so common in productions like this, is largely eschewed by director Dan Armour, which is a mercy for all of us.
Happy Jack is an intimate piece, one that has grown in its 37 years to something more like social documentary, snapshots of a lost world. It is, perhaps, a good thing that (ex) mining villages have Netflix and Netto and that holidays (for those in work and paid reasonably) stretch beyond caravans in Whitley Bay. But the old certainties have gone - maybe an early death is less likely, but what fills the weeks and years? Where is the community that emerged as a sum of all those days of toil, ambition constrained by narrow horizons?
The Jacks and Lizs of today are the angry men and women who feel betrayed, left behind, unwanted in an England that has moved on and left them to get on with it - a world of few buses, schools starved of resources and vicious benefit sanctions. And they're not going to settle for writing a few poems or a prescription of Xanax.
Happy Jack is at the Brockley Jack Studio Theatre until 25 May.
Read BWW's interview with John Godber.
Photo Robert Piwko