Photo Coverage: Part Of Your World: The Music Of Alan Menken
On September 26 "Part Of Your World: The Music Of Alan Menken" hosted by Lynn Ahrens played the Merkin Concert Hall with such Broadway notables as Kerry Butler, brian d'Arcy James, Michael McGrath, Jennifer Hope Wills, Judy Kuhn and Mary Bond Davis and Josh Tower. Musical Director for the evening was Michael Kosarin. The entire evening was part of the Kaufman's Center's "Broadway Close Up" series.

With the late Howard Ashman, Menken composed the doo-wopesque score of off-Broadway's Little Shop of Horrors (which received a recent Broadway production), as well as the beloved Disney films The Little Mermaid, Beauty and the Beast and Aladdin. He has received eight Academy Awards for his film work as a composer; in addition to those three, he won for Pocahontas, which was co-written with Stephen Schwartz (Best Music, Original Musical or Comedy Score and Best Music, Original Song). Also the recipient of three ASCAP Awards, his other film credits include Newsies, Hercules and Home on the Range. He is also the composer (with David Spencer) of the cult musical Weird Romance and of God Bless You Mr. Rosewater (with Ashman).
A number of other Broadway concerts and events will be presented at the Kaufman Center in the fall as well: Tony Award-winning composer/lyricist
William Finn
will be toasted on October 31st in
William Finn: Even More Infinite Joy,
and new musical theatre works will be performed in
Bound for Broadway VI
on November 28th.For more information, visit
http://www.kaufman-center.org
Lynn Ahrens
was host for the evening
Lynn and Alan discuss his career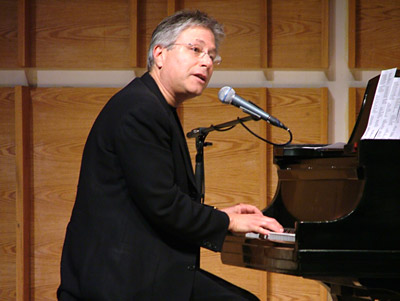 Alan starts off the evening playing two songs from his youth
"Trendell Terry" and "Pink Fish"
Kerry Butler
performing "Somewhere That's Green" from
Little Shop of Horrors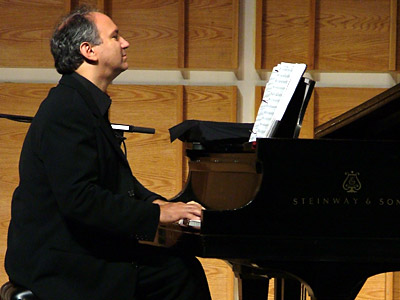 Accompanied by
Michael Kosarin
on piano
Kerry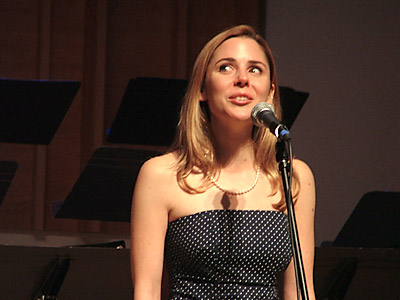 Next up was "Part Of Your World" from
The Little Mermaid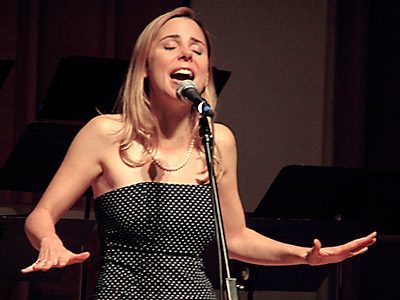 Both songs brought tears to Menken's eyes. Kerry leaves the
stage after an embrace with Alan
Judy Kuhn
sang one of her signature songs, "Colors Of The Wind"
from Pocahontas
Followed by "Never Again" from King David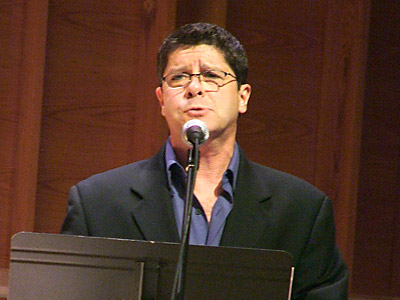 Spamalot's
Michael McGrath
debuting "Positoovity" - a song
for the upcoming "
The Little Mermaid
" musical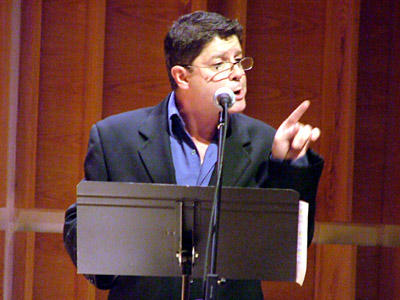 Singing as Scuttle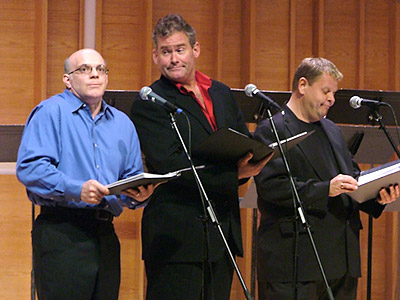 and joined by other "gulls"
brian d'Arcy
James debuting "If Only/Her Voice" from
The Little Mermaid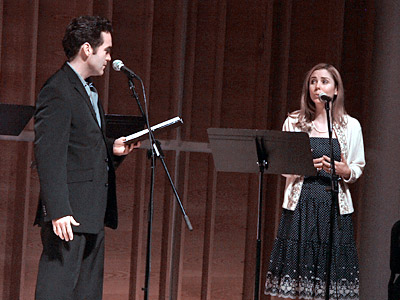 a lovely duet between Prince Eric and Ariel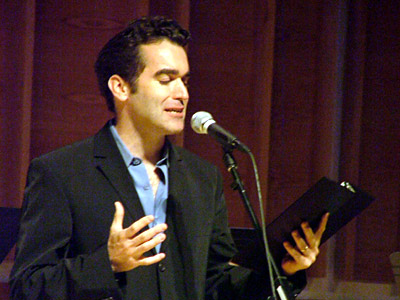 Michael then sang "Love Can't Be Denied" from The Ice Queen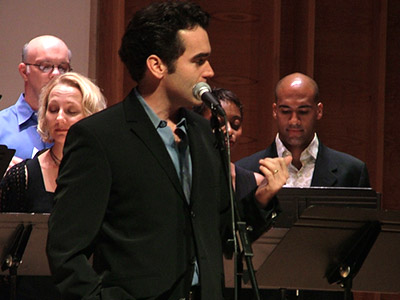 Kicking it up in a number called "Rise Up" from Leap Of Faith is Brian
backed by a powerful chorus
"Rise Up!"
Alan and Lynn look on
Jennifer Hope Wills
performed "Long Past Dreaming" from
the upcoming Leap Of Faith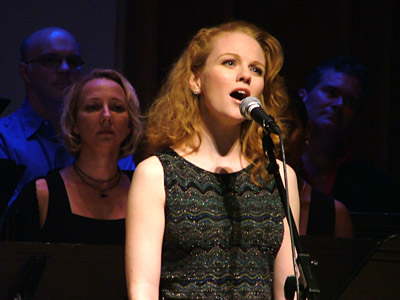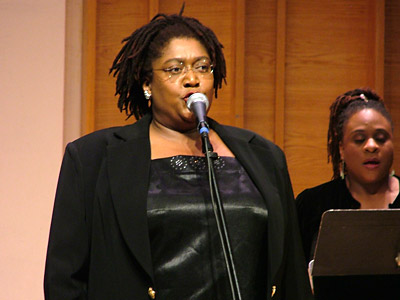 Mary Bond Davis
led the full cast in the title song, "Leap Of Faith"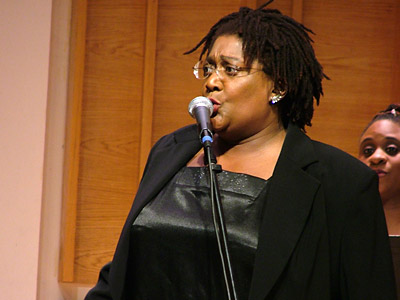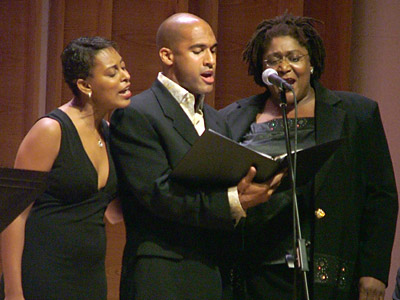 Schele Williams
,
Josh Tower
and
Mary Bond Davis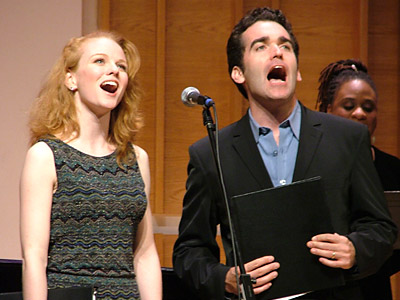 Jennifer and Brian
Alan concluded the evening with a medley of songs from his career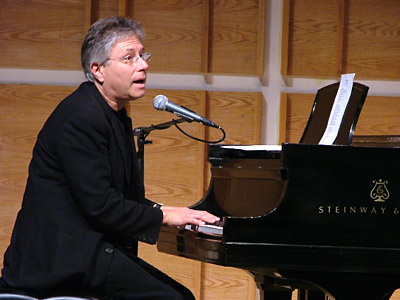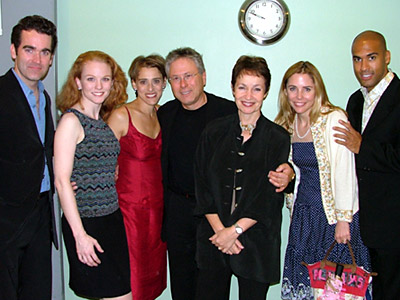 brian d'Arcy
James,
Jennifer Hope Wills
,
Judy Kuhn
,
Alan Menken
,
Lynn Ahrens
,
Kerry Butler
and
Josh Tower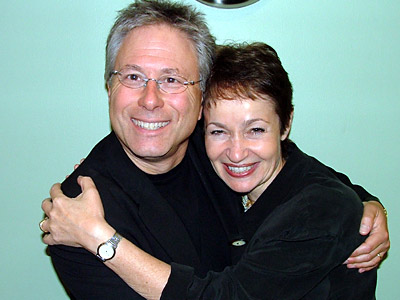 Alan and Lynn