Closer at Great Plains Theatre
Dates

9/17/2020

Theatre


Abilene,KS




News About Closer at Great Plains Theatre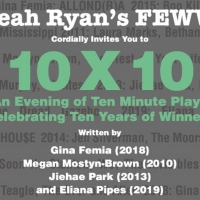 Leah Ryan's FEWW Celebrates Ten Years Of The Leah Ryan Prize At Cherry Lane Theatre
March 08, 2020
Leah Ryan's Fund For Emerging Women Writers celebrates ten years of awarding it's prize to women playwrights with 10 X 10: An Evening of 10 Minute Plays Celebrating Ten Years of Winners. The gala event will take place at Cherry Lane Theatre on March 30 and will feature world premiere short plays from past recipients Megan Mostyn Brown, Genia Femia, Jiehae Park, and Eliana Pipes. A pre-show cocktail reception begins at 6:00pm, followed by the main performance at 7:00pm and an afterparty at Cowgirl. The evening will be under the direction of Daniella Topol. For more information, visit https://leahryansfeww.com/.

THE PLAY'S THE THING: Ingram New Works Festival's Dean Poynor
May 09, 2019
Today, we continue with our series of interviews, The Play's the Thing, focusing on the four emerging playwrights and their new works which will premiere over the next ten days at the Ingram New Works Festival. Next up is Dean Poynor, whose play The Second Avenue Subway will have its premiere public exposure in Nashville.