Now Playing Onstage in Wichita - Week of 6/08/2014
View All Show Listings for Wichita
Click Here to View BroadwayWorld.com Wichita Calendar
AUGUST: OSAGE COUNTY
The Barn Players
5/30-6/15/2014
A vanished father. A pill-popping mother. Three sisters harboring shady little secrets. When the large Weston family unexpectedly reunites after Dad disappears, their Oklahoman family homestead explodes in a maelstrom of repressed truths and unsettling secrets. Mix in Violet, the drugged-up, scathingly acidic matriarch, and you've got a major new play that unflinchingly-and uproariously-exposes the dark side of the Midwestern American family.
Click Here for More Information
SOUTH PACIFIC
Music Theatre of Wichita
6/11-6/15/2014
"Bali Hai will call you!" After an absence of almost two decades, MTWichita is thrilled to bring this exciting, melodic and groundbreaking musical play back to our stage. The 2008 Lincoln Center revival won 7 Tony Awards, showing once again how timeless, important and purely entertaining this unique musical has proven to be. Rich characters and a compelling story are propelled by one of the best scores ever written, including "Some Enchanted Evening," "A Wonderful Guy," "There is Nothin' Like a Dame," "I'm Gonna Wash That Man Right Out of My Hair," "Younger Than Springtime," "Honey Bun," "This Nearly Was Mine," and "Carefully Taught."
Click Here for More Information
SINGIN' IN THE RAIN
Columbian Theatre
5/30-6/15/2014
Adapted from the 1952 movie of the same name. Set in Hollywood in the waning days of silent screen era, it focuses on romantic lead Don Lockwood, his sidekick
Cosmo Brown
, aspiring actress Kathy Selden, and Lockwood's leading lady Lina Lamont, whose less-than-dulcet vocal tones make her an unlikely candidate for stardom in talking pictures. Don Lockwood is a silent film star with humble roots as musician, dancer, and stunt man. Don barley tolerates his vapid leading lady, Lina Lamont, who is convinced that their screen romance is real. After the first talking picture, The Jazz Singer, Proves to be a smash hit, the head of the studio, R. F. Simpson, decides he has no choice but to convert the new Lockwood and Lamont film, The Dueling Cavalier, into a talkie. The production is beset with difficulties, by far the worst being Lina's comically grating voice. After a disastrous test screening, Don's best friend, Cosmo Borwn, comes up with the idea to overdub Lina's voice and they convince Simpson to turn The Dueling Cavalier into The Dancing Cavalier, a musical comedy film. Meanwhile, Don falls in love with an aspiring actress, Kathy Selden, who is providing the voice for Lina.
Click Here for More Information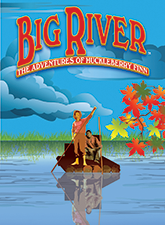 BIG RIVER
Great Plains Theatre Festival - Plain Great Players
6/6-6/15/2014
Twain's timeless classic sweeps us down the mighty Mississippi as the irrepressible Huck Finn helps his friend Jim, a slave, escape to freedom at the mouth of the Ohio River. Their adventures along the way are hilarious, suspenseful and heartwarming, bringing to life your favorite characters from the novel-the Widow Douglas and her stern sister,
Miss Watson
; the uproarious King and Duke, who may or may not be as harmless as they seem; Huck's partner in crime,
Tom Sawyer
, and their rowdy gang of pals; Huck's drunken father, the sinister Pap Finn; the lovely Mary Jane Wilkes and her trusting family. Propelled by an award winning score from
Roger Miller
, the king of country music, this jaunty journey provides a brilliantly theatrical celebration of pure Americana.Music by
Roger Miller
; Lyrics by
Roger Miller
; Book by
William Hauptman
; Adapted from the novel by
Mark Twain
Click Here for More Information
DISNEY'S CINDERELLA, KIDS
The Barn Players
6/17-6/24/2014
The timeless fairy tale meets the magic of Disney in this adaptation of the treasured animated film. Poor Cinderella is endlessly mistreated by her wicked stepmother and stepsisters, and denied a chance to go to the Royal Ball. With a little help from her mice friends, and a lot of help from her Fairy Godmother, Cinderella goes to the ball, meets the Prince, and falls in love!
Click Here for More Information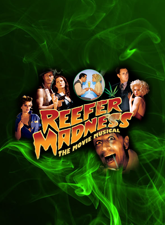 REEFER MADNESS
Topeka Civic Theatre and Academy
6/13-6/28/2014
Inspired by the original 1936 film of the same name, this raucous musical comedy takes a tongue-in-cheek look at the hysteria caused when clean-cut kids fall prey to marijuana, leading them on a hysterical downward spiral filled with evil jazz music, sex and violence. You won't be able to resist the spoofy fun of REEFER MADNESS. The addictive and clever musical numbers range from big Broadway-style showstoppers to swing tunes like 'Down at the Ol' Five and Dime' and the Vegas-style 'Listen to Jesus, Jimmy,' featuring J.C. Himself leading a chorus of showgirl angels. This dynamic show will go straight to your head! REEFER MADNESS is a highly stylized and satirical political commentary. It contains adult humor, religious parody, and drug use, as well as suggested violence and sexual explicitness. It therefore may be inappropriate for younger performers and audiences. Book by
Kevin Murphy
&
Dan Studney
; Music by
Dan Studney
; Lyrics by
Kevin Murphy
Click Here for More Information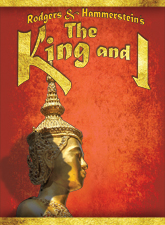 THE KING AND I
Theatre Lawrence
6/13-6/29/2014
East versus West makes for a dramatic, richly textured and ultimately uplifting tale of enormous fascination. It is 1862 in Siam when an English widow,
Anna Leon
owens, and her young son arrive at the Royal Palace in Bangkok, having been summoned by the King to serve as tutor to his many children and wives. The King is largely considered to be a barbarian by those in the West, and he seeks Anna's assistance in changing his image, if not his ways. With both keeping a firm grip on their respective traditions and values, Anna and the King grow to understand and, eventually, respect one another, in a truly unique love story. Along with the dazzling score, the incomparable
Jerome Robbins
ballet, 'The Small House of Uncle Thomas,' is one of the all-time marvels of the musical stage.Music by Rodgers, Richard; Book by
Oscar Hammerstein
II; Lyrics by
Oscar Hammerstein
II; Based on Anna and the King by
Margaret Landon
; Original Choreography by
Jerome Robbins
Click Here for More Information
View All Show Listings for Wichita
Click Here to View BroadwayWorld.com Wichita Calendar
Related Articles
From This Author BWW