BWW Review: THE RUBENSTEIN KISS, Southwark Playhouse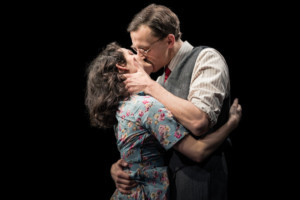 In June 1953 after a brutal trial that lasted over two years, Ethel and Julius Rosenberg were executed for allegedly providing the Soviet Union with nuclear weapon designs, besides bearing substantial charges of espionage and conspiracy.
James Phillips transforms their story in Esther and Jakob Rubenstein's in his 2005 play The Rubenstein Kiss, now having its first revival in London at Southwark Playhouse. Directed by Joe Harmson, it's only natural for a piece of this kind to resonate in a political climate such as this.
The traverse stage divides the audience as it presents a world marred by uncertainty and the underlying fear and fascination that fast progress claims. Harmson offers a meticulous direction that doesn't, however, help the rather stiff pace given by the every so often dramatically vain script.
He plays with quick changes (Anna's birth is especially striking) but these instances are too far apart to make the production a directorial experiment. Ruby Bentall and Henry Proffit introduce a couple ruled by their idealism and mutual passion as they're betrayed by their own kin.
Family ties, their strengths, and ultimate break come together with Sean Rigby and Eva-Jane Willis' performances as Esther's brother David and his wife. She is a commanding presence in her frailty while Rigby rats out Jakob without a second thought.
Dario Coates (Matthew) and Katie Eldred (Anna), the latter in her professional debut, own an energetic spunk as they question the couple's legacy and the, in their opinion, unjust outcome of the court case.
Designer Sean Cavanagh leaves the space relatively bare, with opposite tall pillars evoking New York's famous fire escape system and a large table that's pivotal to the action. Running at two hours and a half, The Rubenstein Kiss feels weighty but becomes an electric epic anyway.
The Rubenstein Kiss runs at Southwark Playhouse until 13 April.
Photo credit: Scott Rylander