BWW Review: MURDER FOR TWO, The Other Palace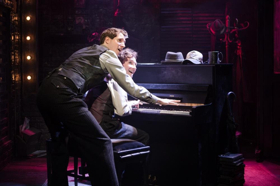 After starting out Off-Broadway in 2011 and collecting nominations from the Drama League, Outer Critics Circle, and Drama Desk Awards, Kellen Blair and Joe Kinosian's Murder for Two landed its UK premiere at The Watermill last year. Now, it's come to London to delight Christmas audiences at The Other Palace directed by Luke Sheppard and produced by the venue's own Paul Taylor-Mills.
Famous novelist Arthur Whitney is killed right as he walks into his surprise birthday party at his mansion. Marcus Moscowicz, a neighbourhood cop with dreams of climbing the ranks to become a bona fide sleuth, runs against time to solve the mystery and get his long-coveted promotion before the real detective arrives.
An impressive two-hander that requires not only clockwork characterisation and flexibility from the actors but also excellent piano skills, the musical is built with unpretentious and lighthearted comedy. Jeremy Legat takes on the 12 guests while Ed MacArthur leads as the young policeman.
The closed-room-and-quirky-suspects whodunit format fits well within the gears of constant swapping between characters and nearly non-existent fourth wall. It's a show that's aware of its limitations and that works around them with humour and ease.
Blair and Kinosian have built a strong book and accompanied it with catchy and funny tunes. Irreverent when it needs to and straightforward in its gags, the piece is tastefully American in its slapstick nature.
While it doesn't necessarily need an intricate scenic design, Gabriella Slade brings another dimension to the musical. Her striking set is gritty and hazy with dark exposed bricks and papers scattered on dusty file cabinets; it also features a black upright piano in the middle which takes a central role throughout.
During a Christmastime when many anti-pantos seems to revolve around crime-related fun, Murder for Two sits right at home. Ludicrous, entertaining, and amusingly performed, it certainly is a great night out.
Murder for Two runs at The Other Palace until 13 January.
Photo credit: Scott Rylander