Review: INTRA MUROS, Park Theatre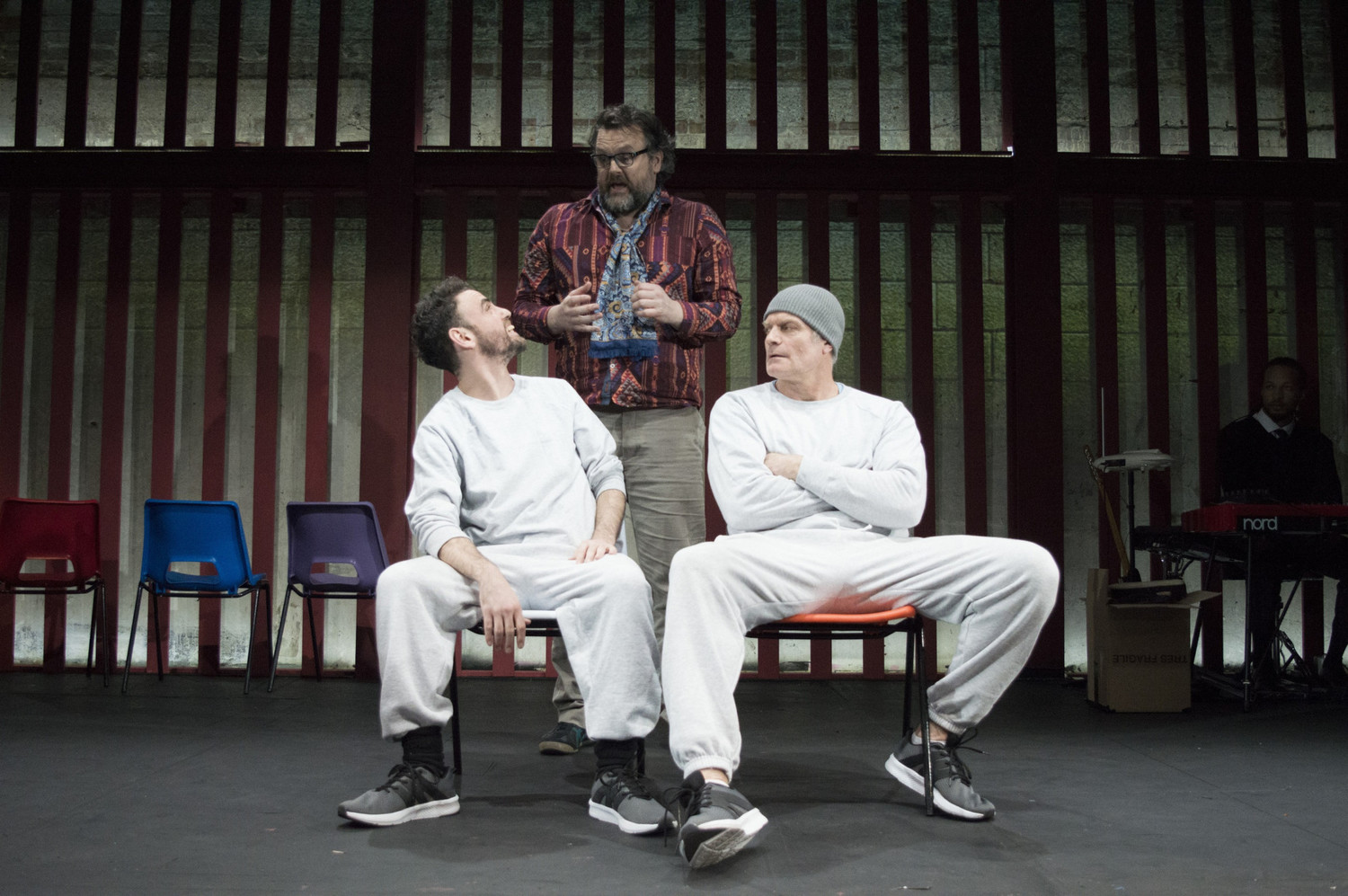 Richard, a theatre director who's seen better days, is asked to teach a drama class in a maximum security prison in Norwich. Only two inmates are attending the course, which kick-starts an exploration of guilt, time, and what it means to be human.
Intra Muros is the brainchild of the very prolific Molière Award-winner French playwright Alexis Michalik. It premieres at Park Theatre in a translation by Pamela Hargreaves - the writer's mother - and it's directed by Ché Walker, who also takes the role of Richard.
The meta-theatre nature of the piece permeates the play from its very start: Richard makes the audience aware of the fact that they're watching fiction, asking them direct questions about their relationship to the theatre. This sets off and unveils the spirit of the writing, as Michalik plays with reality and imagination in a curious narrative that only occasionally borders on melodrama.
While he is able to be piercing and profound in his reflections, the swift changes of tonality can either be interpreted as a strength or a flaw. Intra Muros juggles a variety of themes that quickly turn it into a comedy from a segue to a darker mood. This works well with Walker's cast but the text itself, with its often unnatural and unspecific language. isn't as solid as the company who handles it
The tongue-in-cheek theatre jokes, general awkwardness, and deliciously stereotypical portrayals of the industry which debut at the start thankfully subside in favour of introspection and social critique. Walker confines and liberates the characters with David Howe's lighting design, which plays a major role within the jumps in the play.
Declan Perring steals the scene with every word he utters as Kevin. He is physical and expressive in his delivery, bringing his character from a place of je-m'en-foutisme to a detailed analysis of his past actions. He holds poignant drama and jokes with equal precision and acts as glue, holding together the array of genres presented by Michalik.
He is flanked by Victor Gardener as the other inmate, Angel, whose arresting performance stops the show in the second half. They work in sync, tearing down each other's defences to reveal their character's complexities and dramatic journeys. The supporting cast is comprised by Emma Pallant as Richard's ex-wife Jane and Summer Strallen as Alice, accompanied by Rio Kai, who discreetly performs the sound design in a corner.
Walker himself brings a comedic side to the piece, bumbling and overly dramatic as the out-of-luck director. He's caricatural approach to Richard leads the real thematical drive and acts as a backsplash for its depths, helping the surrounding actors he's assembled put their inner turmoils to rest.
Intra Muros runs at Park Theatre until 4 May.