Review: EVERYBODY'S TALKING ABOUT JAMIE, Apollo Theatre

There's been a real buzz of anticipation around the West End with the impending opening of Everybody's Talking About Jamie. In fact, it has felt like everybody really has been talking about it! So much so that for theatre fans, trying to watch the show without any preconceived ideas is almost impossible, such has been the positive press surrounding the new musical.
And I can say, for the most part, the accolades it has gained thus far are justified.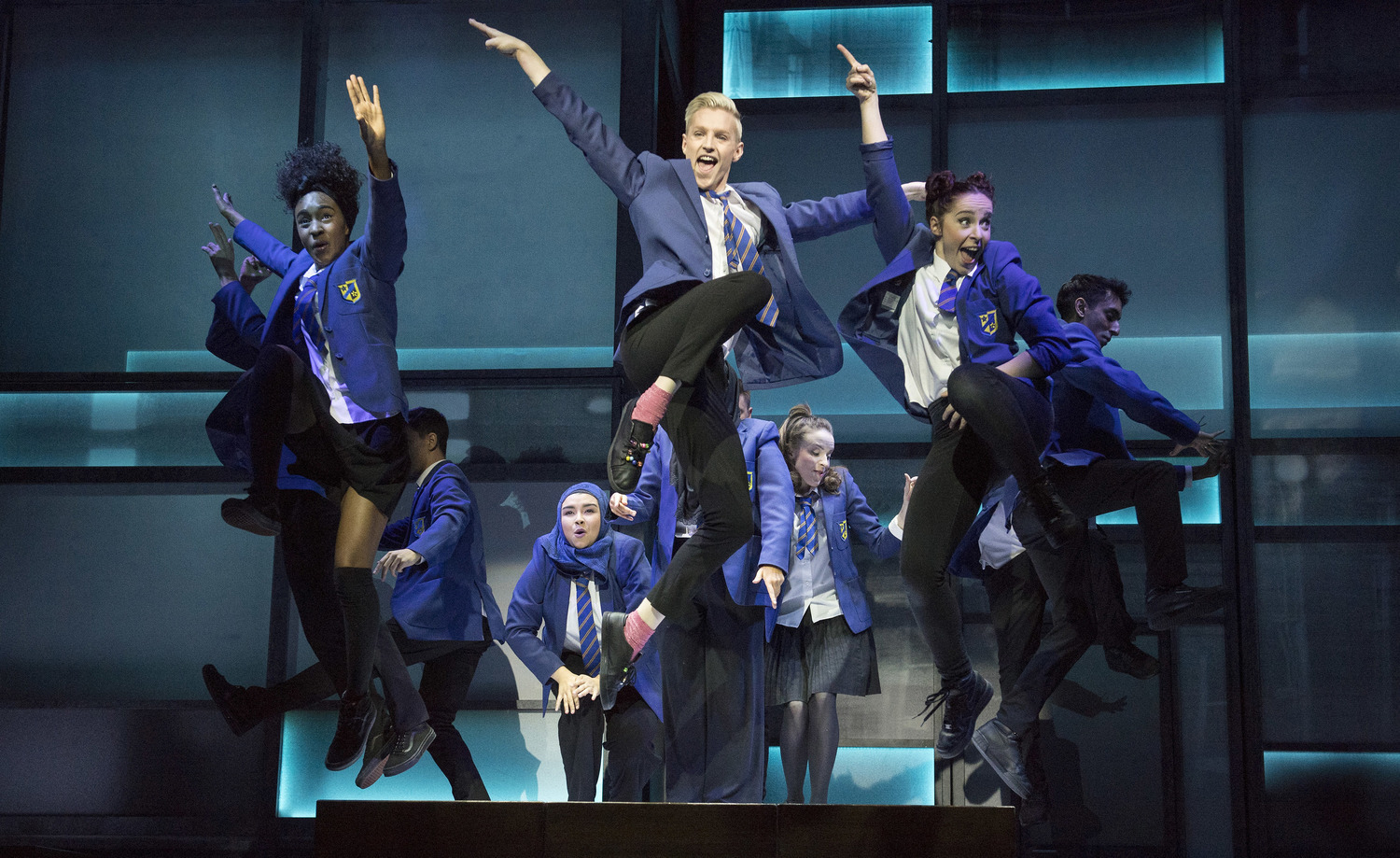 A brand new British musical, based on a teenage boy who wants to become a drag queen, may not immediately grasp theatregoers as the concept for a hit, but where writers Dan Gillespie Sells, Tom MacRae and Jonathan Butterell have got it right is by putting a very typically British story of an underdog at the core; something that tugs on the heartstrings and is infinitely relatable on a number of levels.
Jamie (John McCrea) has struggled to fit in at school and, despite a strong friendship with another outcast - the superbly swotty Pritty (Lucie Shorthouse) - is dogged by constant humiliation from thuggish classroom peers, led by the Neanderthal-like Dean (Luke Baker) and a tyrannical schoolmistress (Tamsin Carroll).
After deciding he is going to make the move to become his drag persona - with the help of a local queen and the full support of his mum - Jamie gains the courage to find his true self, in a tale that's likely to be a surefire hit with teenage audiences.
Yes, it's all a bit clichéd and the overly camped-up performances do mask a lack of depth to some of the characters, with the stereotypical elements of a vilified absent father and angelic single mum feeling like a story we've heard a million times before.
But Dan Gillespie Sells' original score and some solid direction by Jonathan Butterell more than make up for the somewhat superficial nature of the show. When coupled with Kate Prince's energetic choreography and strong lead performances, most of the misgivings are alleviated.
John McCrea is a sensation as the eponymous sassy schoolboy, while Lucie Shorthouse threatens to be a bit of a scene-stealer as "fag hag" Pritti, with a fabulous voice and wonderful comedic characterisation.
It took me a while to warm to Josie Walker's Margaret and I was a little confused about her relationship with both Ray (Mina Anwar) and Jamie's Dad (Ken Christiansen) initially, however her Act Two song about her son, "He's My Boy", is a real tearjerker and rounds off a strong performance.
Anna Fleischle's set is simplistic, understated and clever in the way that it moves to maximise the playing area at all times, while Lucy Carter's lighting design helps to further establish the area, with an abundance of stark white making the schoolroom scenes wonderfully utility-like.
It's great to see producers getting behind original British musicals, and with the themes of acceptance and a pop-like score - watch out for the title song, it's a real earworm - this one is almost guaranteed to encourage new audiences into the West End.
Everybody's Talking About Jamie is running at the Apollo Theatre and booking until 21 April 2018.
Read our interview with Josie Walker
Photo by Alastair Muir