Now Playing Onstage in West Virginia - Week of 7/13/2014
View All Show Listings for West Virginia
Click Here to View BroadwayWorld.com West Virginia Calendar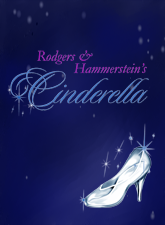 CINDERELLA
Apollo Civic Theatre
7/17-7/20/2014
The timeless enchantment of a magical fairy tale is reborn with the Rodgers & Hammerstein hallmarks of originality, charm and elegance. Originally presented on television in 1957 starring
Julie Andrews
, Rodgers & Hammerstein's CINDERELLA was the most widely viewed program in the history of the medium. Its recreation in 1965 starring
Lesley
Ann Warren
was no less successful in transporting a new generation to the miraculous kingdom of dreams-come-true, and so was a second remake in 1997, which starred Brandy as Cinderella and
Whitney Houston
as her Fairy Godmother. As adapted for the stage, with great warmth and more than a touch of hilarity, the hearts of children and adults alike still soar when the slipper fits.Music by Rodgers, Richard; Book by
Oscar Hammerstein
II; Lyrics by
Oscar Hammerstein
II
Click Here for More Information
SOUTH PACIFIC
West Virginia Public Theatre
7/16-7/20/2014
Considered to be the pinnacle production of The Rodgers and Hammerstein collaboration, South Pacific is set in an island paradise during World War II. The world is in crisis as two parallel love stories are threatened by the dangers of prejudice and war. The timeless story based on James Micheners's Tales of the South Pacific, this epic musical has lived in the conscience of post World War II America. Several of its songs, including "Bali Ha'i", "I'm Gonna Wash That Man Right Outa My Hair", "Some Enchanted Evening", "There Is Nothing Like a Dame", "Happy Talk", "Younger Than Springtime" and "I'm in Love with a Wonderful Guy", have become popular standards. The original production garnered ten Tony awards and a Pulitzer Prize for Drama.
Click Here for More Information
THE CONTRITE SPIRIT
Historic Fayette Theater
7/11-7/27/2014
Click Here for More Information
GREENBRIER VALLEY THEATRE:
Greenbrier Valley Theatre
7/17-8/2/2014
Lucky Stiffbook:
Lynn Ahrens
; lyrics:
Lynn Ahrens
; music:
Stephen Flaherty
.
Click Here for More Information
HATFIELDS AND MCCOYS
Theatre West
Virginia
7/11-8/2/2014
Some say it started with a dispute over the ownership of a hog. Others say the ill-fated love of Roseanne McCoy and Johnse Hatfield caused it. Whatever the reason, there was bad blood between the Hatfields of West Virginia and the McCoys of Kentucky. This historical drama chronicles the battles and bloodshed spurred by pride and politics. The story of the Hatfields and McCoys has been told and retold until the real men and women diffuse into myth, but they did exist. Each summer their heritage lives on as this famous feud fueled by yellow journalism that made the mountains bleed red is relived at Cliffside Amphitheatre.
Click Here for More Information
LUCKY STIFF
GREENBRIER VALLEY THEATRE
7/11-8/2/2014
Tony Award winners
Lynn Ahrens
and
Stephen Flaherty
exploded on the musical theatre scene in 1988 with their first off-Broadway show, LUCKY STIFF. Based on the novel The Man Who Broke The Bank At
Monte Carlo
by
Michael Butterworth
, LUCKY STIFF is a zany, offbeat, and very funny murder mystery farce complete with slamming doors, mistaken identities, six million bucks in diamonds, and a corpse in a wheelchair. The story revolves around an unassuming English shoe salesman who is forced to take the embalmed body of his recently-murdered Atlantic City uncle on a vacation to
Monte Carlo
. Should he succeed in passing Uncle off as alive, Harry Witherspoon stands to inherit $6,000,000. If not, the money goes to the Universal Dog Home of Brooklyn, or else to the gun-toting wife of the casino owner! First produced at
Playwrights Horizons
off-Broadway (
Richard Rodgers
Award) the show later went on to win Washington's
Helen Hayes
Award for Best Musical, and is now performed frequently across the country.For complete information on this and other Ahrens and Flaherty shows, as well as links to purchase CDs, vocal selections and other publications, please go to www.AhrensandFlaherty.com.
Click Here for More Information
FRANK CENTER STAGE:
Contemporary American Theater Festival
7/6-8/3/2014
One Night
Charles Fuller
; dir: Ed Herendeen.
Click Here for More Information
MARINOFF THEATER:
Contemporary American Theater Festival
7/6-8/3/2014
Dead and Breathing
Chisa Hutchinson
; dir: Kristin Horton.
Click Here for More Information
CCA/112:
Contemporary American Theater Festival
7/8-8/3/2014
Uncanny ValleyThomas Gibbons; dir: Tom Dugdale.
Click Here for More Information
View All Show Listings for West Virginia
Click Here to View BroadwayWorld.com West Virginia Calendar
Related Articles
From This Author BWW