Now Playing Onstage in Washington, DC - Week of 8/03/2014
View All Show Listings for Washington, DC
Click Here to View BroadwayWorld.com Washington, DC Calendar
JESUS CHRIST SUPERSTAR
Verizon Center
8/7-8/7/2014
A global phenomenon that has wowed audiences for over 40 years, Jesus Christ Superstar is reimagined for the 21st century as an arena rock spectacular.
Tim Rice
and
Andrew Lloyd Webber
a€™s groundbreaking rock musical now features an extraordinary cast of rock, pop and R&B superstars. Jesus Christ Superstar is a timeless work set against the backdrop of an extraordinary and universally-known series of events but seen, unusually, through the eyes of Judas Iscariot.
Tim Rice
, who wrote the lyrics, was inspired by the
Bob Dylan
anthem a€˜With God On Our Sidea€™ which features Judas in its penultimate verse and is from Dylana€™s seminal 1964 album The Times They Are A-Changina€™. As Tim says in his autobiography: a€oeFrom a very young age I had wondered what I might have done in the situations in which Pontius Pilate and Judas Iscariot found themselves. How were they to know Jesus would be accorded divine status by millions and that they would as a result be condemned down the ages?a€
Click Here for More Information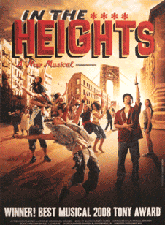 IN THE HEIGHTS
Theatrix Productions, Inc.
8/1-8/9/2014
IN THE HEIGHTS tells the universal story of a vibrant community in New YorkMusic and Lyrics by
Lin-Manuel Miranda
; Book by Quiara Alegria Hudes; Conceived By
Lin-Manuel Miranda
Click Here for More Information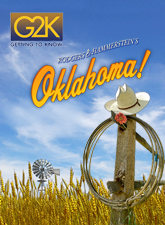 OKLAHOMA!
Attic Productions Inc.
7/24-8/9/2014
The 'G2K' Getting To Know Series: Uniquely adapted musicals specifically for youth performers.
Rodgers & Hammerstein
's first collaboration remains, in many ways, their most innovative, having set the standards and established the rules of musical theatre still being followed today. Set in a Western Indian territory just after the turn of the century, the high-spirited rivalry between the local farmers and cowboys provides the colorful background against which Curly, a handsome cowboy, and Laurey, a winsome farm girl, play out their love story. Although the road to true love never runs smooth, with these two headstrong romantics holding the reins, love's journey is as bumpy as a surrey ride down a country road. That they will succeed in making a new life together we have no doubt, and that this new life will begin in a brand-new state provides the ultimate climax to the triumphant OKLAHOMA! In this adaptation for pre-high school students, the content has been edited to better suit younger attention spans, but all the elements that make this show a classic are still in place. You and your students will be enchanted by the timeless story and the dazzling score, while at the same time learning about theater and its production. Music by Rodgers, Richard; Book and Lyrics by
Oscar Hammerstein
II; Based on the play GREEN GROW THE LILACS by
Lynn Riggs
; Original Dances by
Agnes de Mille
Click Here for More Information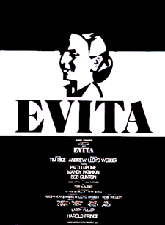 EVITA
The Theatre Lab School of the Dramatic Arts
8/7-8/9/2014
Argentina's controversial First Lady is the subject of this dynamic musical masterpiece. As an illegitimate fifteen year old, Eva escaped her dirt-poor existence for the bright lights of Buenos Aires. Driven by ambition and blessed with charisma, she was a starlet at twenty-two, the president's mistress at twenty-four, First Lady at twenty-seven, and dead at thirty-three. Eva Peron 'saint to the working-class, reviled by the aristocracy and mistrusted by the military' was destined to leave a fascinating political legacy unique in the 20th century. Told through a compelling score that fuses haunting chorales with exuberant Latin, pop and jazz influences, EVITA creates an arresting theatrical portrait as complex as the woman herself.Lyrics by
Tim Rice
; Music by
Andrew Lloyd Webber
Click Here for More Information
THE ANNETTE M. AND THEODORE N. LERNER FAMILY THEATRE:
Imagination Stage
6/25-8/10/2014
The BFGadapt:
David Wood
; dir: Kate Bryer.
Click Here for More Information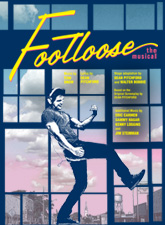 FOOTLOOSE
ShenanArts Inc.
8/1-8/10/2014
One of the most explosive movie musicals in recent memory bursts onto the live stage with exhilarating results. When Ren and his mother move from Chicago to a small farming town, Ren is prepared for the inevitable adjustment period at his new high school. What he isn't prepared for are the rigorous local edicts, including a ban on dancing instituted by the local preacher, determined to exercise the control over the town's youth that he cannot command in his own home. When the reverend's rebellious daughter sets her sights on Ren, her roughneck boyfriend tries to sabotage Ren's reputation, with many of the locals eager to believe the worst about the new kid. The heartfelt story that emerges is of a father longing for the son he lost and of a young man aching for the father who walked out on him. To the rockin' rhythm of its Oscar and Tony-nominated top 40 score (the soundtrack album reached number one on the Billboard charts and has sold over 15 million copies!) and augmented with dynamic new songs for the stage musical, FOOTLOOSE celebrates the wisdom of listening to young people, guiding them with a warm heart and an open mind.Music by
Tom Snow
; Lyrics by
Dean Pitchford
; Stage Adaptation by
Dean Pitchford
and
Walter Bobbie
; Based on the original screenplay by
Dean Pitchford
; Additional Music by
Eric Carmen
,
Sammy Hagar
,
Kenny Loggins
and
Jim Steinman
Click Here for More Information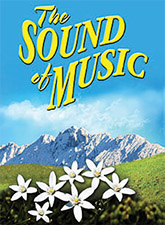 THE SOUND OF MUSIC
Loudon County Youth Performing Company
8/10-8/10/2014
The final collaboration between Rodgers & Hammerstein was destined to become the world's most beloved musical. When a postulant proves too high-spirited for the religious life, she is dispatched to serve as governess for the seven children of a widowed naval Captain. Her growing rapport with the youngsters, coupled with her generosity of spirit, gradually captures the heart of the stern Captain, and they marry. Upon returning from their honeymoon they discover that Austria has been invaded by the Nazis, who demand the Captain's immediate service in their navy. The family's narrow escape over the mountains to Switzerland on the eve of World War II provides one of the most thrilling and inspirational finales ever presented in the theatre. The motion picture version remains the most popular movie musical of all time.Music by Rodgers, Richard; Lyrics by
Oscar Hammerstein
II; Book by
Howard Lindsay
&
Russel Crouse
; Suggested by
Click Here for More Information
MONTY PYTHON'S SPAMALOT
Little Theatre of Alexandria
7/25-8/12/2014
Click Here for More Information
THE LION KING
Kennedy Center [Opera House]
6/17-8/17/2014
Giraffes strut, birds swoop, gazelles leap - the entire Serengeti comes to life. And as the music soars, Pride Rock slowly rises from the stage. This is THE LION KING. A spectacular visual feast, this adaptation of Disney's much-loved film transports you to a dazzling world that explodes with glorious colors, stunning effects and enchanting music. At its heart is the powerful and moving story of Simba, and his epic journey from wide-eyed cub to his destined role as King of the Pridelands.
Click Here for More Information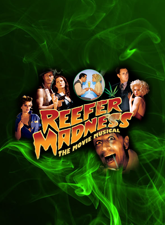 REEFER MADNESS
Double Dog Theatre
7/18-8/18/2014
Inspired by the original 1936 film of the same name, this raucous musical comedy takes a tongue-in-cheek look at the hysteria caused when clean-cut kids fall prey to marijuana, leading them on a hysterical downward spiral filled with evil jazz music, sex and violence. You won't be able to resist the spoofy fun of REEFER MADNESS. The addictive and clever musical numbers range from big Broadway-style showstoppers to swing tunes like 'Down at the Ol' Five and Dime' and the Vegas-style 'Listen to Jesus, Jimmy,' featuring J.C. Himself leading a chorus of showgirl angels. This dynamic show will go straight to your head! REEFER MADNESS is a highly stylized and satirical political commentary. It contains adult humor, religious parody, and drug use, as well as suggested violence and sexual explicitness. It therefore may be inappropriate for younger performers and audiences. Book by
Kevin Murphy
&
Dan Studney
; Music by
Dan Studney
; Lyrics by
Kevin Murphy
Click Here for More Information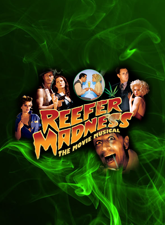 REEFER MADNESS
Little Theatre of Norfolk
7/18-8/18/2014
Inspired by the original 1936 film of the same name, this raucous musical comedy takes a tongue-in-cheek look at the hysteria caused when clean-cut kids fall prey to marijuana, leading them on a hysterical downward spiral filled with evil jazz music, sex and violence. You won't be able to resist the spoofy fun of REEFER MADNESS. The addictive and clever musical numbers range from big Broadway-style showstoppers to swing tunes like 'Down at the Ol' Five and Dime' and the Vegas-style 'Listen to Jesus, Jimmy,' featuring J.C. Himself leading a chorus of showgirl angels. This dynamic show will go straight to your head! REEFER MADNESS is a highly stylized and satirical political commentary. It contains adult humor, religious parody, and drug use, as well as suggested violence and sexual explicitness. It therefore may be inappropriate for younger performers and audiences. Book by
Kevin Murphy
&
Dan Studney
; Music by
Dan Studney
; Lyrics by
Kevin Murphy
Click Here for More Information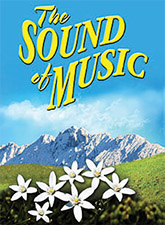 THE SOUND OF MUSIC
Peninsula Community Theatre
7/31-8/23/2014
The final collaboration between Rodgers & Hammerstein was destined to become the world's most beloved musical. When a postulant proves too high-spirited for the religious life, she is dispatched to serve as governess for the seven children of a widowed naval Captain. Her growing rapport with the youngsters, coupled with her generosity of spirit, gradually captures the heart of the stern Captain, and they marry. Upon returning from their honeymoon they discover that Austria has been invaded by the Nazis, who demand the Captain's immediate service in their navy. The family's narrow escape over the mountains to Switzerland on the eve of World War II provides one of the most thrilling and inspirational finales ever presented in the theatre. The motion picture version remains the most popular movie musical of all time.Music by Rodgers, Richard; Lyrics by
Oscar Hammerstein
II; Book by
Howard Lindsay
&
Russel Crouse
; Suggested by
Click Here for More Information
SWEENEY TODD
LANDLESS THEATRE COMPANY
8/7-8/31/2014
Click Here for More Information
PINKALICIOUS THE MUSICAL
Adventure Theatre
6/20-8/31/2014
Click Here for More Information
View All Show Listings for Washington, DC
Click Here to View BroadwayWorld.com Washington, DC Calendar
Related Articles
From This Author BWW