Now Playing Onstage in Washington, DC - Week of 7/20/2014
View All Show Listings for Washington, DC
Click Here to View BroadwayWorld.com Washington, DC Calendar
ALL SHOOK UP
SPARC - School of the Performing Arts
7/21-7/25/2014
Click Here for More Information
SEX PLEASE WE'RE SIXTY
Bowie Playhouse
7/11-7/26/2014
Sex Please We're Sixty By
Michael Park
er and
Susan Park
er. Synopsis Mrs. Stancliffe's Rose Cottage Bed & Breakfast has been successful for many years. Her guests (nearly all women) return year after year. Her next door neighbor, the elderly, silver-tongued, "Bud the Stud" Davis believes they come to spend time with him in romantic liaisons, and Mrs. Stancliffe reluctantly accepts the fact that "Bud the Stud" is, in fact, good for business. Add to the guest list three older women, and a retired chemist who has developed a blue pill called "Venusia," after Venus the goddess of love, to increase the libido of menopausal women. The pill has not been tested. When Bud gets his hands on some of the Venusia pills, the fun begins, as he attempts to entertain all three women! "If you need a rollicking good time filled with laughter, this is a must see play." - The City Wire, Fort Smith, Arkansas. Please note: Adult Language and Subject Matters Performances Week 1: July 11th and 12th at 8 pm, July 13th at 2 pm Week 2: July 18th at 8 pm, July 19th at 2 pm and 8 pm, July 20th at 2 pm Week 3: July 25th and 26th at 8 pm Ticket Prices Adults - $20.00 Seniors/Students - $15.00 Group Rates(10 or more people) Adults - $15.00 Seniors/Students - $10.00 Call our hotline for group assistance - 301-805-0219** Location Bowie Playhouse located at 16500 White Marsh Park Drive in Bowie, MD 20715. Facility is handicapped-accessible.
Click Here for More Information
THE ADDAMS FAMILY
Columbia Center for Theatrical Arts, Inc.
7/24-7/27/2014
Click Here for More Information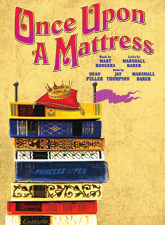 ONCE UPON A MATTRESS
Encore Stage and Studio
7/18-7/27/2014
If you thought you knew the story of 'The Princess and The Pea,' you may be in for a walloping surprise! Did you know, for instance, that Princess Winnifred actually swam the moat to reach Prince Dauntless the Drab? Or that Lady Larken's love for Sir Harry provided a rather compelling reason that she reach the bridal altar post haste? Or that, in fact, it wasn't the pea at all that caused the princess a sleepless night? Carried on a wave of wonderful songs, by turns hilarious and raucous, romantic and melodic, this rollicking spin on the familiar classic of royal courtship and comeuppance provides for some side-splitting shenanigans. Chances are you'll never look at fairy tales quite the same way again.Music by
Mary Rodgers
; Book by
Jay Thompson
&
Dean Fuller
&
Marshall Barer
; Lyrics by
Marshall Barer
Click Here for More Information
STAGE 4:
The
Studio Theatre
7/9-8/3/2014
Carrie: The Musical
Lawrence D. Cohen
; lyrics:
Dean Pitchford
; music:
Michael Gore
; dir: Keith
Alan Baker
.
Click Here for More Information
MONTY PYTHON'S SPAMALOT
Summer Musical Enterprise
7/24-8/3/2014
Click Here for More Information
THE COLOR PURPLE
Virginia Repertory Theatre - Barksdale Theatre
6/20-8/3/2014
Click Here for More Information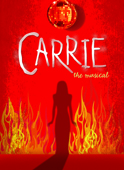 CARRIE THE MUSICAL
Studio Theatre
7/9-8/3/2014
Carrie White is a misfit. At school, she's an outcast who's bullied by the popular crowd, and virtually invisible to everyone else. At home, she's at the mercy of her loving but cruelly over-protective mother. But Carrie's just discovered she's got a special power, and if pushed too far, she's not afraid to use itMusic by
Michael Gore
; Lyrics by
Dean Pitchford
; Book by
Lawrence D. Cohen
; Based on the novel by
Stephen King
Click Here for More Information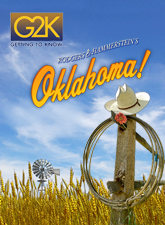 OKLAHOMA!
Attic Productions Inc.
7/24-8/9/2014
The 'G2K' Getting To Know Series: Uniquely adapted musicals specifically for youth performers.
Rodgers & Hammerstein
's first collaboration remains, in many ways, their most innovative, having set the standards and established the rules of musical theatre still being followed today. Set in a Western Indian territory just after the turn of the century, the high-spirited rivalry between the local farmers and cowboys provides the colorful background against which Curly, a handsome cowboy, and Laurey, a winsome farm girl, play out their love story. Although the road to true love never runs smooth, with these two headstrong romantics holding the reins, love's journey is as bumpy as a surrey ride down a country road. That they will succeed in making a new life together we have no doubt, and that this new life will begin in a brand-new state provides the ultimate climax to the triumphant OKLAHOMA! In this adaptation for pre-high school students, the content has been edited to better suit younger attention spans, but all the elements that make this show a classic are still in place. You and your students will be enchanted by the timeless story and the dazzling score, while at the same time learning about theater and its production. Music by Rodgers, Richard; Book and Lyrics by
Oscar Hammerstein
II; Based on the play GREEN GROW THE LILACS by
Lynn Riggs
; Original Dances by
Agnes de Mille
Click Here for More Information
THE ANNETTE M. AND THEODORE N. LERNER FAMILY THEATRE:
Imagination Stage
6/25-8/10/2014
The BFGadapt:
David Wood
; dir: Kate Bryer.
Click Here for More Information
MONTY PYTHON'S SPAMALOT
Little Theatre of Alexandria
7/25-8/12/2014
Click Here for More Information
THE LION KING
Kennedy Center [Opera House]
6/17-8/17/2014
Giraffes strut, birds swoop, gazelles leap - the entire Serengeti comes to life. And as the music soars, Pride Rock slowly rises from the stage. This is THE LION KING. A spectacular visual feast, this adaptation of Disney's much-loved film transports you to a dazzling world that explodes with glorious colors, stunning effects and enchanting music. At its heart is the powerful and moving story of Simba, and his epic journey from wide-eyed cub to his destined role as King of the Pridelands.
Click Here for More Information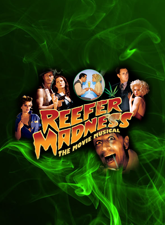 REEFER MADNESS
Double Dog Theatre
7/18-8/18/2014
Inspired by the original 1936 film of the same name, this raucous musical comedy takes a tongue-in-cheek look at the hysteria caused when clean-cut kids fall prey to marijuana, leading them on a hysterical downward spiral filled with evil jazz music, sex and violence. You won't be able to resist the spoofy fun of REEFER MADNESS. The addictive and clever musical numbers range from big Broadway-style showstoppers to swing tunes like 'Down at the Ol' Five and Dime' and the Vegas-style 'Listen to Jesus, Jimmy,' featuring J.C. Himself leading a chorus of showgirl angels. This dynamic show will go straight to your head! REEFER MADNESS is a highly stylized and satirical political commentary. It contains adult humor, religious parody, and drug use, as well as suggested violence and sexual explicitness. It therefore may be inappropriate for younger performers and audiences. Book by
Kevin Murphy
&
Dan Studney
; Music by
Dan Studney
; Lyrics by
Kevin Murphy
Click Here for More Information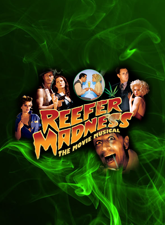 REEFER MADNESS
Little Theatre of Norfolk
7/18-8/18/2014
Inspired by the original 1936 film of the same name, this raucous musical comedy takes a tongue-in-cheek look at the hysteria caused when clean-cut kids fall prey to marijuana, leading them on a hysterical downward spiral filled with evil jazz music, sex and violence. You won't be able to resist the spoofy fun of REEFER MADNESS. The addictive and clever musical numbers range from big Broadway-style showstoppers to swing tunes like 'Down at the Ol' Five and Dime' and the Vegas-style 'Listen to Jesus, Jimmy,' featuring J.C. Himself leading a chorus of showgirl angels. This dynamic show will go straight to your head! REEFER MADNESS is a highly stylized and satirical political commentary. It contains adult humor, religious parody, and drug use, as well as suggested violence and sexual explicitness. It therefore may be inappropriate for younger performers and audiences. Book by
Kevin Murphy
&
Dan Studney
; Music by
Dan Studney
; Lyrics by
Kevin Murphy
Click Here for More Information
PINKALICIOUS THE MUSICAL
Adventure Theatre
6/20-8/31/2014
Click Here for More Information
View All Show Listings for Washington, DC
Click Here to View BroadwayWorld.com Washington, DC Calendar
Related Articles
From This Author BWW