Review: Fun and Richly Stylized CABARET NOIR at Happenstance Theater
"A film noir inspired theatrical montage"- the subtitle of Happenstance Theater's CABARET NOIR perfectly encapsulates the richly stylized and wonderfully varied experience. Scandals, pistols, foggy streets, soft shoe, sweet harmonies, and red herrings - this production vividly captures the mood and the moment of those dark, smoky movies. Devised and performed by the Helen Hayes Award-winning ensemble, CABARET NOIR highlights the artistic strengths of Mark Jaster, Sabrina Mandell, Karen Hansen, Gwen Grastorf, Sarah Olmsted Thomas and Alex Vernon.
CABARET NOIR is comprised of related vignettes - dramatic scenes, songs, dance, comic interludes, think pieces. While each vignette stands alone, there are recurring themes that circle back to great effect. Borrowing from movies of the same era as film noir, scenes include slow-motion and real-time slapstick reminiscent of masters like Buster Keaton or The Three Stooges, and a dance featuring umbrellas in geometric choreography informed by Busby Berkeley productions. While film noir itself is noted for cynicism and menace, CABARET NOIR brings a wink and nod to the dark source material, creating a good-hearted and fun production.
Music plays a substantial role in the production. Although the company is truly a cohesive ensemble, special mention must be made of Karen Hansen, as "Shorty," who plays multiple musical instruments - sometimes simultaneously. She even operates the fascinating radio-era sound-effect box of a window opening and closing. Hansen composed or arranged all the music.
Each of the company members has great, break-out moments. Mark Jaster's swagger and raised eyebrow imparts all we need to know about an arrogant and aging silent film star. Sabrina Mandell's show-opening chanteuse, Gwen Grastorf and Sarah Olmsted Thomas as dueling femmes fatales, and Alex Vernon as The Man on the ledge are all memorable characters.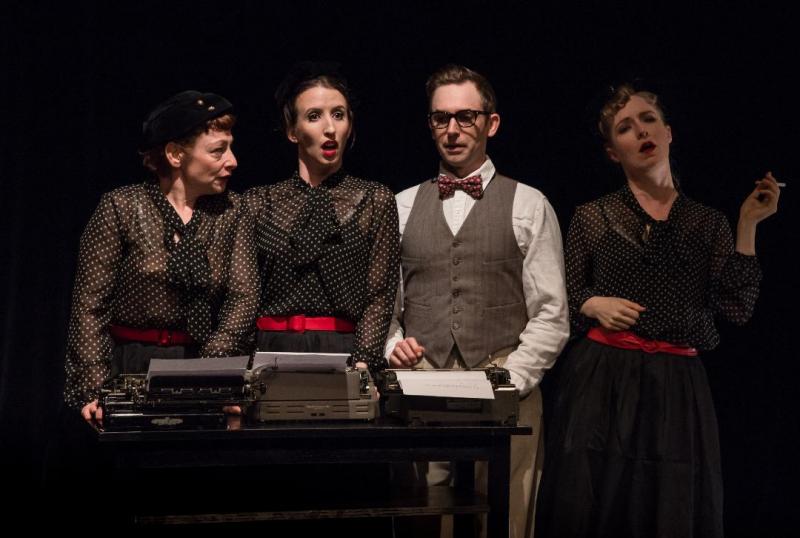 Yet ensemble moments are great highlights - from the hilarious action amid clacking of typewriters in a busy newsroom to the haunting harmonies of "Gloomy Sunday" (arranged by Hansen, lyrics adapted by Mark Jaster from Seress Rezso's Hungarian lyrics).
The set is spare - only a quick blast of fog or a few tables, stools, or lamps are needed to sketch out the locale and the audience members' imaginations ably fill in the rest. Kevin Boyce designed the atmospheric lighting. "Blow Wind Blow" and other numbers feature a tumbling newspaper puppet designed by company member Alex Vernon.
Artistic Co-Director Sabrina Mandell designed the costumes with the sharp tailoring and beautiful lines of the 1930s and 40s. She works from a shadowy palette of black, white, brown, and blood red. Dashing hats abound.
Washington has no other theater company quite like Happenstance Theater. It has carved a singular place for itself with its focus on heightened movement and language, its play of music and silence. The work of Happenstance is poetic, quirky, and highly unique. CABARET NOIR is a great example of all the company does so well.
Runtime: approximately 75 minutes with no intermission.
CABARET NOIR runs through April 15 on Thursdays, Fridays, Saturdays at 8:00 pm, with matinees on Saturdays and Sundays at 3:00 pm. The production is at Joe's Movement Emporium, 3309 Bunker Hill Road, Mt. Rainier, MD 20712. For tickets or specific performance times, please visit the Happenstance Theater website here.
Photos by Margaret Hart Photography. Top: (L to R) Sarah Olmsted Thomas and Gwen Grastorf. Center: Sabrina Mandell, Sarah Olmsted Thomas, Alex Vernon and Gwen Grastorf. Next: Alex Vernon and Mark Jaster. Bottom: Sarah Olmsted Thomas and Alex Vernon.