Now Playing Onstage in Vermont - Week of 7/27/2014
View All Show Listings for Vermont
Click Here to View BroadwayWorld.com Vermont Calendar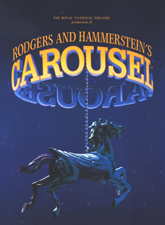 CAROUSEL
Greensboro Arts
7/24-8/2/2014
In a Maine coastal village toward the end of the 19th century, the swaggering, carefree carnival barker, Billy Bigelow, captivates and marries the naive millworker, Julie Jordan. Billy loses his job just as he learns that Julie is pregnant and, desperately intent upon providing a decent life for his family, he is coerced into being an accomplice to a robbery. Caught in the act and facing the certainty of prison, he takes his own life and is sent 'up there.' Billy is allowed to return to earth for one day fifteen years later, and he encounters the daughter he never knew. She is a lonely, friendless teenager, her father's reputation as a thief and bully having haunted her throughout her young life. How Billy instills in both the child and her mother a sense of hope and dignity is a dramatic testimony to the power of love. It's easy to understand why, of all the shows they created, CAROUSEL was Rodgers & Hammerstein's personal favorite.Music by Rodgers, Richard; Book by
Oscar Hammerstein
II; Lyrics by
Oscar Hammerstein
II; Based on the Play LILIOM by Ferenc Molnar; As adapted by
Benjamin F. Glazer
; Original Dances by
Agnes de Mille
Click Here for More Information
RED!
Lost Nation Theater
8/2-8/2/2014
Original presentation of the classic LIttle Red Riding Hood tale from
The Brothers Grimm
incorporating choral speaking, physical theater, musical bits, and broad characterizations. An Ensemble performance from aspiring professionals age 9 & up.
Click Here for More Information
ON THE TOWN
Stowe
Theatre Guild
7/16-8/2/2014
Celebrating its 70th anniversary as a classic of American musical theater, "On the Town" is the great collaboration of the composer,
Leonard Bernstein
, the choreographer,
Jerome Robbins
, and the writers,
Betty Comden
and
Adolph Green
. The story of three sailors on leave in "New York, New York" who have 24 hours to sing and dance through the city while trying to find love will indelibly remind you that "The Bronx is up, but the Battery's down" while reinforcing that the simple pleasures of life were what made wartime bearable.
Click Here for More Information
THE MYSTERY OF EDWIN DROOD
The Flynn Center for the Performing Arts
7/31-8/3/2014
Framed in the hilariously melodramatic world of British music hall, this madcap comedy follows the actors at the Theatre Royale as they attempt to complete
Charles Dickens
' unfinished story of Edwin Drood. The sudden disappearance of Young Edwin throws everyone into a panic with suspicious fingers pointing every which way…including at the dashing but villainous John Jasper, Drood's lovely fiancee Rosa Bud, opium den proprietress Princess Puffer, and mysterious siblings Helena and Neville Landless from Ceylon. As the investigation pushes forward, everyone who came into contact with Drood joins the lineup of the suspects…and since Dickens died before he finished the book, the audience at each performance votes on a different ending to the show! Join us for a night of sheer fun as we take a rollicking romp through Victorian England!
Click Here for More Information
STOOP STORIES
Weston Playhouse Theater
7/23-8/3/2014
In this riveting drama, Obie-winning actress and playwright
Dael Orlandersmith
takes us on a remarkable tour of New York City by embodying a gallery of intriguing characters - from the everyman to the extraordinary - all from a single uptown stoop.
Click Here for More Information
DAMN YANKEES
LAMOILLE COUNTY PLAYERS
7/24-8/3/2014
Faust meets professional baseball in the Broadway classic DAMN YANKEES. Middle-aged baseball fanatic Joe Boyd trades his soul to the Devil, also known as Mr. Applegate, for a chance to lead his favorite team to victory in the pennant race against the New York Yankees. As young baseball sensation Joe Hardy, he transforms the hapless Washington Senators into a winning team, only to realize the true worth of the life he's left behind. Joe ultimately outsmarts Applegate, returns to his former self, and shepherds the Senators to the World Series.Light, fast-paced and devilishly clever, DAMN YANKEES is a home-run hit featuring all-American subject matter and an irreverent sense of humor. The perfect choice for a high school's spring musical or community theatre production, DAMN YANKEES is sure to please.
Click Here for More Information
RING OF FIRE
Saint Michael's Playhouse
7/30-8/9/2014
From the iconic songbook of
Johnny Cash
comes this unique musical about love and faith, struggle and success, home and family. More than two dozen classic hits-including "I Walk The Line," "Jackson," "Folsom Prison Blues" and "Ring of Fire"-performed by a multi-talented cast, paint a musical portrait of The Man in Black that promises to be a foot-stompin', crowd-pleasin' salute to a uniquely American legend!
Click Here for More Information
VIOLET
COMMONS GROUP, THE
7/31-8/17/2014
Set in 1964 in the Deep South during the early days of the Civil Rights Movement, VIOLETfollows the growth and enlightenment of a bitter young womanaccidentally scarred by her father. In hopes that a TV evangelist cancure her, she embarks on a journey by bus from her sleepy NorthCarolina town to Oklahoma. Along the way, she meets a young blacksoldier who teaches her about beauty, love, courage and what it meansto be an outsider. One of the most acclaimed off-Broadway shows of the '90s, VIOLETastounded critics and audiences with its powerful story, its energetic,toe-tapping Gospel, Rock, Country, and Rhythm and Blues score by
Jeanine Tesori
, and its well-crafted book and lyrics by
Brian Crawley
that are not afraid to deal with important, sensitive issues. Itssimple set and modest cast and orchestra requirements adjust to anyscale production. VIOLET features a strong ensemble cast with bravura roles for the two leads.
Click Here for More Information
A CHORUS LINE
Weston Playhouse Theater
7/31-8/23/2014
This blockbuster musical provides stirring glimpses into the lives of a group of dancers auditioning for spots in a Broadway chorus line. With its show-stopping songs, jaw-dropping dances, and heartfelt stories, this is the show for anyone who has ever dreamed about life in the theatre! Hits include "What I Did for Love" and "One."
Click Here for More Information
View All Show Listings for Vermont
Click Here to View BroadwayWorld.com Vermont Calendar
Related Articles
From This Author BWW