Now Playing Onstage in Tulsa - Week of 7/13/2014
View All Show Listings for Tulsa
Click Here to View BroadwayWorld.com Tulsa Calendar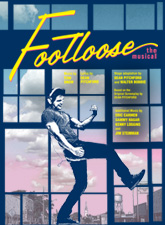 FOOTLOOSE
OCU Performing Arts Academy
7/18-7/19/2014
One of the most explosive movie musicals in recent memory bursts onto the live stage with exhilarating results. When Ren and his mother move from Chicago to a small farming town, Ren is prepared for the inevitable adjustment period at his new high school. What he isn't prepared for are the rigorous local edicts, including a ban on dancing instituted by the local preacher, determined to exercise the control over the town's youth that he cannot command in his own home. When the reverend's rebellious daughter sets her sights on Ren, her roughneck boyfriend tries to sabotage Ren's reputation, with many of the locals eager to believe the worst about the new kid. The heartfelt story that emerges is of a father longing for the son he lost and of a young man aching for the father who walked out on him. To the rockin' rhythm of its Oscar and Tony-nominated top 40 score (the soundtrack album reached number one on the Billboard charts and has sold over 15 million copies!) and augmented with dynamic new songs for the stage musical, FOOTLOOSE celebrates the wisdom of listening to young people, guiding them with a warm heart and an open mind.Music by
Tom Snow
; Lyrics by
Dean Pitchford
; Stage Adaptation by
Dean Pitchford
and
Walter Bobbie
; Based on the original screenplay by
Dean Pitchford
; Additional Music by
Eric Carmen
,
Sammy Hagar
,
Kenny Loggins
and
Jim Steinman
Click Here for More Information
BARE
Fruugensteinery Productions
7/18-7/20/2014
Click Here for More Information
MONTY PYTHON'S SPAMALOT
Lyric Theatre of Oklahoma - Thelma Gaylord Academy
7/22-7/26/2014
Click Here for More Information
LES MISERABLES
LYRIC THEATRE OF OKLAHOMA, INC
7/22-7/26/2014
This international smash-hit may be the most popular musical in the world. In 19th century France, Jean Valjean is released from 19 years of unjust imprisonment, but finds nothing in store for him but mistrust and mistreatment. He breaks his parole in hopes of starting a new life, initiating a life-long struggle for redemption as he is relentlessly pursued by police inspector Javert, who refuses to believe Valjean can change his ways. Finally, during the Paris student uprising of 1832, Javert must confront his ideals after Valjean spares his life and saves that of the student revolutionary who has captured the heart of Valjean's adopted daughter. His world-view shattered, Javert commits suicide, and Valjean at last attains the peace he has sought for so long.Epic, grand and uplifting, LES MISÉRABLES packs an emotional wallop that has thrilled audiences all over the world. The sung-through pop opera is ideal for a cast of exceptional singers and overflows with melodies that are already standards. A spectacle on Broadway and in London, LES MISÉRABLES is equally effective with a minimal set; it is its powerful affirmation of the human spirit that has made LES MISÉRABLES a popular masterpiece.
Click Here for More Information
HOW TO SUCCEED IN BUSINESS...TRYING
POTEET THEATRE
7/11-8/3/2014
Power, sex, ambition, greed... it's just another day at the office. From the authors of GUYS AND DOLLS comes one of the most delightfully irreverent musicals of all time. A satire of big business and all it holds sacred, HOW TO SUCCEED IN BUSINESS WITHOUT REALLY TRYING follows the rise of J. Pierrepont Finch, who uses a little handbook called "How To Succeed In Business Without Really Trying" to climb the corporate ladder from lowly window washer to high-powered executive, tackling such familiar but potent dangers as the aggressively compliant "company man," the office party, backstabbing co-workers, caffeine addiction and, of course, true love.Winner of the 1962 Pulitzer Prize for Drama, HOW TO SUCCEED melds wit, comedy, and romance together to perfection. This show requires a large cast, featuring many roles for all types of performers.
Click Here for More Information
CHILDREN OF EDEN
UPSTAGE THEATRE PERFORMING ARTS STUDIO
6/19-8/9/2014
From
Stephen Schwartz
and
John Caird
comes a joyous and inspirational musical about parents, children and faith... not to mention centuries of unresolved family business! Freely based on the story of Genesis, CHILDREN OF EDEN is a frank, heartfelt and often humorous examination of the age-old conflict between parents and children. Adam, Eve, Noah and the "Father" who created them deal with the headstrong, cataclysmic actions of their respective children. The show ultimately delivers a bittersweet but inspiring message: that "the hardest part of love... is letting go."A large cast is needed to take on the story of the Old Testament in this moving, foot-stomping musical. CHILDREN OF EDEN is a wonderful show to perform for children and students.
Click Here for More Information
THE WEDDING SINGER
UPSTAGE THEATRE PERFORMING ARTS STUDIO
6/12-8/17/2014
THE WEDDING SINGER takes us back to a time when hair was big, greed was good, collars were up, and a wedding singer might just be the coolest guy in the room.It's 1985 and rock-star wannabe Robbie Hart is New Jersey's favorite wedding singer. He's the life of the party, until his own fiancee leaves him at the altar. Shot through the heart, Robbie makes every wedding as disastrous as his own. Enter Julia, a winsome waitress who wins his affection. As luck would have it, Julia is about to be married to a Wall Street shark, and unless Robbie can pull off the performance of a decade, the girl of his dreams will be gone forever.THE WEDDING SINGER features a large chorus with many featured roles for actors who sing, and dancers who act. This show works perfectly as a high school's featured musical or as the highlight of any regional season.
Click Here for More Information
View All Show Listings for Tulsa
Click Here to View BroadwayWorld.com Tulsa Calendar
Related Articles
From This Author BWW