Now Playing Onstage in St. Louis - Week of 5/11/2014
View All Show Listings for St. Louis
Click Here to View BroadwayWorld.com St. Louis Calendar
SCHOOLHOUSE ROCK LIVE!
COTERIE THEATRE
4/8-5/13/2014
A pop culture phenomenon comes to the musical stage!The Emmy Award-winning 1970's Saturday morning cartoon series that taught history, grammar, math, and more through clever, tuneful songs is not only making a small-screen comeback, it's lighting up stages everywhere -- from school multi-purpose rooms to university and regional theatres all around the country.SCHOOLHOUSE ROCK LIVE! follows Tom, a nerve-wracked school teacher who is nervous about his first day of teaching. He tries to relax by watching TV when various characters representing facets of his personality emerge from the set and show him how to win his students over with imagination and music, through such songs as "Just A Bill," "Lolly, Lolly, Lolly," and "Conjunction Junction."With its minimal band, set, costume and flexible cast requirements, SCHOOLHOUSE ROCK LIVE! may be performed in virtually any space, bringing its infectious zest to a cross-generational audience.
Click Here for More Information
13
RAYMORE PECULIAR EAST MIDDLE SCHOOL
5/15-5/17/2014
A grown-up story about growing up!When his parents get divorced and he's forced to move from New York to a small town in Indiana, Evan Goldman just wants to make friends and survive the school year. Easier said than done. The star quarterback is threatening to ruin his life and his only friend, Patrice, won't talk to him. The school freak sees an opportunity for blackmail and someone is spreading the nastiest rumors.With an unforgettable rock score from Tony Award-winning composer
Jason Robert Brown
, 13 is a hilarious, high-energy musical for all ages about discovering that cool is where you find it, and sometimes where you least expect it.
Click Here for More Information
DISNEY'S HIGH SCHOOL MUSICAL JR
PROVIDENCE FINE ARTS CENTER
5/16-5/17/2014
This page is for the Broadway Junior Version of Disney's HIGH SCHOOL MUSICAL JR..
Click Here for More Information
THE WIZARD OF OZ
Fox Theatre
5/13-5/18/2014
Andrew Lloyd Webber
's reworked stage musical The Wizard of Oz is set to launch a North American tour in fall of 2013. After its run at the
Ed Mirvish
theatre in Toronto this December, The Wizard of Oz will take its entire cast across Canada and into the United States, hitting cities such as Chicago and Los Angeles.
Andrew Lloyd Webber
a€™s new production of The Wizard of Oz is an adaptation of the all-time classic, totally reconceived for the stage by the award-winning creative team of the revival of The Sound of Music. Developed from the ever popular MGM screenplay, this new production contains all the songs from the Oscar-winning movie score, all the favourite characters and iconic moments, plus a few surprises along the way, including new songs by
Tim Rice
and
Andrew Lloyd Webber
.
Click Here for More Information
STICK FLY
St Louis Black Repertory Company
4/23-5/18/2014
Lydia Diamond
.
Click Here for More Information
DISNEY'S HIGH SCHOOL MUSICAL
GATEWAY CENTER FOR PERFORMING ARTS
5/17-5/18/2014
This page is for the full-length edition of Disney's HIGH SCHOOL MUSICAL.Also available:Disney's HIGH SCHOOL MUSICAL - ONE ACT EDITIONDisney's HIGH SCHOOL MUSICAL JR. Disney Channel's smash hit movie musical comes to life on your stage! Troy, Gabriella, and the students of East High must deal with issues of first love, friends, and family while balancing their classes and extra curricular activities. It's the first day after winter break at East High. The Jocks, Brainiacs, Thespians and Skater Dudes find their cliques, recount their vacations, and look forward to the new year. Basketball team captain and resident jock Troy discovers that the brainy Gabriella, a girl he met singing karaoke on his ski trip, has just enrolled at East High. They cause an upheaval when they decide to audition for the high school musical, led by Ms. Darbus. Although many students resent the threat posed to the "status quo," Troy and Gabriella's alliance might just open the door for others to shine as well. HIGH SCHOOL MUSICAL is fun for the whole family. Its large cast size and upbeat numbers make it the ideal show for middle and high school productions or the highlight of any community theatre's season!
Click Here for More Information
A LITTLE NIGHT MUSIC
SPINNING TREE THEATRE
5/8-5/25/2014
Sondheim creates a stunning tour de force when he takes
Ingmar Bergman
's comedy of manners, Smiles of a Summer Night, and turns it into a musical of masterful execution and elegance. With four Tony Awards, this is a musical work that has forever entranced the world of theatre. Set in 1900 Sweden, A LITTLE NIGHT MUSIC explores the tangled web of affairs centered around actress Desirée Armfeldt and the men who love her: a lawyer by the name of Fredrik Egerman and the Count Carl-Magnus Malcom. When the traveling actress performs in Fredrik's town, the estranged lovers' passion rekindles. This strikes a flurry of jealousy and suspicion between Desirée, Fredrik, Fredrick's wife, Anne, Desirée's current lover, the Count, and the Count's wife, Charlotte. Both men -- as well as their jealous wives -- agree to join Desirée and her family for a weekend in the country at Desirée's mother's estate. With everyone in one place, infinite possibilities of new romances and second chances bring endless surprises.A LITTLE NIGHT MUSIC is full of hilariously witty and heartbreakingly moving moments of adoration, regret and desire. This dramatic musical celebration of love is perfect to showcase your highly-trained singers with it's harmonically-advanced score and masterful orchestrations.
Click Here for More Information
THE 25TH ANNUAL PUTNAM COUNTY SPELLING BEE
ALPHA PLAYERS
5/16-5/25/2014
Six young people in the throes of puberty, overseen by grown-ups who barely managed to escape childhood themselves, learn that winning isn't everything and that losing doesn't necessarily make you a loser.THE 25TH ANNUAL PUTNAM COUNTY SPELLING BEE is a hilarious tale of overachievers' angst chronicling the experience of six adolescent outsiders vying for the spelling championship of a lifetime. The show's Tony Award winning creative team has created the unlikeliest of hit musicals about the unlikeliest of heroes: a quirky yet charming cast of outsiders for whom a spelling bee is the one place where they can stand out and fit in at the same time.
Click Here for More Information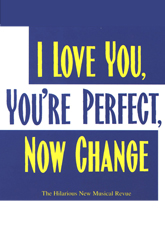 I LOVE YOU, YOU'RE PERFECT, NOW CHANGE
Springfield Little Theatre
5/16-5/25/2014
This celebration of the mating game takes on the truths and myths behind that contemporary conundrum know as 'the relationship.' Act I explores the journey from dating and waiting to love and marriage, while Act II reveals the agonies and triumphs of in-laws and newborns, trips in the family car and pick-up techniques of the geriatric set. This hilarious revue pays tribute to those who have loved and lost, to those who have fallen on their face at the portal of romance, to those who have dared to ask, 'Say, what are you doing Saturday night?'Book and Lyrics by
Joe DiPietro
; Music by
Jimmy Roberts
Click Here for More Information
View All Show Listings for St. Louis
Click Here to View BroadwayWorld.com St. Louis Calendar
Related Articles
From This Author BWW