Now Playing Onstage in South Carolina - Week of 2/02/2014
View All Show Listings for South Carolina
Click Here to View BroadwayWorld.com South Carolina Calendar
DR. SEUSS' THE CAT IN THE HAT
SPARTANBURG LITTLE THEATRE
2/5-2/8/2014
From the moment his tall, red-and-white-striped hat appears around the door, Sally and her brother know that THE CAT IN THE HAT is the funniest, most mischievous cat they have ever met.With the trickiest of tricks and craziest of ideas, he is certainly fun to play with. And he turns a rainy afternoon into an amazing adventure. But what will mum find when she gets home...? The National Theatre's production of
Dr. Seuss
's THE CAT IN THE HAT is a lively, engaging "play with sound effects" for performance by adults for young children. Not a word has been touched or added to
Dr. Seuss
's classic, ensuring anyone who's read the story will find themselves transported into the world they've always imagined.
Click Here for More Information
DISNEY'S MULAN JR
SEA PINES MONTESSORI ACADEMY
2/7-2/8/2014
Travel back to the legendary, story-telling days of ancient China with this action-packed stage adaptation of Disney's Mulan. The Huns have invaded, and it is up to the misfit Mulan and her mischievous sidekick Mushu to save the Emperor! Disney's MULAN JR. is a heartwarming celebration of culture, honor and a fighting spirit. The score includes favorites like "Reflection," "Honor to Us All" and "I'll Make a Man Out of You" as well as new songs that will get your audience up on its feet!
Click Here for More Information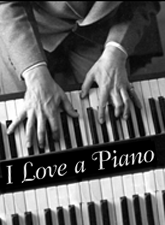 I LOVE A PIANO
North Augusta Cultural
Arts Council
1/31-2/8/2014
I Love a PianoI LOVE A PIANO is the celebration of the music and lyrics of
Irving Berlin
. It follows the journey of a piano as it moves in and out of American lives from the turn of the century to the present. Along the way, the story comes to vibrant life with over sixty of
Irving Berlin
's most beloved songs, including classics such as 'Blue Skies,' 'There's No Business Like Show Business,' 'Puttin' on the Ritz,' 'Cheek to Cheek,' 'Always,' 'How Deep is the Ocean,' 'Anything You Can Do,' 'God Bless America,' and, of course, 'I Love a Piano.' Alternately heartbreaking and hilarious, rousing and reflective, I LOVE A PIANO is a fitting tribute to the man
Jerome Kern
famously said had 'no place in American music - he is American music.'
Click Here for More Information
CLYBOURNE PARK
Trustus
1/24-2/8/2014
Thigpen Main Stage:
Bruce Norris
; dir: Jim O'Connor.
Click Here for More Information
ARCADIA
The Village Repertory Co
1/17-2/8/2014
Woolfe Street Playhouse:
Tom Stoppard
; dir: Keely Enright.
Click Here for More Information
SHIPWRECKED
South Carolina Repertory Company
1/22-2/9/2014
Donald Margulies
; dir:
Tom Evans
.
Click Here for More Information
THOROUGHLY MODERN MILLIE
CHARLESTON COUNTY SCHOOL OF THE ARTS
2/6-2/15/2014
THOROUGHLY MODERN MILLIE is a high-spirited musicalromp that has all of New York dancing the Charleston. It's the zany new1920's musical that has taken Broadway by storm, winning the TONY Award for BEST MUSICAL!Taking place in New York City in 1922, THOROUGHLY MODERN MILLIEtells the story of young Millie Dillmount, who has just moved to thecity in search of a new life for herself. It's a New York full ofintrigue and jazz - a time when women were entering the workforce andthe rules of love and social behavior were changing forever. Based onthe popular movie, the stage version of THOROUGHLY MODERN MILLIE includes a full score of new songs and bright dance numbers.Filled with frisky flappers, dashing leading men and a dragon-lady of a villainess audiences will love to hate, THOROUGHLY MODERN MILLIEis a perfectly constructed evening of madcap merriment. And with therole of Millie Dillmount, musical theatre has found a new heroine forthe ages in THOROUGHLY MODERN MILLIE!
Click Here for More Information
ROCK 'N ROLL THROUGH THE AGES
Centre Stage- South Carolina
1/23-2/15/2014
Centre Stage SC:dir: Kimberlee Ferreira.
Click Here for More Information
I DO! I DO!
NEWBERRY COMMUNITY PLAYERS
2/8-2/16/2014
The story of a marriage is at the center of I DO! I DO! - an intimate and nostalgic work by
Harvey Schmidt
and
Tom Jones
(THE FANTASTICKS).The show begins with Michael and Agnes on their wedding day. Their vows behind them, they look forward to spending the rest of their lives together. We watch as they go through their wedding night jitters, raise a family, and negotiate mid-life crises. Michael eventually admits to his infidelity, and although Agnes is angered by his actions, she forgives him and the couple reconciles. They re-discover how much they really need each other. Then, after 50 years of marriage, the couple leaves their house to the next pair of newlyweds.This touching story of two soul mates navigating the perils of life is set to the strains of a tuneful, charming score. With minimal set and costume requirements, this show is ideal for regional theatre companies on a limited budget and smaller troupes.
Click Here for More Information
DON'T DRESS FOR DINNER
Arts Center of Coastal Carolina
2/4-2/23/2014
Elizabeth Wallace
Theatre:adapt:
Robin Hawdon
from
Marc Camoletti
; dir:
Russell Treyz
.
Click Here for More Information
AUGUST, OSAGE COUNTY
The Warehouse
Theatre
2/7-3/1/2014
Jean Pelham Stage:
Tracy Letts
; dir: Roy Fluhrer.
Click Here for More Information
RUSSIAN TRANSPORT
PURE Theatre
2/7-3/15/2014
PURE Theatre:
Erika Sheffer
; dir: Randy Neale.
Click Here for More Information
View All Show Listings for South Carolina
Click Here to View BroadwayWorld.com South Carolina Calendar
Related Articles
From This Author BWW