Tuck Everlasting - 2016 - Broadway
Good girl Winnie Foster's world has been safely contained behind the picket fence that surrounds the house she shares with her mother and grandmother. Yearning to break free, Winnie runs deep into the woods behind their house where she discovers the Tuck family and the secret they've been keeping. That secret sets Winnie and the Tucks out on an adventure that will test what they believe and challenge them to truly be alive, now and forever.
Video preview
Photo preview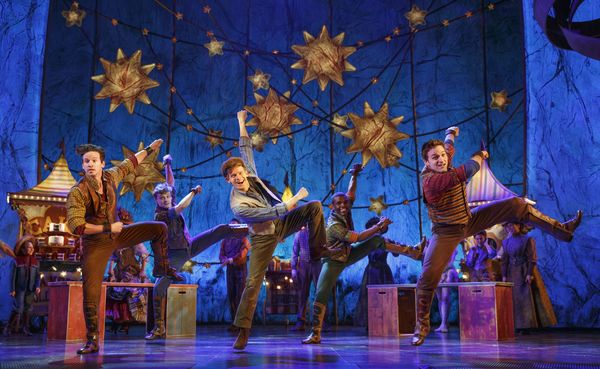 Schedule
Running Time: Two hours and 30 minutes, with one intermission
Featured Reviews For Tuck Everlasting
Tuck Everlasting - TimeOut NY
Natalie Babbitt's best-selling 1975 young-adult novel has been filmed twice, and now it returns as an earnest, somewhat attenuated musical. But if Andrew Keenan-Bolger and child actor Sarah Charles Lewis pull off their parts and still retain wide-eyed likability, that's a testament to something enduring...the show addresses deep topics: the nature of time, memory and the circle of life...Chris Miller's Celtic-flavored music and Nathan Tysen's searching lyrics deliver emotionally, if elsewhere they seem merely upbeat and serviceable. The larger problem lies in Claudia Shear and Tim Federle's lumpy book, which takes too long to establish tone and stakes in the first act...Director-choreographer Casey Nicholaw does his best with a prettily designed production.
Aisle View: Don't Drink the Water - Huffington Post
It shall be interesting to see whether Tuck can overcome its shortcomings and build itself into a hit; there are some who opine that this well-loved tale with an indomitable red-headed heroine will attract all those mothers & daughters who flock to Wicked. Perhaps it will, although it has a disadvantage of opening amidst a throng of late-season musicals. Another issue: if it's a rollicking, woodsy, folksy, down home, 18th century slice of Americana you want, you can find one a couple of blocks away at The Robber Bridegroom. With Steven Pasquale, charm galore, and a wildly more tuneful score.
Tuck Everlasting Broadway Cast