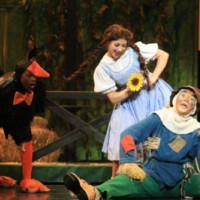 by Stephi Wild - Feb 12, 2019
This magical production is a celebration of the 1939 MGM movie, and will be presented with breathtaking special effects that will sweep audiences away from the moment the tornado twists its way into Kansas. The national tour will play for two days only February 23- 24, 2019 at SPAHouston/Jones Hall.
by Julie Musbach - Apr 27, 2018
MOLASSES IN JANUARY, an original new musical about a struggling family of Italian immigrants who are literally swept up in the Boston Molasses disaster of 1919, will make its full Off-Broadway premiere on Wednesday, May 2, 2018 and have an open run in the Anne Bernstein Theatre at The Theater Center.

by Gary Laird - Feb 11, 2017
After two hours, plus intermission, I left the theater feeling as though I had just attended a concert superbly played by an orchestra of virtuoso performers and conducted by a maestro.


" width="640" height="100">