by Stage Tube - Nov 27, 2017
Visit the alpine forest this winter as Pinocchio makes its world premiere at the National Theatre. You can now check out the brand new trailer below! On a quest to be truly alive, Pinocchio leaves Geppetto's workshop with Jiminy Cricket in tow. Their electrifying adventure takes them from alpine forests to Pleasure Island to the bottom of the ocean.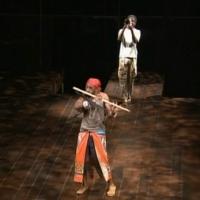 by TV - On the Road - Sep 26, 2014
Chicago Shakespeare Theater (CST) presents Isango Ensemble's The Magic Flute (Impempe Yomlingo), bringing thirty actors and musicians from South Africa to Chicago as part of CST's celebrated World's Stage Series. The Magic Flute reimagines Wolfgang Amadeus Mozart's most beloved operatic work, incorporating African singing, pulsating beats and spirited storytelling into this 223-year-old classic. Based in Cape Town, the vibrant company of the Isango Ensemble unites the diverse nation of Africa by reinventing classics from the Western theater canon within a South African setting. Adapted and directed by Isango co-founder Mark Dornford-May, The Magic Flute took London by storm, garnering London's prestigious Laurence Olivier Award. The production will be performed at Skyline Stage on Navy Pier (next door to CST) for a limited engagement, September 25-28, 2014. Check out highlights below!