by TV News Desk - Feb 23, 2016
As BWW previously reported, ABC is at work on adapting the hit 1987 film DIRTY DANCING into a three-hour musical broadcast starring Abigail Breslin as Baby and Debra Messing (SMASH) as Baby's mom, Marjorie Houseman.
by BroadwayWorld TV - Apr 7, 2011
Curtains will run at the Millburn theater from April 27 through May 22, 2011. Family Week is April 27 through May 1 and during this period, children 18 and under receive half off the regular ticket price (certain restrictions apply). Curtains is generously supported by a gift from Allen and Joan Bildner. Curtains is a co-production with Theatre Under The Stars in Houston, Texas. Student rush tickets are $25 and are available the day of performance in person with current student ID. Tickets may be purchased by calling 973-376-4343 , or at the Paper Mill Box Office on Brookside Drive in Millburn, or online at Paper Mill Playhouse's website: www.papermill.org.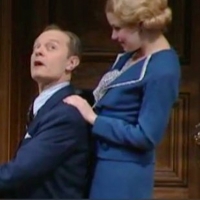 by Craig Brockman - Apr 28, 2009
Manhattan Theatre Club (Lynne Meadow, Artistic Director; Barry Grove, Executive Producer) is proud to present Samson Raphaelson's ACCENT ON YOUTH to be directed by Tony Award winner Daniel Sullivan (Rabbit Hole, Sight Unseen, Proof). BroadwayWorld.com brings you these video highlights from the production which features Lisa Banes (High Society, Arcadia), Rosie Benton(Saturn Returns, Les Liaisons Dangereuses), David Furr (Cymbeline, Evening), Mary Catherine Garrison (Top Girls, Rabbit Hole), Byron Jennings (Is He Dead?, Sight Unseen), Tony nominee Charles Kimbrough and Tony and Emmy winner David Hyde Pierce.