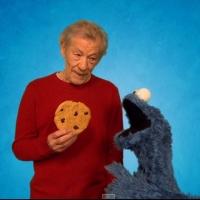 by TV News Desk - Dec 17, 2014
You shall not pass! Please resist! The word resist means to control yourself and stop yourself from doing something you really want to do, though that's not a word that Cookie Monster really understands. So, stage and screen vet Ian McKellen stopped by SESAME STREET to demonstrate. Watch the clip below!
by BWW News Desk - Oct 29, 2014
Sir Ian McKellen makes a guest appearance in the new official music video for George Ezra 'Listen to The Man'. Check it out below!