Wolf Hall: Parts 1 & 2 Broadway
Wolf Hall: Parts 1 & 2 are adapted by Mike Poulton from Hilary Mantel's double Man Booker Prize winning novels, Wolf Hall and Bring Up the Bodies (published Henry Holt in the U.S.). The plays are based on the deceit, betrayal, and intrigue of the court of Henry VIII. The production features a company of more than twenty actors, headed by Ben Miles as Thomas Cromwell, Lydia Leonard as Anne Boleyn, and Nathaniel Parker as King Henry VIII, all under the direction of Olivier Award nominee Jeremy Herrin, who makes his New York City directing debut. The Royal Shakespeare Company is appearing with the permission of Actors' Equity Association.
Video preview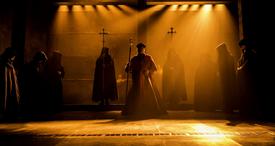 Photo preview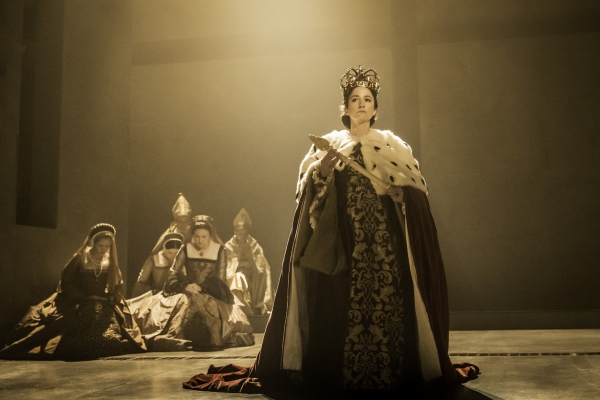 Schedule
Running Time: Two hours and 45 minutes, one intermissio
Featured Reviews For Wolf Hall: Parts 1 & 2
Wolf Hall review - action comes thick and fast in this thrilling marathon - Guardian
Even if you've practically memorised the books, Wolf Hall still feels incomplete. Because it is. The third part of Mantel's trilogy, which details Cromwell's downfall, hasn't yet been published. Wolf Hall is a tragedy, but right now it concludes like a comedy (well, a comedy with a lot of beheading), which the second part acknowledges. "There are no endings," Cromwell says. "They are all beginnings. This is one." And gripping enough that I suspect nearly all of us will be back in these seats in a few years time, eager to see - 500-year-old spoiler alert - the bloody conclusion.
Theater Review: Beheadings and Betrothals at Wolf Hall - Vulture
Indeed, aside from the Boleyn intrigue, which is handled fairly thoroughly, there's a little-bit-of-everything flavor to the proceedings. That makes sense, and I'm not sure you could find any other way to corral the material in Mantel's books unless you were willing to go for 60 hours instead of 6. Still, I found myself wondering whether newcomers to the period might guess from the play that anything else important happened while Cromwell was serving as Henry's marriage counselor. The dissolution of the monasteries, an event of huge significance, is mentioned briefly. The creation of the English Bible earns a line or two. But mostly what we have is an extremely elegant Tudor soap opera, the kind of "event theater" that from time to time can fill a Winter Garden. It fits nicely with the three-course prix fixe "English feast" dinner being offered to Wolf Hall patrons at the nearby Rock Center Café between plays. There you may choose among such menu offerings as Scotch egg, shepherd's pie, and bubble and squeak. Venison or pheasant would be more authentic, but who has the time?
Wolf Hall: Parts 1 & 2 Broadway Cast