Now Playing Onstage in Salt Lake City - Week of 8/03/2014
View All Show Listings for Salt Lake City
Click Here to View BroadwayWorld.com Salt Lake City Calendar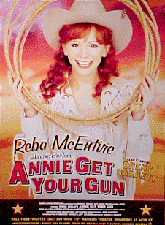 ANNIE GET YOUR GUN (STONE)
Farmington City
7/29-8/4/2014
ANNIE GET YOUR GUN scored a bulls eye when it returned to Broadway in 1999, starring
Bernadette Peters
and sporting a revised libretto by Tony, Oscar and Emmy winner
Peter Stone
. As Newsday reported, Stone's revisions 'are sweetly ingenious, and the show is a dream.' Stone reshaped the 1946 book to create a Wild West show-within-a-show that frames the ageless 'Anything You Can Do I Can Do Better' love story of sharpshooters
Annie Oakley
and
Frank Butler
. Stone has added a secondary romance between the younger sister of Frank's bothersome assistant Dolly, and a boy who is (to Dolly's horror) part Native American. 'The book has been updated in ways that pass p.c. muster,' reported Time Magazine, 'without losing all the fun.' Joined to the new book, of course, is that amazing
Irving Berlin
score, featuring hit after hit after hit. '
Irving Berlin
's greatest achievement in the theater,' wrote the New York Post, ANNIE GET YOUR GUN 'will always be a musical for the ages, one of the Broadway theater's enduring triumphs.'Music and Lyrics by
Irving Berlin
; Original Book by
Herbert Fields
&
Dorothy Fields
; As Revised by
Peter Stone
Click Here for More Information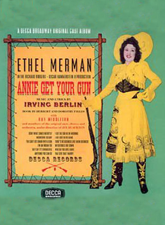 ANNIE GET YOUR GUN
Farmington City
7/29-8/4/2014
Annie Oakley
is the best shot around, and she manages to support her little brother and sisters by selling the game she hunts. When she's discovered by Col. Buffalo Bill, he persuades this novel sharpshooter to join his Wild West Show. It only takes one glance for her to fall head over heels for dashing shooting ace
Frank Butler
, who headlines the show. She soon eclipses Butler as the main attraction which, while good for business, is bad for romance. Butler hightails it off to join a rival show, his bruised male ego leading the way, but is ultimately pitted against Annie in a final shoot-out. The rousing, sure-fire finale hits the mark every time in a testament to the power of female ingenuity.Music and Lyrics by
Irving Berlin
; Book by
Herbert Fields
&
Dorothy Fields
Click Here for More Information
SHREK
MURRAY ARTS COUNCIL
8/1-8/6/2014
SHREK THE MUSICAL, based on the Oscar® winningDreamWorks film that started it all, brings the hilarious story ofeveryone's favorite ogre to dazzling new life on the stage. Ina faraway kingdom turned upside down, things get ugly when an unseemlyogre "" not a handsome prince "" shows up to rescue a feisty princess.Throw in a donkey who won't shut up, a bad guy with a SHORT temper, acookie with an attitude and over a dozen other fairy tale misfits, andyou've got the kind of mess that calls for a real hero. Luckily,there's one on hand...and his name is Shrek. Full of all-new songs, great dancing and breathtaking scenery, SHREK THE MUSICAL is part romance, part twisted fairy tale and all irreverent fun for everyone!**AVAILABLE FOR LICENSES FOR PERFORMANCES BEGINNING JUNE 2013**
Click Here for More Information
MARY POPPINS
HALE CENTRE THEATRE
6/13-8/9/2014
Click Here for More Information
LES MISERABLES
UTAH FESTIVAL OPERA COMPANY
6/26-8/9/2014
This international smash-hit may be the most popular musical in the world. In 19th century France, Jean Valjean is released from 19 years of unjust imprisonment, but finds nothing in store for him but mistrust and mistreatment. He breaks his parole in hopes of starting a new life, initiating a life-long struggle for redemption as he is relentlessly pursued by police inspector Javert, who refuses to believe Valjean can change his ways. Finally, during the Paris student uprising of 1832, Javert must confront his ideals after Valjean spares his life and saves that of the student revolutionary who has captured the heart of Valjean's adopted daughter. His world-view shattered, Javert commits suicide, and Valjean at last attains the peace he has sought for so long.Epic, grand and uplifting, LES MISÉRABLES packs an emotional wallop that has thrilled audiences all over the world. The sung-through pop opera is ideal for a cast of exceptional singers and overflows with melodies that are already standards. A spectacle on Broadway and in London, LES MISÉRABLES is equally effective with a minimal set; it is its powerful affirmation of the human spirit that has made LES MISÉRABLES a popular masterpiece.
Click Here for More Information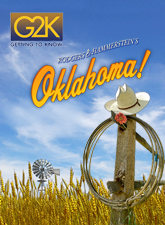 OKLAHOMA!
Utah Festival Opera
7/9-8/10/2014
The 'G2K' Getting To Know Series: Uniquely adapted musicals specifically for youth performers.
Rodgers & Hammerstein
's first collaboration remains, in many ways, their most innovative, having set the standards and established the rules of musical theatre still being followed today. Set in a Western Indian territory just after the turn of the century, the high-spirited rivalry between the local farmers and cowboys provides the colorful background against which Curly, a handsome cowboy, and Laurey, a winsome farm girl, play out their love story. Although the road to true love never runs smooth, with these two headstrong romantics holding the reins, love's journey is as bumpy as a surrey ride down a country road. That they will succeed in making a new life together we have no doubt, and that this new life will begin in a brand-new state provides the ultimate climax to the triumphant OKLAHOMA! In this adaptation for pre-high school students, the content has been edited to better suit younger attention spans, but all the elements that make this show a classic are still in place. You and your students will be enchanted by the timeless story and the dazzling score, while at the same time learning about theater and its production. Music by Rodgers, Richard; Book and Lyrics by
Oscar Hammerstein
II; Based on the play GREEN GROW THE LILACS by
Lynn Riggs
; Original Dances by
Agnes de Mille
Click Here for More Information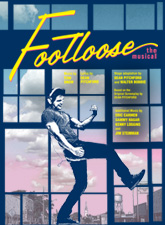 FOOTLOOSE
Sandy Arts Guild
8/8-8/16/2014
One of the most explosive movie musicals in recent memory bursts onto the live stage with exhilarating results. When Ren and his mother move from Chicago to a small farming town, Ren is prepared for the inevitable adjustment period at his new high school. What he isn't prepared for are the rigorous local edicts, including a ban on dancing instituted by the local preacher, determined to exercise the control over the town's youth that he cannot command in his own home. When the reverend's rebellious daughter sets her sights on Ren, her roughneck boyfriend tries to sabotage Ren's reputation, with many of the locals eager to believe the worst about the new kid. The heartfelt story that emerges is of a father longing for the son he lost and of a young man aching for the father who walked out on him. To the rockin' rhythm of its Oscar and Tony-nominated top 40 score (the soundtrack album reached number one on the Billboard charts and has sold over 15 million copies!) and augmented with dynamic new songs for the stage musical, FOOTLOOSE celebrates the wisdom of listening to young people, guiding them with a warm heart and an open mind.Music by
Tom Snow
; Lyrics by
Dean Pitchford
; Stage Adaptation by
Dean Pitchford
and
Walter Bobbie
; Based on the original screenplay by
Dean Pitchford
; Additional Music by
Eric Carmen
,
Sammy Hagar
,
Kenny Loggins
and
Jim Steinman
Click Here for More Information
FIDDLER ON THE ROOF
UTAH VALLEY UNIVERSITY
7/24-8/16/2014
In the little village of Anatevka, Tevye, a poor dairyman, tries to instill in his five daughters the traditions of his tight-knit Jewish community in the face of changing social mores and the growing anti-Semitism of Czarist Russia. Rich in historical and ethnic detail, FIDDLER ON THE ROOF has touched audiences around the world with its humor, warmth and honesty. The universal theme of tradition cuts across barriers of race, class, nationality and religion, leaving audiences crying tears of laughter, joy and sadness.The show features a star turn in Tevye, among the most memorable roles in musical theatre. Original director/choreographer
Jerome Robbins
' staging is legendary, and available from MTI in a comprehensive choreographic guide. Its celebrated score by
Jerry Bock
and
Sheldon Harnick
, features songs loved the world over: "Sunrise, Sunset," "If I Were A Rich Man" and "Matchmaker," to name a few. FIDDLER ON THE ROOF is simply Broadway at its very best.
Click Here for More Information
WICKED (1ST NATIONAL TOUR)
Capitol Theatre
7/9-8/24/2014
If you think you know the two iconic witches from Oz - the Wicked Witch (Elphaba) and the Good Witch (Glinda) - think again.
Click Here for More Information
INTO THE WOODS
UTAH SHAKESPEARE FESTIVAL
6/24-8/30/2014
The Brothers Grimm
hit Broadway with an epic fairytale where worlds collide.
James Lapine
and
Stephen Sondheim
take everyone's favorite storybook characters and brings them together for a timeless yet relevant piece and rare modern classic.The story follows a Baker and his wife who wish to have a child, Cinderella who wishes to attend the King's Festival, and Jack who wishes his cow would give milk. When the Baker and his wife learn that they cannot have a child because of a Witch's curse, the two set off on a journey to break the curse. Everyone's wish is granted, but the consequences of their actions return to haunt them later with disastrous results.One of Sondheim's most popular works, INTO THE WOODS is a musically sophisticated show with the opportunity to feature actors adept at dark comedy. Designers will especially enjoy highlighting the fantastical elements of this magical word.
Click Here for More Information
UPSTAIRS THEATRE:
The Salt Lake Acting Co
6/25-9/7/2014
SATURDAY'S VOYEUR 2014Nancy Borgenicht, Allen Nevins.
Click Here for More Information
DISNEY'S HIGH SCHOOL MUSICAL
TERRACE PLAZA PLAYHOUSE
8/8-9/20/2014
This page is for the full-length edition of Disney's HIGH SCHOOL MUSICAL.Also available:Disney's HIGH SCHOOL MUSICAL - ONE ACT EDITIONDisney's HIGH SCHOOL MUSICAL JR. Disney Channel's smash hit movie musical comes to life on your stage! Troy, Gabriella, and the students of East High must deal with issues of first love, friends, and family while balancing their classes and extra curricular activities. It's the first day after winter break at East High. The Jocks, Brainiacs, Thespians and Skater Dudes find their cliques, recount their vacations, and look forward to the new year. Basketball team captain and resident jock Troy discovers that the brainy Gabriella, a girl he met singing karaoke on his ski trip, has just enrolled at East High. They cause an upheaval when they decide to audition for the high school musical, led by Ms. Darbus. Although many students resent the threat posed to the "status quo," Troy and Gabriella's alliance might just open the door for others to shine as well. HIGH SCHOOL MUSICAL is fun for the whole family. Its large cast size and upbeat numbers make it the ideal show for middle and high school productions or the highlight of any community theatre's season!
Click Here for More Information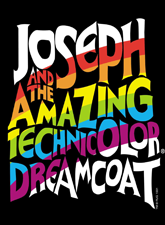 JOSEPH AND THE AMAZING TECHNICOLOR DREAMCOAT (MEGAMIX)
Tuacahn Amphitheatre
8/1-10/26/2014
The Biblical saga of Joseph and his coat of many colors comes to vibrant life in this delightful musical parable. Joseph, his father's favorite son, is a boy blessed with prophetic dreams. When he is sold into slavery by his jealous brothers and taken to Egypt, Joseph endures a series of adventures in which his spirit and humanity are continually challenged. He is purchased by Potiphar where thwarting advances from Potiphar's wife lands him in jail. When news of Joseph's gift to interpret dreams reaches the Pharaoh (wryly and riotously depicted as Elvis), Joseph is well on his way to becoming second in command. Eventually his brothers, having suffered greatly, unknowingly find themselves groveling at the feet of the brother they betrayed but no longer recognize. After testing their integrity, Joseph reveals himself leading to a heartfelt reconciliation of the sons of Israel. Set to an engaging cornucopia of musical styles, from country-western and calypso to bubble-gum pop and rock 'n' roll, this Old Testament tale emerges both timely and timeless. This version of JOSEPH?DREAMCOAT features extended songs and dances. The Megamix is available as a separate rental with this version. Lyrics by
Tim Rice
; Music by
Andrew Lloyd Webber
Click Here for More Information
View All Show Listings for Salt Lake City
Click Here to View BroadwayWorld.com Salt Lake City Calendar
Related Articles
From This Author BWW