Now Playing Onstage in Salt Lake City - Week of 5/25/2014
View All Show Listings for Salt Lake City
Click Here to View BroadwayWorld.com Salt Lake City Calendar
SHE LOVES ME
TERRACE PLAZA PLAYHOUSE
4/18-5/31/2014
An intimate and touching show, featuring music by
Jerry Bock
and
Sheldon Harnick
(FIDDLER ON THE ROOF) and book by
Joe Masteroff
(CABARET), SHE LOVES ME is considered by many to be the most charming musical ever written.Georg and Amalia are two feuding clerks in a European parfumerie during the 1930's who secretly find solace in their anonymous romantic pen pals, little knowing their respective correspondents are none other than each other. Funny, intelligent, honest and sentimental, SHE LOVES ME is a warm romantic comedy with an endearing innocence and a touch of old world elegance and nostalgia, yet as universal and relevant as ever in this age of internet romances.SHE LOVES ME showcases a small but strong ensemble cast playing a range of memorable characters of all ages. An ideal Christmas or Valentine's Day show, this heart-warming story will be adored by your entire audience.
Click Here for More Information
LES MISERABLES SCHOOL EDITION
OLYMPUS HIGH SCHOOL
5/28-5/31/2014
Broadway's legendary musical has been specially adapted to meet the needs of young performers. This author-approved edition has been abridged to a running time of just over two hours, while carefully maintaining the integrity of one the greatest musicals ever written.This epic story recounts the struggle against adversity in 19th century France. Imprisoned for stealing a loaf of bread, petty thief Jean Valjean is released from his 19-year term and not only becomes and honest man, but the mayor of a prosperous town and a loving adoptive father - violating his parole in the process. The relentless Inspector Javert, who makes a decent life for Valjean impossible, consequently pursues him. Only years later, after Valjean proves his mettle during a bloody student uprising and saves the life of a young man hopelessly in love with Valjean's adopted daughter, does the ex-convict finally feel fully redeemed.Originally adapted from
Victor Hugo
's timeless novel, LES MISÉRABLES SCHOOL EDITION introduces a new generation to the grand and inspirational story that has touched the hearts of millions. For, within LES MISÉRABLES SCHOOL EDITION lies the universal truth "To love another person is to see the face of God" and this message is sure to have a lasting impact on your cast, crew, audience, and school alike.
Click Here for More Information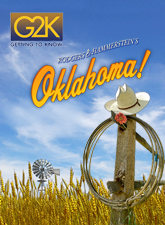 OKLAHOMA!
Cedar Valley Community Theatre
5/29-6/9/2014
The 'G2K' Getting To Know Series: Uniquely adapted musicals specifically for youth performers.
Rodgers & Hammerstein
's first collaboration remains, in many ways, their most innovative, having set the standards and established the rules of musical theatre still being followed today. Set in a Western Indian territory just after the turn of the century, the high-spirited rivalry between the local farmers and cowboys provides the colorful background against which Curly, a handsome cowboy, and Laurey, a winsome farm girl, play out their love story. Although the road to true love never runs smooth, with these two headstrong romantics holding the reins, love's journey is as bumpy as a surrey ride down a country road. That they will succeed in making a new life together we have no doubt, and that this new life will begin in a brand-new state provides the ultimate climax to the triumphant OKLAHOMA! In this adaptation for pre-high school students, the content has been edited to better suit younger attention spans, but all the elements that make this show a classic are still in place. You and your students will be enchanted by the timeless story and the dazzling score, while at the same time learning about theater and its production. Music by Rodgers, Richard; Book and Lyrics by
Oscar Hammerstein
II; Based on the play GREEN GROW THE LILACS by
Lynn Riggs
; Original Dances by
Agnes de Mille
Click Here for More Information
View All Show Listings for Salt Lake City
Click Here to View BroadwayWorld.com Salt Lake City Calendar
Related Articles
From This Author BWW