BWW Review: SHAKESPEARE IN LOVE at Moscow Pushkin Drama Theatre
A child can build a fort out of pillows and blankets that is more impenetrable, in his imagination, than any structure that ever stood. On the stage of the Moscow Pushkin Drama Theatre, Evgeny Pisarev has built a whole world out of lush satin bed-sheets, elegant lace gowns, the flash of steel blades, and hapless declarations of romance. The world of Shakespeare in Love, which made its Russian debut this May, is decadent and fantastical; it flaps around in the mercy of whim but is anchored in place by drama.
Will Shakespeare is in love. Desperate to win the affection of the lady Viola de Lesseps, and to finish his first great work, Will becomes the author of his own personal drama, pursuing a romance he knows is doomed. Shakespeare in Love spins between comedy and tragedy, like a coin tossed flashing both heads and tails in the air, until it lands, improbably, on its reed, favouring neither one side nor the other, but showing both.
Viola is played by Taisiya Vilkova with such earnestness and intensity - in her desire for love, and her love for drama - that she can raise the hair on your arms. Vilkova's monologues about love are more convincing than some weddings I have been to. Andrey Kuzichev as Christopher Marlowe is an absolute scene-stealer, the embodiment of foppishness and wit, with comedic timing down to the microsecond. The role of Shakespeare is played on alternating nights by either Dmitry Vlaskin or Kirill Chernyshenko, both talented young men of good heroic posture and impeccable swordsmanship.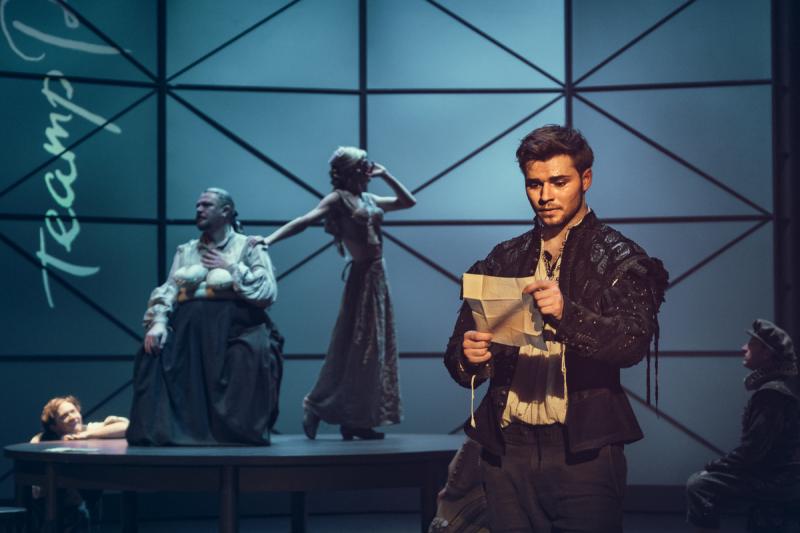 In schools and in theatres around the world, well-meaning teachers and dramaturgs try to put Shakespeare in his context - plagues, fires, human waste on the street - but, in doing so, miss the fact that Shakespeare built a career on magic and romance in far-off places. Londoners went to the theatre so they could dream standing up for a few hours, and there was no greater dreamer, then, or at any time, than Shakespeare himself, who imagined ghosts and witches, shipwrecks, princes, and feuding families. Historians have asked if Shakespeare, who set so many of his plays in Italy, ever visited even one Italian city; the answer, surely, is no, because he imagined each of his stories, comedy, tragedy, or history, not in any real place, but in a dream. When Will in Shakespeare in Love announces that the action of his next play will be in Verona, a friend asks, "Verona again?"
Verona again, and Verona always.
Tom Stoppard and Lee Hall wrote the play that Shakespeare would have written about himself, fantasy and all, and Pisarev and his creative team, including set designer Zinovy Margolin and costumer Victoria Sevryukova, have given it the home that it deserves, a plush world of rotating scenery and lustrous cloth, of unwashed men in drag suits and spontaneous sword fighting. It is elegant, excessive, unreal, and excellent.
Related Articles View More Russia

Stories

Shows