Now Playing Onstage in Raleigh - Week of 8/10/2014
View All Show Listings for Raleigh
Click Here to View BroadwayWorld.com Raleigh Calendar
XANADU JR.
DURANT ROAD MUSICAL THEATRE
6/26-8/15/2014
Click Here for More Information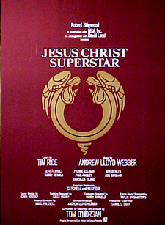 JESUS CHRIST SUPERSTAR
Sedge Garden United Methodist Church
8/8-8/16/2014
It seems especially fitting that the first rock opera, created as a concept album at the end of the turbulent '60s, should have at its center a social and political rebel. Jesus' meteor-like rise in renown provides, as the title suggests, a parallel to contemporary celebrity worship. As his radical teachings are evermore embraced, Judas increasingly questions the enlightened motives of this new prophet, resulting in betrayal. Christ's final days are dramatized with emotional intensity, thought-provoking edge and explosive theatricality. Propelled by a stirring score, by turns driving and majestic, satirical and tender, JESUS CHRIST SUPERSTAR illuminates the transcendent power of the human spirit with a passion that goes straight to the heart.Lyrics by
Tim Rice
; Music by
Andrew Lloyd Webber
Click Here for More Information
PIPPIN
RIVERTOWNE REPERTORY PLAYERS
8/1-8/16/2014
Once upon a time, a young prince longed to discover the secret of true happiness and fulfillment. He sought it in the glories of the battlefield, the temptations of the flesh and the intrigues of political power (after disposing of his father King Charlemagne the Great). In the end, he found it in the simple pleasures of home and family. PIPPIN is a hip, tongue-in-cheek, anachronistic fairy tale that captivated Broadway audiences and continues to appeal to the young at heart everywhere (the show has become a staple on high school and college campuses). The energetic pop-influenced score by three-time Oscar®-winning composer/lyricist
Stephen Schwartz
(GODSPELL, CHILDREN OF EDEN, and the animated films Pocahontas, The Hunchback Of Notre Dame and The Prince Of Egypt) bursts with one showstopping number after another, from soaring ballads to infectious dance numbers. Featuring a strong ensemble cast and a show-stealing song-and-dance narrator, PIPPIN is equally effective as an intimate, black-box production (as envisioned by the authors) or as original director/choreographer Bob Fosse's splashy, dance-driven spectacle, which included some of the most brilliant staging in Broadway history.
Click Here for More Information
LITTLE SHOP OF HORRORS
HENDERSONVILLE LITTLE THEATRE
8/15-8/31/2014
A down-and out skid row floral assistant becomes an overnight sensation when he discovers an exotic plant with a mysterious craving for fresh blood. Soon "Audrey II" grows into an ill-tempered, foul-mouthed, R&B-singing carnivore who offers him fame and fortune in exchange for feeding its growing appetite, finally revealing itself to be an alien creature poised for global domination! One of the longest-running Off-Broadway shows of all time, this affectionate spoof of 1950s sci-fi movies has become a household name, thanks to a highly successful film version and a score by the songwriting team of
Howard Ashman
and
Alan Menken
, who redefined the animated musical film with Disney's The Little Mermaid, Beauty and the Beast and Aladdin. Charming, tuneful and hilarious, with tongue firmly planted in cheek, LITTLE SHOP OF HORRORS never fails to entertain. A small cast, band and unit set make the other aspects of production a snap.
Click Here for More Information
ANNIE KIDS
HIGHLAND CREEK ELEMENTARY SCHOOL
5/30-9/1/2014
Leapin' Lizards! The popular comic strip heroine takes center stage in one of the world's best-loved musicals. With equal measures of pluck and positivity, little orphan ANNIE charms everyone's hearts, despite a next-to-nothing start in 1930s New York City. She is determined to find her parents, who abandoned her years ago on the doorstep of a New York City Orphanage run by the cruel, embittered Miss Hannigan. With the help of the other girls in the Orphanage, ANNIE escapes to the wondrous and magical world of NYC. In adventure after fun-filled adventure, ANNIE foils Miss Hannigan's evil machinations and befriends President Franklin Delano Roosevelt. She finds a new home and family in billionaire Oliver Warbucks, his personal secretary
Grace Farrell
, and a lovable mutt named Sandy.
Click Here for More Information
View All Show Listings for Raleigh
Click Here to View BroadwayWorld.com Raleigh Calendar
Related Articles
From This Author BWW